Historic Context
Bethel Cemetery now occupies what was once part of Spring Garden farm. In December of 1885, the land transitioned into the possession of the Bethel Cemetery Company's stockholders. This incorporation had been sanctioned by the Virginia Assembly on December 15, 1885. The purchase price for the property amounted to $4350.00.
In a bygone era, an emerald-hued chapel graced the northwest corner of Section F. However, during the mid-1970s, it fell victim to a destructive fire.
Currently, the custodianship of the cemetery rests in the capable hands of Mr. James Click. A noteworthy detail is that Mr. Click represents the third consecutive generation of his family to take charge of this sacred site's administration.
The tally of interments within the cemetery surpasses 12,000, rendering it the most expansive burial ground within the Wilkes Street Complex.
C
Julius Campbell, Jr. (December 5, 1953 – January 25, 2019), a Former high school football star portrayed in the 2000 Disney film "Remember the Titans"
Julius Campbell was a key figure in American high school football history. He was a leader on the football team at a newly integrated school in Alexandria, Virginia, in the early 1970s. He played a pivotal role in the team's state championship win during a season filled with racial tensions. Campbell's story and that of his teammates were immortalized in the 2000 film "Remember the Titans," where actor Wood Harris portrayed him. The movie focuses on the integration of Alexandria's high schools and the undefeated season that led to the Virginia AAA state championship. After graduating from T.C. Williams in 1973, Campbell attended Ferrum Junior College. He had a successful career with the Prince George County, Maryland, Department of Animal Services. Sadly, he died on January 25, 2019, at 65, due to organ failure. His legacy remains a symbol of unity and triumph over adversity.
---
Fields Cook (1820 – January 20, 1897) Notable Baptist minister, Republican Party leader, educator, and advocate for the rights of African Americans
Fields Cook (1820 – January 20, 1897) was a notable Baptist minister, Republican Party leader, educator, and advocate for the rights of African Americans during the 19th century. Born into slavery in King William County, Virginia, he purchased his freedom by 1850. He became an influential figure in Richmond, where he prospered as a businessman, teacher, and bank cashier for the Freedman's Savings Bank. As a minister and political organizer, Cook actively fought for the rights of freedpeople, representing Richmond City at the Convention of the Colored People of Virginia in 1865, where he stood firm against racist threats.
Read more about him at this blog: Preserving History and Heritage: the Story of Douglass Memorial Cemetery and Fields Cook's Enduring Legacy.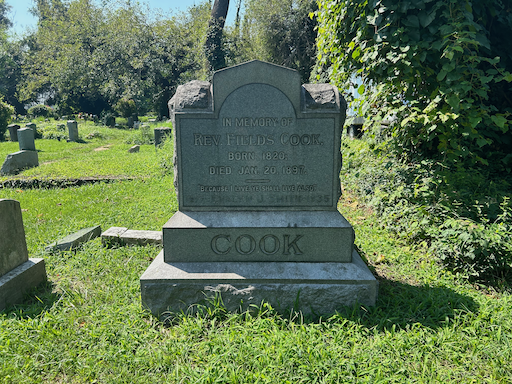 In memory of
Rev. FIELDS COOK
born 1820
died Jan 20, 1897
Because I live, ye shall live also.
L16
Sources of Information
Pippenger, W. E. (1993). Tombstone Inscriptions of Alexandria, Virginia (Volume 4). Family Line Publications. Westminister, MD 21157.
Heiby, D. (2023, August 10). I want to thank Mr. Jim Holloway, Interpretive Program Coordinator, City of Alexandria, VA, at The Lyceum – Alexandria's History Museum, for providing most of the source of information used to write the biography on the Reverend Fields Cook.