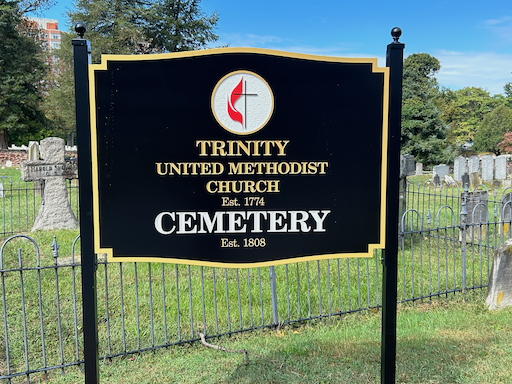 A directory of individuals interred in the historic Trinity United Methodist Church Cemetery, established in 1808 in Alexandria, Virginia, is provided below. Please note that this list is not exhaustive and will be updated periodically. If you're aware of a notable story or individual that should be included, we invite you to contact Gravestone Stories.
Trinity United Methodist Church, initially known as the Methodist Episcopal Church, was founded on November 20, 1774. The inaugural Meeting House was constructed in 1791, located on Chapel Alley near Duke Street and just north of Fairfax Street. In 1803, a new church building was erected on the eastern side of the 100 block of South Washington Street. By 1810, the original property was sold to what is now recognized as The Basilica of St. Mary, formerly St. Mary's Catholic Church. In 1941, Trinity moved to its present location at 2911 Cameron Mills Road.
On December 15, 1808, congregation members acquired the land where the cemetery currently resides for $340.00. The cemetery is the final resting place for over 550 individuals.
H
John Wesley Hollensbury (July 11, 1803 – November 8, 1876): The Man Behind Alexandria's Iconic "Spite House"
John Wesley Hollensbury, the man behind Alexandria's iconic "Spite House," lies buried in Trinity Cemetery. A brickmaker and city council member of Alexandria, Virginia, Hollensbury resided in a Queen Street home built in 1780, adjacent to an alley. In a bid to prevent damage to his walls and reduce noise, he purchased the alley lot at 523 Queen Street for $45.65. In 1830, he erected the Spite House, a structure measuring just 7 feet 6 inches wide and 25 feet deep. Despite its modest size of 350 square feet, the Hollensbury Spite House has garnered international attention, even making an appearance on The Oprah Winfrey Show. Its distinctive design, featuring a slim front door and petite furniture, has transformed it into a tourist attraction. While it's widely accepted that Hollensbury built the house out of spite, there are alternate theories suggesting neighborly disputes or perhaps a gift for his daughters. Regardless of its true origins, the Spite House remains a celebrated local landmark.
John Hollensbury and his two daughters, Francis "Fannie", who succumbed to Tuberculosis, and Harriet, who passed away from Dropsy (an archaic term for edema or tissue swelling), rest in peace in A:5 of Trinity Cemetery. Another sister, Julia, is interred at the Washington Street United Methodist Cemetery (Union) located at the end of Hamilton Avenue, within the complex.
Another sister, Charlotte Hollensberry Sherwood, is also buried in Trinity Cemetery. Her spouse, Joseph Thomas Sherwood, found his final resting place in The Presbyterian Cemetery.
---
S
Edgar Snowden, Sr. (December 21, 1810 – September 24, 1875) Owner and Publisher of the Alexandria Gazette
Edgar assumed ownership and publishing responsibilities of the Alexandria Gazette at 21, succeeding his father. Between 1839 and 1843, he held the position of Mayor of Alexandria. After Alexandria's retrocession to Virginia in 1847, he represented the city in the State Assembly.
He wed Lucy Grymes (March 30, 1814 – April 25, 1897), the great-niece of Lucy Grymes Lee (1734 – 1792). Lucy Grymes Lee, laid to rest at Leesylvania Plantation Cemetery in Woodbridge, Virginia, was married to Henry Lee (1729 – October 1787), also interred at Leesylvania. They were the parents of Henry "Light House" Harry Lee III (January 29, 1756 – March 25, 1818), whose final resting place is the Lee Chapel Museum in Lexington, Virginia.
The Snowden family lived at 619 South Lee Street, often known as the Snowden House or Mansion, until 1912. In 1937, Hugo L. Black (1886-1971) acquired the house. Black, a U.S. Senator from Alabama from 1927 to 1937, later served as an Associate Justice of the U.S. Supreme Court from 1937 until his passing in 1971.
Upon Edgar's retirement, his son, Edgar Jr. Snowden (1833 – July 29, 1892), continued the family legacy by taking over the Gazette, holding the position until 1911. Edgar Jr. and several family members are interred at Christ Church Episcopal Cemetery.
Souces of Information
Lee, Jr., Cazenove Gardner. Lee Chronicle Studies of the Early Generations of the Lees of Virginia. Published for The Society of the Lees of Virginia by Thomson-Shore. Dexter, Michigan. 1957.
Pippenger, Wesley E. Tombstone Inscriptions of Alexandria, Virginia: Volume 1, Family Line Publications, Westminster, MD, and Heritage Books, Inc., Bowie, MD. 1992.
Dahmann, Donald C., Archivist, Old Presbyterian Meeting House member. The roster of Historic Congregational Members of the Old Presbyterian Meeting House. Updated 2022.
Gibson, P. & Gibson, T. (2023, June). Personal communication on Snowden family memories and selected notes.