Historic Context
The Methodist Protestant Church originated as a sect within the Methodist Episcopal Church, which was established in 1828. Named in honor of John Wesley, an ordained Anglican cleric and theologian who sparked a revival within the Church of England known as Methodism, this new denomination upheld Wesleyan beliefs. These tenets emphasized the role of salvation and the interplay between grace, faith, and moral purity. While retaining traditional worship practices, the church adopted a congregational form of governance. A prominent figure in this church was Thomas Stockton, who notably served as Chaplain of the United States House of Representatives during various years, including 1833, 1835, 1859, and 1861.
In 1829, congregants from Alexandria's Trinity Church established the Methodist Protestant Church of Alexandria at 110 S. Washington, which was later moved in 1890. At that time, there were three Methodist churches along Washington Street: Trinity (founded in 1774), Methodist Protestant (established in 1829), and Washington Street United Methodist (begun in 1849).
The Methodist Protestant Church suffered a devastating fire in 1952, leading the congregation to decide against rebuilding. Today, the Alexandria Bible Church located on West Braddock Road is considered its spiritual heir.
The Methodist Protestant Cemetery, established officially in 1833, erroneously displays the year 1809 on its signage. Now out of use, the City of Alexandria maintains the site, which accommodates around 1,500 interments. This cemetery spans the original plots 99, 100, 108, and 109 of Spring Garden Farm, plotted by Fairfax County Surveyor George Gilpin in 1796. The records indicate that the sale of lots and burials commenced in 1836, though the oldest tombstone, belonging to Ann Avery, dates back to June 20, 1830. The cemetery was eventually expanded southward, reaching the border of the Presbyterian Cemetery, although the exact date of this expansion remains undocumented.
Within the cemetery, many gravestones feature the symbols of various fraternal organizations prevalent in the United States during the 19th century, such as the inscription "I O R M," signifying the Improved Order of Red Men.
---
B
Joseph Bruin (1808 – 1882), Slave Trader and Proprietor of the Infamous Duke Street Slave Jail, Featured in Anti-Slavery Literature
Buried in Alexandria's Methodist Protestant Cemetery is Joseph Bruin (1808 – 1882), a slave dealer who operated one of the largest slave pens in Alexandria. In 1844, he purchased the brick Federal-style building at 1701 Duke Street and adjacent acreage for his slave jail.
To read the rest of the story, please read Uncovering Alexandria's Dark History: the Slave Dealer and Jail That Inspired Uncle Tom's Cabin.
---
D
Major George Duffey (April 6, 1820 – July 10, 1895) Artisan Legacy: Third Generation Silversmith, Pre- and Post-Civil War Revenue Commissioner
Born on April 6, 1820, Major George Duffey was a third-generation silversmith in Alexandria and lived until July 10, 1895. He lies at rest in The Methodist Protestant Cemetery.
His grandfather, John Duffey, was responsible for crafting the silver trowel used by President George Washington on September 18, 1793, to lay the cornerstone of the United States Capitol building. This same tool was employed in constructing prominent structures like the Smithsonian, United States Supreme Court, National Cathedral, Library of Congress, and Jefferson Memorial.
Today, this treasured artifact can be found at the George Washington Masonic National Memorial.
George Duffey's father, George Hurd Duffey, who lived between September 11, 1801, and February 2, 1852, owned a tavern on Royal Street. Known as an adept "mechanic," he worked with materials like steel, brass, silver, and gold in his North Royal Street shop. He is also buried in the Methodist Protestant Cemetery.
C.S.A.
GEORGE DUFFEY
Major
of Artillery
died July 10, 1896.
E116
Read more at this blog: Major George Duffey: Alexandria's Silversmith & Confederate Soldier. A Fascinating Historical Journey
---
E
William Evans (1827 – November 17, 1855) Courageous Volunteer Firefighter: Lost in the Line of Duty at the Dowell China Shop Fire
Originally from England before moving to the United States, Evans was among the Star Fire Company members who lost their lives on November 17, 1855.
They were battling a fire ignited by an arsonist at the Dowell China Shop at 203 King Street.
As the firefighters gained control of the upper levels and some began to extinguish the cellar fire, an unexpected tragedy struck around four in the morning. Just as the firemen were acknowledging their success, the west gable wall of the warehouse collapsed in a horrifying crash, causing floors to burst through. This incident killed seven respected citizens, including Evans, and injured several others. The collapse was due to an explosion of dynamite stored in the warehouse basement.

Catherine Weinraub "The Firefighter's Memorial in Ivy Hill Cemetery, Alexandria, Virginia."
The explosion's shock delayed the bodies' recovery for several hours. Those killed were Evans, G. David Appich (buried in the Presbyterian), J. Carson Green (buried in Christ Church), John Roach (buried in St. Mary's), George Plain (buried in Methodist Protestant), Robert Taylor (buried in Methodist Protestant), and James Keene (buried in Methodist Protestant).
Services for the victims were held on November 18th, which were said to have been attended by several thousand people.
WM. E. EVANS
A native of
Liverpool, England
was Killed
in Alexandria
by the Fire on
King St.
Nov. 17th 1855
aged 28 years
Erected to his memory by his brother & sister
Thos. & Esabell Evans
E14
---
K
James W. Keene (1832 – November 17, 1855) Tragic Fate: English Native Perished in the Dowell China Shop Fire
He died while battling the blaze at the Dowell China Shop fire located at 203 King Street on November 17, 1855, as a member of the Friendship Fire Company.
The exact location of Keene's burial site remains unknown, although it is recorded that he is interred in the Methodist Cemetery.
The name of Keene and six others are commemorated on the Firefighters Memorial at Ivy Hill Cemetery in Alexandria, Virginia. The memorial was dedicated in the newly established Ivy Hill Cemetery on the first anniversary of the tragic loss of the seven volunteer firefighters during the Dowell China Shop fire. Ivy Hill Cemetery is situated in the Rosemount area of Alexandria, at 2823 King Street.
Each October, during Fire Prevention Week, the names of the fallen are read aloud during a service at the monument.
---
William H. King (1844 – March 28, 1870) Tragic End: Train Engineer Fatally Injured in Railroad Engine Explosion
Train engineer William King, aged 26, was instantly killed when the railroad engine Harrisonburg exploded near Fairfax Station from steam overpressure.
Our Brother
WILLIAM H. KING
Was Killed by the
explosion of the
Engine Harrisonburg
March 28, 1870
Aged 26 years.
In the midst of Life we
are in death.
W12, footstone"W.H.K"
Conductor James Franklin Peyton suffered severe wounds, and Martin Murphy, a track worker, was severely scalded. However, both Peyton and Murphy eventually recovered.
Captain Peyton, born on September 24, 1840, and deceased on July 3, 1890, is interred at Washington Street (Union) Cemetery, just a short distance from King Street. Peyton's unexpected death occurred while employed with Virginia Midland Railroad, previously known as O&A Railroad, before merging with Lynchburg and Danville Railroad in 1872. Peyton's obituary provides further details, but the subsequent events of Murphy's life remain unknown.
During the Civil War, the Orange and Alexandria Railroad was the most straightforward path between Alexandria and Richmond. Many conflicts took place near the railroad in the war's early years. Fairfax Station functioned as the evacuation site for Union Soldiers injured in the battles of Chantilly and Second Manassas. It remained the last active railroad depot in Fairfax County until 1973, and the site is now home to the Fairfax Railroad Museum.
---
P
George O. Plain (1809 – November 17, 1855) Fallen Hero: Volunteer Firefighter Fatally Lost in Dowell China Shop Fire
On November 17, 1855, during the late hours of the night, Plain was one of the seven individuals who tragically perished while bravely battling a fire alongside the Star Fire Company. The fire broke out at the Dowell China Shop, which once stood at 203 King Street but has since been lost to history. During the incident, Mr. George Plain was positioned in the upper section of the building, gripping a hose pipe at the time of the accident.
Plain was a skilled painter by profession. When he passed away, he left behind a widow named Cartharine A. Johnston, along with their six children: Benjamin, aged 18; Ann (also known as Anna Bella), aged 15, Mildred aged 12, John aged 10, Catharine aged 8, and the youngest, Caroline Amy, aged 5.
On November 19th, he was laid to rest alongside William E. Evans, James W. Keene, and Robert I. Taylor, interred in the Methodist cemetery. The funerals were attended by an estimated crowd of over 4,000 people.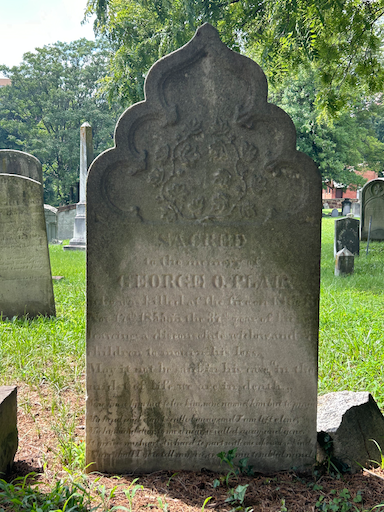 Sacred
to the memory of
GEORGE O. PLAIN
who was killed at the fire on King St.
Nov. 17th, 1855, in the 37th year of his age
leaving disconsolate widow and six
children to mourn his loss.

None knew him but to love him, none named him but in praise
My head and stay is called away and I am left alone
My husband dear to me so near, is called away and gone.

It grieves my heart tis hard to part with one who was so kind
Where shall I go to tell my woe and ease my troubled mind.
E57, footstone "G.P.;"
---
S
John Slater (1811 – February 11, 1883). An award-winning Horticulturist.
John Lloyd, born in 1811 in Oundle, East Northamptonshire Borough, Northamptonshire, England, made the life-changing decision to immigrate to the United States. In 1840, he acquired Bellevue Plantation, a historical estate likely constructed in the late 1780s. Slater was an accomplished horticulturist and collaborated with William Yeates of Yeates Garden, situated on Franklin Street in Alexandria.
At Bellevue, Slater introduced a delightful array of roses, dahlias, and strawberries. He cultivated a diverse garden with rhubarb, asparagus, lettuce, peas, and tomatoes. Additionally, he nurtured Barlett Pears and Catawba grapevines, showcasing his passion for horticulture.
During the tumultuous years of the Civil War, Slater demonstrated his generosity by donating strawberries to the Mansion House Hospital, which stood in front of the Carlyle House on N. Fairfax Street. Beyond his horticultural pursuits, he also served as an election officer and held the position of Trustee of Public Schools.
Tragically, Slater passed away at seventy-two on February 1, 1883. Bellevue remained within the Slater family for several generations, but its fate took a turn in 1912 when a powerful storm ravaged it. Today, the location of Bellevue is marked by Marina Towers.
Today's modern Slater's Lane traces the course of an earlier historic road, which once served as the primary route to access Bellevue Plantation and possibly the Dade Plantation. This road earned its name in honor of the influential Slater family, marking their enduring legacy in the area.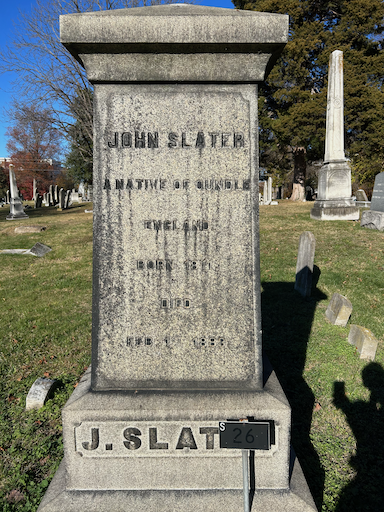 JOHN SLATER
a native of Oundle,
England
born 1811
died Feb. 1st 1883

J. SLATER
E87, obelsik
---
T
Robert I. Taylor (1814 – November 17, 1855) Guardian and Hero: I.O.R.M. Member and Firefighter Lost in the Dowell China Shop Fire
Taylor belonged to the Improved Order of Red Men, an organization with roots in the Sons of Liberty, who were involved in the American Revolutionary War. Symbols of this organization are etched into his gravestone.
On the night of November 17, 1855, Taylor was among the seven men who lost their lives while fighting a fire with the Star Fire Company at the Dowell China Shop located at 203 King Street (a building that no longer exists).
His name can be found on the Fire Fighters Obelisk at the entrance of Ivy Hill Cemetery on King Street, alongside James Keene and William Evans, George O. Plain, G. David Appich, J. Carson Green, and John Roach.
Erected by
War Eagle
Tribe no. 22
I.O.R.M.
To the memory of Past Sarhem
ROBERT I. TAYLOR
was killed at the Fire on King St.
November 17, 1855
Aged 41 Grand yrs.
And is my husband gone
My Children's father fled
And in his noble form
Reposing with the dead
We hope to meet in Heaven
W8, footstone "R. I. T."
---
Sources of Information
Stowe, H. B. (1854). The Key to Uncle Tom's Cabin. Jewett Publishing.
Wallace, L. A., Jr. (1990). 17th Virginia Infantry. H.E. Howard, Inc.
Greenly, M. (1996). Those Upon the Curtain Has Fallen: The Past and Present Cemeteries of Alexandria, VA. Alexandria Archaeology Publications.
Powell, M. G. (2000). The History of Old Alexandria, VA, from July 13, 1749 – May 24, 1861 (W. E. Pippenger, Index). Willow Bend Books.
Pippenger, W. E. (2008). Tombstone Inscriptions of Alexandria, Virginia: Volume 2. Heritage Book, Inc.
Hakenson, D. C. (2011). This Forgotten Land Volume II, Biographical Sketches of Confederate Veterans Buried in Alexandria, Virginia. Self-published.
Weinraub, C. (2017). The Firefighter's Memorial in Ivy Hill Cemetery, Alexandria, Virginia. The Alexandria Chronicle, Fall 2017. Alexandria Historical Society, Inc.