St. Paul's Cemetery, established in 1809, arose amidst nearby church burial grounds following a separation from Christ Church. This division paved the way for the birth of St. Paul's Episcopal Church that same year. Shortly after the cemetery came into existence, the eminent Benjamin Latrobe designed a new church edifice on South Pitt Street. It was solemnly consecrated in 1818 to serve the burgeoning congregation. Today, St. Paul's Cemetery remains the resting place for over 1,500 souls from the congregation and the broader community, underlining its pivotal role in history.
The roster of those laid to rest here is yet to be comprehensive. We have a collection of names on record, and more will be added over time. If you have details of a compelling tale or a name that merits recognition, we invite you to contact Gravestone Stories.
C
Thomas Wells Childs: the Heroic Soldier from the Mexican War Buried in St. Paul's Cemetery
Thomas Wells Childs, a heroic soldier from the Mexican War, is buried in St. Paul's Cemetery. Childs was born on March 16, 1796, in Pittsburgh, Massachusetts. He graduated from West Point, the United States Military Academy, in 1814 and was promoted to Third Lieutenant in the 1st Artillery on March 11, 1814. Read more at this [link].
---
Montgomery Dent Corse (March 14, 1816 – February 11, 1895) Forging a Path from Battlefields to Banking: The Extraordinary Story of a Civil War Veteran
Montgomery Dent Corse, born in Alexandria on March 14, 1816, initially gained recognition as a captain of Virginia volunteers during the Mexican War. Following this conflict, he ventured to California and resided there until 1857, when he returned to his hometown of Alexandria. In 1857, he embarked on a new venture by establishing a banking business.
With the onset of the Civil War and Virginia's secession from the Union in 1861, Corse assumed a pivotal role. He was appointed Colonel of the 17th Virginia and aligned with Longstreet's Corps, subsequently serving under Kemper's Brigade. The 17th Virginia took part in significant battles, including First Manassas, Yorktown, Williamsburg, Seven Pines, and the Seven Days. The regiment's involvement extended to pivotal conflicts like South Mountain and Antietam, during which Corse was wounded. His distinguished actions at Antietam promoted him to the rank of General.
Although the 17th Virginia was detached during the Gettysburg Campaign and thus absent from that battle, they remained active in subsequent engagements, notably the siege of Petersburg and Richmond. Corse's journey took an unfortunate turn at the Battle of Sayler's Creek, where he, along with a considerable portion of Lee's Army of Northern Virginia, was captured and subsequently sent to Fort Warren in Boston as a prisoner of war.
Upon regaining his freedom, Corse returned to his roots in Alexandria and resumed his banking endeavors at 414 N. Washington Street. This building, constructed by Anthony Cazenove, held personal significance as Corse had grown up there and shared it with his wife and four children. Tragically, Montgomery Dent Corse passed away on February 11, 1895. Remarkably, his wife, Elizabeth, followed suit two weeks later, underscoring their deep connection.
An intriguing detail marks Corse's life story: he has two gravestones, one of which erroneously states his birthday as March 18, 1816.
MONTGOMERY DENT CORSE
Born in Alexandria, Virginia
March 14, 1816
Died in Alexandria, Virginia
Feb. 11, 1895
MONTGOMERY DENT CORSE
BGEN 17 VA INF
Confederate States Army
Mar. 18, 1816
(Maltese Cross)
Feb. 11, 1895
Presented by M.O.S. & B. Samuel Cooper Chapter
Lot 100 – Corse
D
Julius Adolphus De Lagnel (1827 – 1912) Military Leadership in the Civil War: Served as a Confederate Army Brigadier General
Julius Adolphus De Lagnel (1827–1912) was a Confederate Brigadier General in the Civil War. He initially served as a 1st Lieutenant in the Union Army but switched sides to support the Confederacy. He fought alongside General Garnett, getting wounded and captured at the Battle of Rich Mountain. De Lagnel later became a Major in the 20th Battalion Virginia Artillery and a Lieutenant Colonel in the Confederate Ordnance Department. While he was promoted to Brigadier General in 1863, he declined the position and continued as a Colonel. He served as a senior officer inspector of arsenals in Richmond, Virginia. After the war, he worked in shipping out of Washington, D.C., and in the Pacific steamship service. He passed away on June 3, 1912, in Washington, D.C., and was laid to rest at the cemetery of St. Paul's Episcopal Church in Alexandria, Virginia.
Born on July 24, 1827, in Newark, New Jersey, his parents were Captain Julius Adolphus De Langel and Harriet Sanford. He had two wives: Madeline (1843–1900) and Josephine Conklin Cowles (1846–1931). Before the war, he served in the United States Army, rising to 1st Lieutenant. He resigned from the Union Army on May 17, 1861. During the Civil War, he held various roles, including Chief of Artillery to Brig. General Robert S. Garnett, defended Rich Mountain, was wounded and captured, and eventually attained the rank of Brigadier General, though he declined the commission. After the war, he engaged in the Pacific Steamship Service business. He died of heart disease at age 84 on June 3, 1912, in Washington, D.C.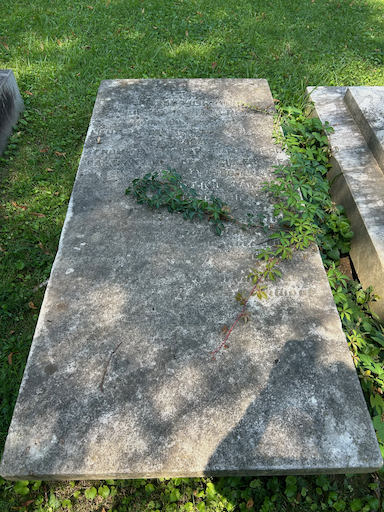 In memoriam
JULIUS A. DeLAGNEL
born July 24, 1827
Lieut. 2nd Regiment of Artillery
U. S. Army
from March 1847 to May 1861
Capt. and Col. of Artillery of
Confederate States Army
during the Civil War
died June 3rd 1912

A brave and distinguished officer
Considerate of the welfare of his men
beloved by them and honored by his
country as well as by his companions.
A Southern gentleman, One who lived
and died without fear and without
reproach
Lot 163 – 164 – Johnston
H
James Hooff (February 18, 1825 – November 30, 1915)
James Wallace Hooff, born in 1825 in Alexandria, led an extraordinary life marked by unwavering commitment and love. He defied societal conventions by marrying his second cousin, Jannett Hooff Brown, following a courtship that raised eyebrows due to their differing religious backgrounds—he was Presbyterian, she was Episcopalian.
One remarkable relic from their secret courtship is a letter from 1847, showcasing the famed "Alexandria Blue Boy" stamp. This postage rarity fetched a staggering $1 million in 1981 and is now valued even higher.
Together, James and Jannett had three children, their eldest being Mary Goulding Hooff Fawcett, born on December 1, 1853, followed by their son Douglas, born on September 18, 1858.
Before the outbreak of the Civil War, James served as the Deputy Collector and Inspector of Weights & Measures for Alexandria City. During the conflict, he demonstrated immense dedication to his faith and community by safeguarding his church's precious silver communion goblets. He buried them in the yard of his residence at 517 Prince Street, Alexandria, VA, to protect them from potential theft by Union soldiers.
James Hooff's service extended beyond the war as he dedicated 54 years to the War Department, remaining energetic and devoted until his final days. He passed away at the age of 91 of capillary bronchitis at his home, leaving behind a profound and lasting legacy within his community. He was buried in lot 65 – Celtic Cross.
---
Lawrence Hooff Jr. (1780 – March 10, 1842) Vital Role in History: A Key Washington Bier Carrier
He was one of the four Lieutenants from the 106th Regiment of the Virginia Militia who participated in carrying George Washington's casket to the original tomb on December 18, 1799. Lawrence Hoff Jr. owned the property at 210 North Fairfax Street in Alexandria, Virginia.
He also held the rank of Major during the War of 1812 and took part in the Battle of White House Landing.
---
Adam Lynn, Jr. (1775 – December 6, 1835) Diverse Path of Service: Silversmith, Justice of the Peace, and Lieutenant Colonel in Alexandria Militia during the War of 1812.
Gen Adam Lynn was the son of Revolutionary War colonel Adam Lynn. He likely became the brother-in-law of jeweler Josiah Coryton, taking over his business in 1801. He was the uncle of Ann Eliza Childs, buried in the same lot.
During the War of 1812, Adam Lynn served as a lieutenant colonel. In peacetime, he worked as a silversmith, clock maker, and merchant at Adam Lynn & Co on King and Royal Streets. He was a member of Masonic Lodge 22 and held public roles like justice of the peace, clerk of Common Council, and magistrate.
Gen Lynn was involved in various roles at St. Paul's Episcopal Church, including being the first vestryman, pewholder, and contractor for church hardware. His name appeared on Rev. William Jackson's calling list, and he lived in the first division, south of King and east of Asaph. Read more at this [Link]
Sacred
to the memory of
GENERAL ADAM LYNN
who after a severe and lingering illness
which he bore with Christian fortitude
calmly resigned his soul to his Redeemer
in whom he alone trusted for salvation
on the 6th of Dec. 1836
Aged 61 years
Hallowed be this spirit belonged…
until the …

Lot 32 – Lynn
J
Reverend and Mrs. James T. Johnston – Affectionately Known as "Parson Johnston!"
Reverend and Mrs. James T. Johnston, known affectionately as "Parson Johnston," have a notable history intertwined with St. Paul's Church and Alexandria. Born in Savannah, Georgia, Reverend James T. Johnston, a Yale University graduate with a background in law, made the pivotal decision to pursue a career in the ministry. After completing his theological studies at the New York Theological Seminary, he was called to lead St. Paul's Church, a position he held with unwavering dedication from 1834 to 1859. Remarkably, despite tempting offers to helm prosperous churches, including the prestigious Trinity Church in New York City, he remained loyal to St. Paul's.
Unfortunately, Reverend Johnston's tenure at St. Paul's was cut short in 1859 due to declining health, leading to his resignation. Mrs. Jane Sanford Johnston, a New York City native, shared her husband's commitment to the church and their community.
In 1851, the Johnstons constructed an elegant brick house at 806 Prince Street, which they called home until May 1861. Tragically, the outbreak of the Civil War resulted in the confiscation of their property by Federal Authorities. During the war, Johnston's residence served as a branch of the General Hospital (Mansion House) from March 1862 to September 20, 1862. It later became part of the 2nd Division General Hospital in Alexandria along with the Fowle house opposite Prince Street.
Following the war, the Johnstons returned to 806 Prince Street, where they resided until their passing. He died February 27, 1887; she died August 2, 1884.
In 1884, the building assumed a new purpose as the headquarters for the Robert E. Lee Camp of Confederate Veterans. It stands as the Robert E. Lee Camp Hall Museum, overseen by the Mary Custis Lee-17th Virginia Regiment Chapter #7 of the United Daughters of the Confederacy.
Rev. JAMES T. JOHNSTON
born in Savannah, Ga.
July 4, 1797
Died in Alexandria, Va.
February 28, 1877.
His record is on High.
Mrs. JANE JOHNSTON
died August 2nd, 1884
aged 85 years.
We took sweet counsel together, and
walked unto the house of God in
company
LOTS 163 – 164 – Johnston
M
Wilmer McLean (May 3, 1814 – June 5, 1882) – Witness to the Commencement and Conclusion of the American Civil War
Wilmer McLean, son of Daniel McLean, one of the founders of St. Paul's Episcopal Church in Alexandria, tied the knot with Virginia Hooe Mason in 1853. Virginia, previously married to John Seddon Mason, brought a dowry that included a sprawling 1200-acre estate named Yorkshire, situated near Bull Run in Prince William County. The couple settled there, raising Wilmer's son, their three daughters, and Virginia's two daughters from her previous marriage.
As tensions escalated in 1861, both the Confederate and Union armies set their sights on the area for the First Battle of Bull Run, also known as the First Battle of Manassas. On July 18th, Union artillery targeted Yorkshire, which at the time was serving as the headquarters for Confederate General Pierre G. T. Beauregard. Their attack successfully hit the summer kitchen. Days later, on July 21, the two armies clashed fiercely nearby at Manassas.
With their property caught in the crossfire, McLean decided it was best for his family to leave the war-torn region. They relocated to Appomattox Courthouse, a quiet hamlet 120 miles away, hoping to escape the horrors of war.
However, fate had a different plan. On April 9, 1865, a significant historical moment unfolded in the McLean residence's parlor. It was here that General Robert E. Lee of the Confederate Army of Northern Virginia and General Ulysses S. Grant met, marking the beginning of the end of the Civil War.
Read the blog The Beginning and the End of the Civil War! for the rest of the story.
---
Abraham Charles Myers: The Namesake of a Florida City (May 14, 1811 – January 29, 1889)
He served as a military officer in both the United States and the Confederacy, with experience as a veteran of the Seminole Wars. Eventually, he was reassigned to the Quartermaster Department, where his term was primarily characterized by ineffectiveness. His lack of competence led to his removal in early 1864.
Read the blog The Unique Engagement Gift for the rest of the story.
S
Minna Simms and Aida Lester Simms: The Infamous Siblings Behind Chicago's Most Notorious Brothel
Minna Simms (born July 13, 1866, and died September 16, 1948) and Aida Lester Simms (born February 15, 1865, and died January 3, 1960) were responsible for running and managing a well-known brothel in Chicago. They operated this establishment from 1900 to 1911.
Read the blog The Most Notorious Brothel in Chicago! for the rest of the story.
---
The Enigmatic Woman: Remembering Alexandria's Most Visited Grave – The Female Stranger (February 1793 – October 14, 1816)
In September of 1816, a pair disembarked from a ship from the West Indies and made their way to Gadsby's Tavern. The woman was adorned with a black veil and ailed from typhoid or yellow fever. A valet and a French-speaking maid were in their company. When they arrived, they requested that their identities be kept secret. With assistance from Elizabeth Tretcher Steuart (1795 – November 26, 1854), who lies in the Presbyterian Cemetery (42:60), Doctor Samuel Richards cared for the ailing woman. Mrs. Steuart portrayed her as young and stunningly beautiful. Tragically, the woman died on October 14th, embraced by her husband, who subsequently bought a burial plot in St. Paul's Cemetery and ordered a monument for her grave following the funeral. The man, along with the valet and maid, then vanished without a trace. A payment of $1500 in English currency for all expenses—including accommodation, meals, healthcare, the funeral, plot, and monument—turned out to be fraudulent. Their true identities remained a mystery, unknown to the tavern keeper, Dr. Richards, or Elizabeth Steuart.
Please read the blog The Most Visited Grave in Alexandria! for the rest of the story.
Sources of Information
Moore, Gay Montague. Seaport in Virginia, George Washington's Alexandria. Richmond, Virginia. Garrett and Massie, Incorporated. 1949.
Hibbeler, Ray. Upstairs at the Everleigh Club. Volitant Books. V 9503 N. United States. 1960.
Powell, Mary Gregory. Index by Pippenger, Wesley E. The History of Old Alexandria, VA, from July 13, 1749 – May 24, 1861. Westminster, Maryland, Willow Bend Books. 2000.
Madison, Robert L. Walking with Washington. Baltimore, Maryland. Gateway Press, Inc. 2003.
Herbert, Paul N. God Knows All Your Names. Stories in American History. Bloomington, IN. AuthorHouse. 2010.
Hakenson, Donald C. This Forgotten Land Volume II, Biographical Sketches of Confederate Veterans Buried in Alexandria, Virginia. Donald Hakenson. Alexandria, Virginia. 2011.
Pippenger, Wesley E. Tombstone Inscriptions of Alexandria, Virginia (Vol 5). Berwyn Heights. MD. Heritage Books. 2014