The establishment of the Presbyterian Cemetery directly responded to the devastating yellow fever epidemic that ravaged Alexandria in 1803. This tragic event claimed the lives of hundreds of the town's residents, quickly overwhelming the capacity of the existing town and church burial sites.
Recognizing the pressing need for a solution, the town's local council swiftly took action in 1804, enacting a regulation that halted the sale of more burial plots within the town after March of that year. Recognizing the sustained risk and the necessity for long-term planning, by 1809, a stricter law was put into place, which outright banned any new burials within the town's boundaries. This led to the establishment of larger and more organized cemeteries on the outskirts of town, ensuring the respectful resting of those who passed while safeguarding the health and well-being of the living.
Over 2,400 individuals have found their final resting place in the historic 1809 Presbyterian Cemetery & Columbarium in Alexandria, Virginia. Presented below is a selection of those interred. This list is not exhaustive; we will continuously update it with new names. Should you know any intriguing tales or notable names that merit inclusion, don't hesitate to contact Gravestone Stories.
Click on this blog post [The Presbyterian Cemetery: a Historic Burial Ground Dating Back to 1809 in Alexandria, Virginia] to read about the cemetery's history.
---
A
John Adam (1781 – September 30, 1843) was the Worshipful Master of Alexandria-Washington Lodge No. 22 in 1833-1834.
John Adam, the eldest son of the distinguished Robert Adam (1731 – 1789), carried his family's legacy in Alexandria. Born into a lineage of prominence, John's father, Robert, arrived in Alexandria in 1755 and quickly became a community pillar. Robert was not only a close friend of George Washington but also the Worshipful Master of Alexandria's inaugural Masonic Lodge, predating Washington's Lodge No. 22. He further solidified his stature by signing The Fairfax Resolves and residing at the renowned "Fairfax House" or "Adam House" at 207 Prince Street. His entrepreneurial ventures included managing a wharf and warehouse and owning a grist mill, a store, a tannery, an iron foundry, and a bakery. As a town trustee, Adam took an active role in local civic affairs, notably participating in the 1767 repair of a schoolhouse.
Growing up in such an illustrious household, John Adams became a notable figure in Alexandria. His commitment to the community was evident through his various roles and contributions. In 1817, he served on the Church Committee and later took on the congregation's collector and treasurer responsibilities. Although he attended a pivotal meeting in March 1817 about the formation of the Second, he chose not to join. His generosity shone when he funded the installation of the first Meeting House organ. By 1810, John's name was associated with the St. Andrew's Society, as highlighted in the Alexandria Gazette and Virginia Advertiser. His Masonic ties mirrored his father's, being a Masonic Lodge No. 22 member and holding the revered title of Worshipful Master. The Common Council, recognizing his dedication, appointed him as a trustee of the Poor House in 1820. John's life of service and leadership culminated in his final resting place, marked by an obelisk in plot 41:14.
In memoriam
within these sacred
precints lie the
departed members of
the ADAM
family
ELIZA CAMPBELL ADAM
beloved daughter of
JOHN and MARY
DUNLAP ADAM
born Sept. 12, 1819
died May 29, 1909
JANE DADE
daughter of ROBERT
and ANNA ADAM
died Jan. 23, 1873
aged 89 years
widow of CHARLES
STUART DADE who was
lost at sea July 1811
CHARLES IRVIN
son of
JOHN and MARY ADAM
died Jan. 1823
aged 5 years
THOMAS IRWIN
son of
JOHN and MARY ADAM
died Jan. 19, 1879
JOHN ADAM
eldest son of
ROBERT ADAM
First Wor. Master of
the Alexandria
Washington Lodge
of Masons
Grandson of the
Rev. JOHN and JANET
CAMPBELL ADAM
of Kilbride, Scotland
died Sept. 30, 1843
aged 62 years
MARY DUNLAP
widow of JOHN ADAM
died Jan. 29, 1873
JAMES IRWIN
of Belfast, Ireland
The faithful
guardian of JOHN ADAM
died Sept. 5, 1822
41:14
---
John Adam (1775 – August 4, 1848)
John Adam was a renowned silversmith in Alexandria. Contrary to popular belief, he was not the son of Robert Adam, as mentioned above, but rather his cousin, as noted in Hollan's Alexandria Silver catalog. John operated a shop on King Street, which unfortunately suffered damage during the great fire of 1827. Additionally, he owned a three-story brick house on Fairfax Street. This residence, occupied by Joseph Dodds as his shoe store and his family, also faced significant losses, as detailed in Miller's "PEN PORTRAITS" (pages 112-114).
John's craftsmanship in Alexandria extended until approximately 1829. While he is primarily credited with crafting exquisite tea services and silverware, one of his unique creations—a pair of sunglasses—is now a prized possession of the Mount Vernon Ladies Association. Other items made by Adam can be viewed in the Alexandria History Museum at The Lyceum, located at 201 S. Washington Street.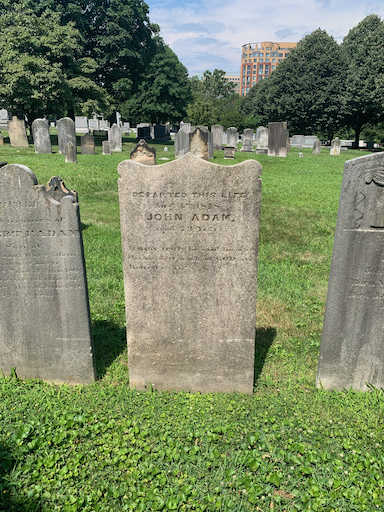 Departed this life
Augt. 4, 1848
JOHN ADAM
ages 73 years
It may truly be said he was
the noblest work of God, an
honest man
41:13
---
John Park Agnew (1819-1892): An Industrious Life of Coal and Community.
John Park Custis Agnew is commonly known as Jno. P. Agnew, or John P. Agnew, was a prominent figure born in 1819 in Ebensburg, Pennsylvania. His parents were John Agnew and Elizabeth Park. Agnew's life was largely tied to the coal industry, reflecting his roots in Cumberland, Maryland—a notable coal region. In June 1860, he was formally recognized by the Meeting House, and from 1865 until the dissolution of the congregation, he devotedly served as an elder at the Meeting House.
Agnew was deeply involved in church affairs, notably serving on the Meeting House Church Committee from December 1860. He held the community's trust-appointed trustee by a legal document authored by U.S. Circuit Court Judge Westel Willoughby. Many recognized his leadership within the church, including Rev. James I. Vance, who referred to him as part of the "entire session" and ruling body of the First Presbyterian Church.
His influence extended beyond the church, as he was a mediator in local disputes, such as one at Beulah Baptist Church in 1876. Agnew resided at various prestigious addresses in Alexandria, Virginia, and his home eventually made way for St. Mary's Roman Catholic Church parking.
Professionally, Agnew was a successful coal shipper, with his business located at the heart of Alexandria's waterfront. He operated John P. Agnew & Co., becoming a significant figure in coal dealing along the Potomac River and representing several coal companies from the 1870s. His entrepreneurial ventures also led him to purchase or establish major shipbuilding companies, contributing significantly to Alexandria's maritime industry.
Agnew's business acumen was recognized city-wide, with his firm being one of Washington's principal business firms by 1890. Despite challenges like the great flood of 1889, his shipyard sustained minimal damage and continued operations, including constructing a four-masted schooner in 1882. Over the years, his shipyard launched many vessels, further solidifying his status as a major shipbuilder.
His leadership roles extended to financial institutions, serving on the Board of Directors for the Alexandria Cooperative Building Association and the Citizens National Bank. He was also the president of the Perpetual Building Association of Alexandria.
John P. Agnew passed away in 1892 and was buried in the Presbyterian Cemetery, leaving behind a legacy of industry, leadership, and community service. His life was shared with his wife, Matilda Elizabeth Thomas Agnew, and their ten children, who continued to influence and shape the communities they were a part of. Their lives, too, were marked by service and contributions to various sectors, from real estate to the chemical industry, and their legacy persisted through the generations that followed.
Descendants of the Agnew family continue to reside in Alexandria to the present day.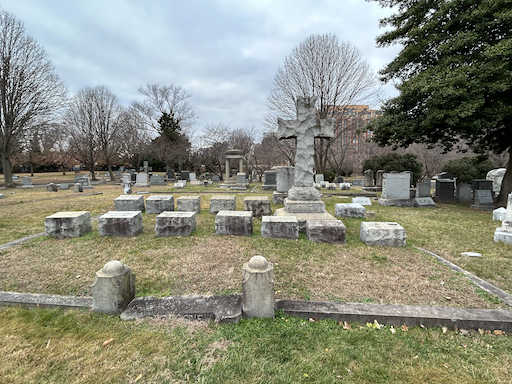 In Memory of
JOHN PARK AGNEW
born in Ebensburg, Pa.
December 25, 1819
died in Alexandria, VA
June 7, 1892
He shall dwell before God
forever
In memory of
MATILDA ELIZABETH
beloved wife of
JOHN PARK AGNEW
1823 – 1917
Blessed are the pure in heart
for they shall see GOD.
44:149
---
Sarah Maude Downham Aitcheson (July 19, 1877 – June 17, 1964): A Regular Guest at the Lee-Fendall House, Her Brother's Historic Home.
Sarah Maude Downham, an alumna of Miss Baird's Home School for Girls in Norwalk, Connecticut, wed Benjamin Meknew Aitcheson, the head mechanic of the pattern shop at Washington Navy Yard, on April 29, 1907. They resided at 411 North Washington Street, near her brother, a distinguished liquor merchant in Alexandria. His residence was at 429 North Washington Street, now recognized as 614 Oronoco Street, and currently known as the Lee-Fendall House.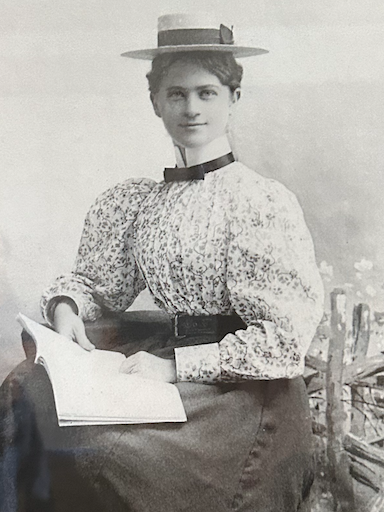 On the house's second floor, the bedroom in the Southwest corner offers a unique glimpse into history. Alongside the photograph of Sarah from her time at Miss Baird's displayed above the bed, an intriguing feature of the room is the window overlooking the garden. Here, visitors can observe etchings in the glass panes, including the names of Myra Lee Civalier, her dog, and a friend named Mary Lee. These etchings serve as a charming and personal connection to the past, further enriching the historical ambiance of the room.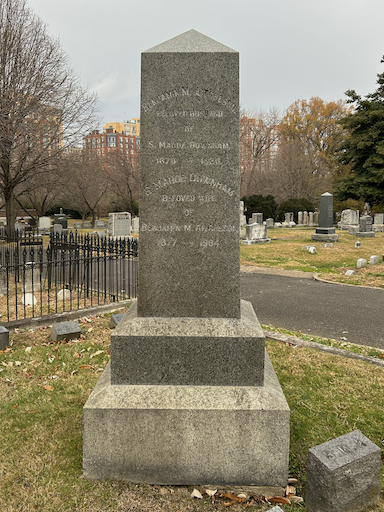 BENJAMIN M. AITCHESON
Beloved Husband
of
S. Maude Downham
1870 – 1920
S. MAUDE DOWNHAM
Beloved Wife
of
Benjamin M. Aitcheson
1877 – 1964
Section 25 Plot 22, Obelisk
---
Robert Allison, Jr. (1787 – September 5, 1814) – Fatality in the 1814 Battle of the White House
In Memory
of
ROBERT ALLISON, Jr.
who fell
in battle on the 5th Septr. 1814
at the white house
in gallantly defending his country
aged 27 years
Our lives belong to God, & our country
He was a dutiful son
an affectionate Brother
conciliating in manners
beloved by all
erected by his kinsman
JAMES M. STEWART
42:74
A member of the Meeting House was killed on September 5, 1814, during the Battle of the White House. Another member, Samuel Bowman, was also killed. Unfortunately, the exact location of his grave is no longer known. This incident happened while they were serving in the 1st Regiment of the District of Columbia Militia. The battle occurred when seven British ships attacked and looted Alexandria between August 29 and September 1.
Read The Battle of the White House blog for the rest of the story.
---
George David Appich (December 28, 1833 – November 17, 1855) – Volunteer Firefighter Among Seven Lost in the Line of Duty at the Dowell China Shop Fire, November 17, 1855
On the evening of November 17, 1855, a tragic event unfolded: a member of the Star Fire Company, one among seven brave men, lost his life while attempting to quell the flames that consumed J. T. Dowell's China Shop, situated on the 200 Blk of King Street. Although the structure has long since vanished from the landscape, the memory of this firefighter remains indelible.
A solemn inscription bearing his name is etched on the Fire Fighters Obelisk, standing guard at the entrance of Ivy Hill Cemetery on King Street. This monument is a touching tribute to the firefighters who, over the years, have made the ultimate sacrifice in the line of duty. The overwhelming outpouring of grief and respect from the community at the time is evident from the fact that over 4,000 souls attended his funeral, bearing witness to his profound impact and the deep-seated appreciation of the citizenry.
Every fall, in a moving ceremony, the community comes together to remember this courageous firefighter and others who gave their lives in service, including those who fell on 9/11. These commemorative moments serve as a heart-rending testament to the perils firefighters confront daily and their unwavering commitment to the safety of the communities they serve.
In memory of
GEORGE DAVID APPICH
only son of GOTLIEB and BARBARA APPICH
born December 28th, 1833
was killed while discharging his duty as a Fireman
November 17th, 1855
Dearest David, thou hast left us
here thy loss we deeply feel
But tis God who has bereft us
He can all our sorrows heal.
43:99
---
B
William Bartleman (1767 – December 21, 1842) A Multifaceted Legacy: Merchant, Mason, and Valiant Veteran of the War of 1812
Also, see William Gregory.
William Bartleman was born in Stornoway, Isle of Lewis, Scotland. He emigrated to the United States at 14 in 1784, along with his brother John. They settled in Alexandria, Virginia.
To read the rest of his incredible story, click on this blog [William Bartleman: Uncovering the Resilient Life Journey of a Scottish Merchant, Mason, and War of 1812 Veteran].
---
Robert Bell, Sr. (1809 – July 15, 1885) – Prominent Literary Merchant and Esteemed Elder in the Presbyterian Church
From Christmas Day 1844 until his passing in 1885, he served as a Ruling Elder at the Meeting House in Alexandria. Known for his role as a prominent bookseller and printer in the area, he left a lasting impact on the community through his dedicated service.
To read more, please visit this blog: Robert W. Bell: a Tale of Resilience, Community Engagement, and Entrepreneurship in 19th Century Alexandria.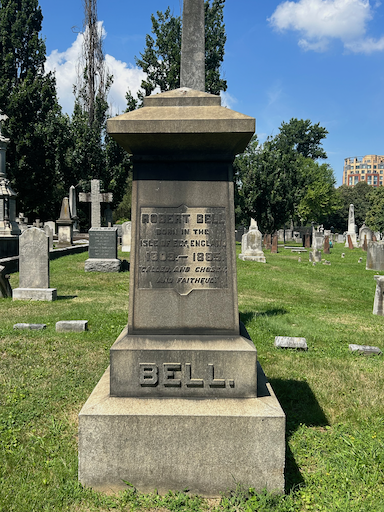 ROBERT BELL
born in the
Isle of Ely, England
1809 – 1885
Called and chosen
and faithful
MARY GREENHALGH
wife of ROBERT BELL
born in Lancashire
1816 – 1891
ELIZABETH BLINKHORN
BELL
aged 90 years
43:122, obelisk
---
Captain David Black (1762-1831)
Captain David Black (1762-1831) was a distinguished figure in the historic town of Alexandria, celebrated for his maritime prowess and deep-rooted civic dedication. Before his prominence as a ship captain, Black bravely served as a drummer boy during the Revolutionary War. For five pivotal years, he was part of the First, Second, Third, and Fourth New York Regiments, serving under the esteemed leadership of Colonel Philip Van Cortland. This military service laid a foundation of discipline and commitment he carried into his later endeavors.
In the bustling seaport of Alexandria, Captain Black's maritime knowledge was unparalleled, and he generously imparted this wisdom to budding sailors and merchants. Beyond the seas, he was a central figure in the town's commerce, owning a pivotal store that facilitated trade. His dedication to the community extended further as an active member of the Relief Fire Co., showcasing his unwavering commitment to public welfare. His affiliations with prestigious groups like the Masonic Lodge and the St. Andrew's Society further underscored his stature and influence in elite circles.the time and the moral choices made within that context.
Yet, Captain Black's legacy is multifaceted. The 1810 census reveals that he owned four slaves, casting a shadow over his contributions and prompting introspection about the prevailing societal norms and ethical decisions of that period.
In reflecting upon Captain David Black's life in early 19th-century Alexandria, one witnesses a tapestry of maritime triumphs, civic duties, societal affiliations, and moral dilemmas. His narrative offers a nuanced understanding of the times, emphasizing both his commendable deeds and the more contentious aspects of his legacy. Through his story, we are reminded of the intricate layers of history and the individuals who have intricately woven the fabric of our present world.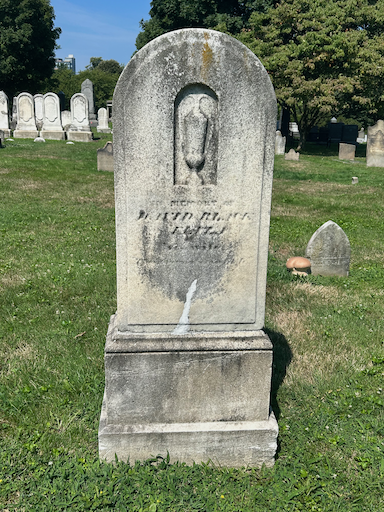 In memory of
DAVID BLACK
& ELZA
his wife

Sacred to the memory of
ORLAND KING SHAY
aged 9 mos. and VIRGINIA, aged 22
mos. who died the same hour, Aug.
21, 1834
They sleep on the remains of their grandfather
DAVID BLACK
and lie side by the side of their sister
MARY JANE who died Aug. 29th,
1839 aged 11 years, 8 mos. and their
brothers ORLANDO EUGENIUS
who died Sept 11th, 1840 aged 5 years
2 mos. 23 days, and HENRY JAMES
who died May 23, 1842, 1842, aged 9 mos. 22 days.

Children of SAMUEL & JANE ELZA KING
SHAY


41:11 (note the gravestone is illegible)
---
Robert Brockett, Sr. (1752 – March 28, 1829) – Master Brick Mason Behind Alexandria's Architectural Icons, including Gadsby's Tavern
Hailing from Lanarkshire, Scotland, Brockett settled in Alexandria in 1784. As a renowned master builder and brick mason, he imprinted his legacy on the town's architectural landscape with numerous brick edifices. Among his crowning achievements is the 1787-built Meeting House Flounder House. Furthermore, his handiwork graces other landmarks in Alexandria, including Gadsby's Tavern and the structures at 301, 303, 305, and 307 N. Washington Street.
For more in-depth information about Brockett and his contributions to Alexandria's architectural heritage, you can visit a comprehensive site dedicated to him at [ link].
Beneath this tomb
is deposited the mortal remains of
ROBERT BROCKETT
a native of
Lanark Shire, Scotland
who departed this life on March 29th, 1829
aged 78
During a residence of 45 years in Alexandria, he maintained the character of a worthy citizen & honest man.
41:9, boxtomb
---
Major Robert Brockett (1792 – June 22, 1867) War of 1812 Veteran and Distinguished City Council Member for Over Two Decades
Major Brockett served with distinction during the War of 1812. Initially, he joined Captain Moreland's unit as a regular soldier before being promoted to lieutenant under Captain McKnight. As a leader, he led the Company of Independent Volunteers at the Battle of the White House. Read more about the battle at this [link].
Born to Robert Brockett, a master builder and brick mason, Major Brockett succeeded his father in the construction business. He became well-known in Alexandria for building numerous homes, carrying the family legacy.
Major Brockett and Dr. James Carson, who lived from 1773 to September 9, 1855, and rests at Christ Church Episcopal Cemetery, were both members of the Brooke Lodge of the Masons. They notably played a key role in organizing a grand welcome for Lafayette during his visit to Alexandria in October 1824.
In addition to his other accomplishments, Major Brockett was chosen to represent Alexandria as a special Commissioner. This responsibility took him to Virginia's General Assembly in 1846-47 and the United States Congress, where he discussed the potential return of Alexandria and Alexandria County to Virginia.
On the personal front, Major Brockett wed Elizabeth (Betsy) Edgar Longden on December 14, 1815. Elizabeth came from a family with its historical significance – her grandfather, Thomas Longden, tragically lost his life in the Battle of the Monongahela on July 9, 1755. This battle was a part of General Edward Braddock's ill-fated campaign to capture the French-controlled Fort Duquesne, which stands where Pittsburgh, PA, is today. Major and Mrs. Brockett were blessed with ten children, some of whom are detailed below.
BROCKETT, ROBERT
1792-1867
44:148
Walter Burnett Brockett (1828-1889)
Brockett was Captain in the Infantry of the Confederate States of America (C.S.A.) in Louisiana and was laid to rest in the Presbyterian Cemetery. He served on the staff of Confederate Brigadier General William B. Taliferro. In 1862, he was appointed Captain in the Confederate Quartermaster Department, and his dedication led to a promotion to Major. Notably, he assumed the role of President for the board of assessors in the State of Louisiana during Governor McHenry's tenure. Tragically, he suffered a stroke and passed away upon his return to Alexandria in 1889.
BROCKETT, WALTER BURNETT
1828-1889
44:148
Franklin Longden Brockett (December 16, 1822- May 30, 1891) Noteworthy Author: Chronicles of Alexandria and the Insights into Masonic Lodge No. 22
Brockett played a prominent role as The City of Alexandria's editor from 1876 to 1885, leaving an indelible mark on the history of Alexandria, Virginia. Renowned for his authorship of two pivotal books centered around the city's history and its local commercial landscape, Brockett's contributions are noteworthy.
The first of his literary endeavors, "A Concise History of the City of Alexandria, Virginia 1669 to 1883, with a Directory of Reliable Business Houses in the City," is a testament to his dedication. Collaborating with George W. Rock, Brockett co-authored this publication, which chronicles Alexandria's historical journey and offers a comprehensive directory of trustworthy local businesses. His co-author, George W. Rock, born in 1825, passed away on January 22, 1886, and found his final resting place in Christ Church Episcopal Cemetery.
Brockett's second notable work, "The Lodge of Washington: A History of the Alexandria-Washington Lodge No. 22, A. F. and A. M. of Alexandria, Va. 1783-1876," delves into the historical narrative of the Alexandria-Washington Lodge No. 22—a Freemason lodge nestled in Alexandria, Virginia. Drawing inspiration from the original records of the lodge, Brockett meticulously compiled this account of its history. Enriching the content further, he included an insightful appendix, extending the lodge's story into the late nineteenth century.
These two books hold immense significance in their role as historical archives, ensuring the preservation of Alexandria's past and the stories of its inhabitants during the respective timeframes. Brockett's diligent efforts offer a window into the city's evolution, capturing its growth and transformation over the years. Moreover, by spotlighting the Alexandria-Washington Lodge No. 22, Brockett highlights the notable contributions of the Freemason community to the local heritage, enriching the broader cultural and societal tapestry.
In a different context, Brockett's association with the 12th Virginia Infantry Regiment and Company D of the Third Local Defense Troops adds another layer to his multifaceted persona. As the proprietor of a store in Petersburg, Virginia, Brockett's establishment was a hub for a diverse range of fashionable goods, becoming a significant retail presence in the area.
BROCKETT, FRANKLIN LONGDEN
1822-1891
44:148
---
John Turpin Brooks (1755 – January 26, 1821)
Captain John T. Brooks, also known as John Turpin Brooks or John T. Brooke, was a multifaceted individual of his time. A dedicated serviceman, he served in the 2nd Virginia Regiment of the Continental Army. Beyond his military service, Brooks was an active member of his community. He was a member of the Masonic Lodge as per the 1810 Roster and took on civic responsibilities as a member of the City Council during the War of 1812, as documented by Miller in 1992.
In the realm of business, Captain Brooks showcased his entrepreneurial spirit. He was the proud owner of the second largest ship registered at Alexandria, the 342-ton Potomac, as noted by Netherton. Furthermore, he ventured into the vinegar business, placing advertisements in local newspapers promoting his vinegar yard located on the east side of Fairfax street, opposite the Presbyterian church. Here, he offered "Choice Cider Vinegar" for sale, ensuring a consistent supply to meet the demands of his customers.
Additionally, Captain Brooks associated with the Meeting House, collecting pew rents as mentioned in the church minutes on 7 January 1817. His diverse roles and contributions paint a picture of a man deeply involved in his community and business endeavors.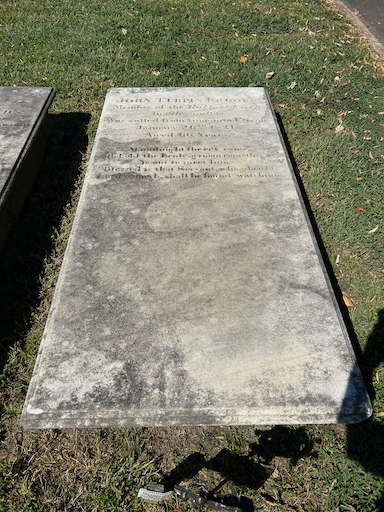 JOHN TURPIN BROOKS
Member of the Baptist Church
in Alexandria
Was called from time into Eternity
January 26, 1821
aged 66 years
At midnight the cry came
Behold the Bride groom cometh; go
Ye out to meet him
Blessed is that Servant who when his
Lord cometh shall be found watching.
Section 42 Plot 71
C
Anthony Charles Cazenove (April 6, 1775 – October 16, 1852) – Exemplary Civic Leader: American Swiss Federal Diet Consul, Escort of Marquis de Lafayette to Washington's Grave
Anthony Charles Cazenove, born on April 6, 1775, and passed away on October 16, 1852, was an exceptional individual who played significant roles throughout his life. His final resting place is Alexandria's Presbyterian Cemetery. Cazenove was widely respected, and even foreign nations highly regarded him. An example of this respect was demonstrated when the Swiss Federal Diet chose him to represent the middle and southern states.
He resided at 117 King Street while serving as an agent for Victor duPont, the son of Pierre Samuel DuPont. Subsequently, he relocated further west on King Street, settling at 915-917 King Street as early as 1816, and also owned properties at 900, 907, and 1007 King Street. His trade primarily involved goods from the British Isles, including umbrellas, Swiss chintz, kid gloves, jewelry, and pianos. However, his inventory was diverse, ranging from a framed print of George Washington with a gilt frame to bales of Calcutta goods, Buenos Aires ox hides, and Spanish cigars.
One of Cazenove's most notable accomplishments was being part of an important historical event during his visit to America 1824. He had the privilege of accompanying the Marquis de Lafayette to the burial site of George Washington at Mount Vernon. This event marked the reunion of two key figures from the American Revolutionary War and was a momentous occasion in American history.
Throughout his life, Anthony Charles Cazenove left a lasting impact as an impressive individual and a representative of nations in significant diplomatic events. His contributions to history and his esteemed reputation are remembered with respect and admiration, making him an essential figure in the annals of history.
Read more about Cazenove at this blog: Anthony Charles Cazenove: an Influential Citizen, Swiss Consul, and Accompanier of Marque De Lafayette to George Washington's Grave.
In memory of
ANTY. CHAS.
CAZENOVE
a native of Geneva
Switzerland
but for nearly 60 years
an esteemed citizen
of Alexandria
where he departed
the life
on Saturday the
16th day of Oct. 1852
in the 78th year
of his age
univsersally
respected and beloved
born in Geneva
Switzerland
April 5th, 1775
lived for nearly 60
years in Alex. Va.
The spirit shall return
unto God who gave it.
43:107
---
James O'Hara Cazenove (March 25, 1880 – November 5, 1971): The Final Member of the Historic Cazenove Family in Alexandria
Louis Albert Cazenove, Jr., born in the historic Lee-Fendall House in 1852, was his father.
JAMES O'HARA CAZENOVE
son of
LOUIS A. CAZENOVE, M.D.
and MARY O'HARA CAZENOVE
March 25, 1880 – November 5, 1971
Because I live you shall live also
B:189
---
Harriot E. Stuart & and Louis Albert Cazenove. Sr. – Steward of the Lee-Fendall House: Great-Granddaughter of a Signer of the Declaration of Independence
In the Presbyterian Cemetery, you can find the resting place of Louis Cazenove (November 29, 1807 – March 7, 1852) and his wife, Harriot E. Tuberville Stuart (1823 – December 23, 1896). Harriot was an esteemed figure as she was the great-granddaughter of Richard Henry Lee, one of the signers of the Declaration of Independence.
Louis Cazenove was a wealthy man and worked as a business partner at Cazenove & Co., a prominent flour exporting company in Alexandria during the 1850s. He died in 1852.
Harriot Cazenove died Dec 13, 1896, and is buried along the south border of the Presbyterian Cemetery in plot 109. Her son Louis Cazenove, Jr. is buried next to her.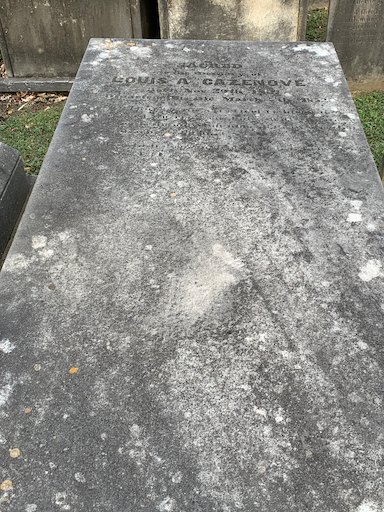 Read more about them at this blog: [Discover the Fascinating History of Louis Cazenove and Harriot E. Tuberville Stuart at the Lee-Fendall House].
---
William Carter Cazenove (October 27, 1819-August 8, 1877)
Also, see Gazaway Buggs Lamar
Reverend Muir baptized him on December 7, 1819. During the Civil War, he was elected multiple times to the Virginia House of Delegates. His terms in office were from 2 December 1861 to 31 March 1862, 1 April 1862 to 14 May 1862, 15 September 1862 to 3 October 1862, and 7 January 1863 to 31 March 1863. His election to the House of Delegates took place on Thursday, 24 May 1861, the same day the vote to separate from the Union was held.
He was a Captain in the Office of Quartermaster General for the Confederate States of America (C.S.A). He and his wife were regular pew renters at Christ Church, specifically a "free pew for strangers." He held several significant roles in various institutions, including being the Director of the Bank of Old Dominion, an Incorporation board member of Alexandria Savings Institution, and an incorporation of Alexandria Gas Light Co. in 1850. During the Civil War, his residence at 301 South St. Asaph, known as Lafayette House, was taken.
After suddenly succumbing to heart disease, he passed away at White Sulphur Springs, West Virginia, on Wednesday, 8 August 1877, at 57.
Sacred
to the memory of
WM. GARDNER CAZENOVE
born / October 27, 1819
died August 8, 1877
Believe in the Lord
Jesus Christ and thee shall be saved.
43:107, obelisk
---
Sea Captain Robert Conway (1790-1837)
Conway was a prominent figure in early 19th-century Virginia. Born in Northumberland County, he was the son of Robert Conway and became a notable sea captain involved in the fishing industry north of town. Conway was not only a seafarer but also a businessman; he was a partner in the firm Yeaton and Conway and played a significant role in various civic enterprises. He advocated for economic development, evidenced by signing a petition to establish the Bank of Alexandria in 1792.
His service to his country was marked by his participation as an ensign in the War of 1812, where he fought at the Battle of the White House. His involvement with the Masonic community was significant; he attended a Masonic banquet honoring Lafayette in 1825 before his departure to France and was a member of Masonic Lodge No. 22. Conway also held positions of leadership in his community, serving as a mayor, justice of the peace, and was a charter member of the Alexandria Library Company.
His entrepreneurial spirit was further demonstrated when he organized the Alexandria and Leesburg Turnpike Company in 1813. However, like many of his contemporaries, Conway's life and legacy are complicated by his role as a slaveowner, a reflection of the era's grim realities.
In his personal life, Robert Conway married Margaret Sweet Conway, the daughter of Captain Sweet, in 1809. The couple had several children, including Richard, baptized in 1811, and Robert, baptized in 1815. Tragedy struck the family with the death of an infant son in 1820. Captain Conway passed away in 1837 and was laid to rest in the Presbyterian Cemetery, leaving behind a multifaceted legacy of maritime prowess, community service, and the complexities of his time.
Sacred
to the memory of
ROBERT and MARGARET
CONWAY
who departed this life
the former on the 1st of January 1837
the latter on the 22nd Septr. 1832
44:131, tablet
---
D
Emanuel Ethelbert Downham (E.E.) (March 23, 1839 – September 17, 1921) Prosperous Spirits Distributor, Civic Leader, and Mayor: Instrumental in Fundraising for Masonic Memorial
Born in New Jersey. Came to Alexandria in 1862, selling whiskey to Union Troops. In 1865, he got married to Sarah Miranda Price (April 2, 1845 – November 10, 1937), who was the daughter of Alexandria merchant/shoemaker George E. Price (September 3, 1806 – July 17, 1860) and Mary A. Price (January 14, 1814 – April 30, 1890) both born in 42:18. He ran a store where he sold alcohol in large and small quantities at the bottom part of King Street. He was on the city council twice before being elected to the Board of Aldermen for five consecutive two-year terms. When John Smoot, the mayor of Alexandria, died from a heart attack on Christmas Eve, 1887, he was chosen to be the temporary mayor. He was officially elected in 1890 and served four years before stepping down.
Read more about him at this blog [E.E. Downham: a Prominent Figure in Alexandria's History and Development]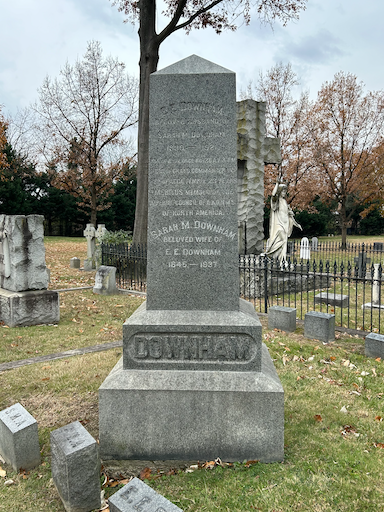 E.E. DOWNHAM
beloved husband of
SARAH M. DOWNHAM
1839 – 1921
P.M. of A. J. Lodge No. 120, A.F. & A. M.
P.G.C. of Grand Commander, VA
Rep. of Acca Temple 23 years
Emeritus member of the
Imperial Council of A.A.O.N.M.S
of North America
SARAH M. DOWNHAM
beloved wife of
E.E. DOWNHAM
1845 – 1937
Obelisk section 25:22
---
John Dundas (1759 – August 28, 1813)
John Dundas's life encapsulated a dynamic blend of civic engagement, business acumen, and community connection. Born in 1759, he left a lasting impact on Alexandria's history until his passing in 1813. Serving as Alexandria's Mayor, he exemplified civic leadership and participated in the city council, actively endorsing important petitions like the 1785 Memorial & Remonstrance and advocating for the extension of the Bank of Alexandria's charter. His partnership with William Hepburn in business, marked by shared warehouses and properties, showcased his entrepreneurial prowess.
Dundas was associated with notable properties, including the eerie yet historic Dundas Castle (or Castle Thunder) near the Mount Vernon Cotton Factory. His business ventures included erecting the Washington Tavern at King and Pitt, later known as the Marshall House, during the Civil War. He contributed to the city by constructing Commerce Street and owning property on Pitt at Queen Street, although some were seized during the Civil War.
His personal life was marked by his marriage to Agnes Hepburn Dundas, leading to several children: John Jr., Mary, Newton Keene Jr., Sophia Matilda, and others. John Jr. lived through pivotal periods in American history, while Sophia Matilda's marriage to Thomas West Peyton was noteworthy. John Dundas's death in 1813 and Agnes's death in 1820 concluded their life stories. As a slave owner, John Dundas had eight slaves, as recorded in the 1810 census.
The legacy of the Dundas family within Alexandria is a multifaceted narrative encompassing leadership, entrepreneurship, community involvement, and personal trials. Their story reverberates as a reflection of the values and challenges of their time. John Dundas's role as a civic leader, businessman, and family man has left an enduring impact, offering insights and lessons that resonate with contemporary readers. The Dundas family's historical significance is a testament to a bygone era, yet their influence remains relevant, serving as a source of guidance even today.
John and his wife Agnes are believed to have been interred in Section 42, Plot 69, with their weatherbeaten obelisk now illegible.
---
William Dunlap (1771-1827) & Ann Greer Crawford Dunlap (1774-1811)
William, a native of Armagh County, Northern Ireland, was a merchant in Alexandria. He dealt in various goods, including Irish linens, candles, and soap. By 1810, William owned three enslaved people. He was a private in the Fourth Regiment during the War of 1812. William was also a Brooke Masonic Lodge No. 47 member.
Ann and William shared a deep bond, evidenced by their five children. While they were officially married in 1811 by Rev. Muir, it appears they had a "common-law" marriage before this formal union. Tragically, just two days after their official wedding, Ann passed away. She was buried in the Presbyterian Cemetery. Their children testify to their enduring relationship, which spanned years before their formal wedding ceremony.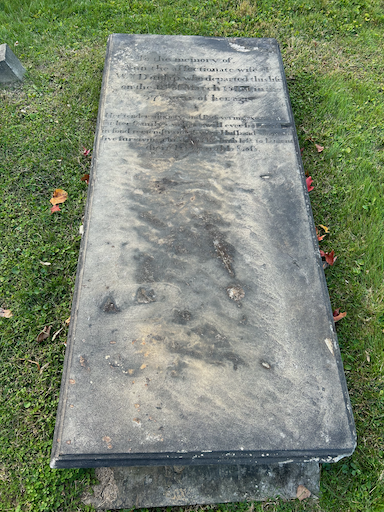 To the memory of
ANN, the affectionate wife
of WM. DUNLAP
who departed this life
on the 11th of March, 1811, in the
37th year of her age
Her tender anxiety and Persevering exertions
for her family & welfare, will ever be cherished
in found remembrance by her Husband, who with
five surviving children she hath left to lament
their irreparable loss
Both are buried in 41:23
---
E
---
F
Phillip Richard Fendall (December 18, 1794 – February 16, 1868) – Contributor to the Washington Monument's Construction; Met with Resistance when Attempting to Pay Tax on The Arlington House
Also, see Robert Young.
Phillip Richard Fendall II, the son of Philip Richard Fendall, was laid to rest in the Presbyterian Cemetery. He spent his formative years in the Lee-Fendall House, a historic residence constructed by his father in 1785. Philip Richard Fendall, the father, was notable as a delegate to a meeting held in Maryland in 1775, and he was also esteemed for his close friendship with none other than George Washington.
During the Civil War, he tried to pay the $97.02 tax that was due on Arlington House and the plantation owned by his cousin Mary Lee. However, the authorities refused to accept the payment. As a result, the property was taken away and used as a federal cemetery after 1864.1 According to the Act for the Collection of Taxes in the Insurrectionary Districts (12 Stat. at L. 422), all the land in areas affected by the rebellion had to pay property tax. The act allowed appointing officials to collect the taxes and take ownership of the property if the taxes were unpaid. On February 6, 1863, the act was modified to require individuals to pay their taxes in person. In this particular case, the tax amount was $92.07. Mary Custis Lee arranged for her cousin Phillip Richard Fendall to make the payment, but the government rejected it.
Read the blog Rebuffed in Attempt to Pay Tax on Arlington House for the rest of the story.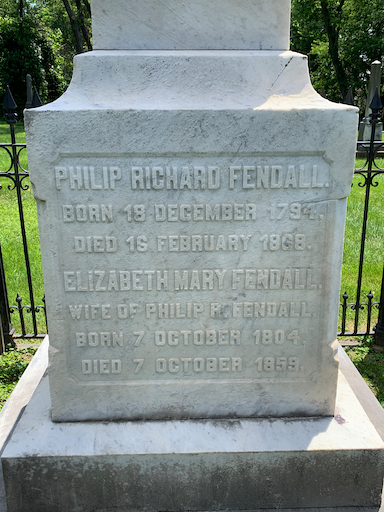 Thank you to Amanda Roper, the previous Museum Director at the Lee-Fendall House, for supplying most details about the Fendalls.
---
Thomas, John, and Mary Lee Fleming – Remembering Those Lost in the 1922 Knickerbocker Theater Disaster
The Lee-Fendall House has historical ties to the Fleming family as well. Among its members were Thomas Fleming (January 25, 1851 – January 28, 1922), John Paton Fleming (April 14, 1898 – January 28, 1922), and Mary Lee Fleming (April 7, 1892 – January 28, 1922). Tragically, their lives were cut short in the Knickerbocker Theater Disaster on January 28, 1922, in Washington, DC. Following the disaster, they were interred in the Presbyterian Cemetery. Interestingly, all three were descendants of Dr. Robert Fleming Fleming (November 18, 1816 – August 19, 187), a notable aspect of the family's naming tradition, who was also the fourth owner of the Lee-Fendall House.
Dr. Robert Fleming Fleming and Mary Elizabeth Lee Fleming (August 19, 1827 – April 20, 1902) found their final resting place in Philadelphia's Laurel Hill Cemetery. The couple acquired the Lee-Fendall House in 1870. Mary Elizabeth's father, Richard Bland Lee (July 20, 1797 – August 2, 1875), rests in Ivy Hill Cemetery. He served as a U.S. Army officer from 1817 until 1861, when he resigned to join the Southern cause. Notably, the Flemings assert their kinship to Thomas Jefferson, the third President of the United States.
Read the blog The 1922 Killer Snow Storm of Washington, D.C., for the rest of the story.
---
Lt. John Fowle (November 3, 1789 – April 25, 1838) – Tragic Demise in the Notable Steamship Explosion on the Ohio River
Lt. John Fowle was a notable figure who served as the leader of West Point Military Academy from 1833 to 1837. Tragically, his life was cut short due to the steamship Moselle accident on April 25, 1838, while the vessel was sailing on the Ohio River. The explosion during this incident claimed his life, marking a somber historical event.
The explosion's devastation was vividly captured in the Cincinnati Whig newspaper's report: "The explosion was a scene of utter destruction and profound sorrow. … In every direction, one could witness the gruesome sight of heads, limbs, bodies, and blood being hurled through the air, accompanied by the chilling cries and moans of those injured and dying." Out of approximately 250 individuals on board, around 150 lost their lives.
The magnitude of the explosion and its tragic toll on lives sent shockwaves across the nation. This catastrophic event prompted the government to establish stringent regulations concerning steam boilers, which remain relevant and enforced to this day.
LIEUT. COLONEL JOHN FOWLE, U.S.A.
born Nov. 3, 1789
at Watertown, Mass.
Killed by the explosion
of the steamboat Moselle
at Cincinnatti
April 23, 1838.

43:107
---
G
Captain Herbert Cornelius Graves (August 17, 1869 – July 16, 1919) A Landmark Name: An Alaska Island Named in His Honor
Buried 19:2 lies the resting place of Captain Herbert Cornelius Graves, who was born on August 17, 1869, and departed on July 16, 1919. He died in England shortly after the curtain fell on World War I while dutifully engaged in a diplomatic mission. A testament to his legacy, Herbert Graves Island graces the landscape in Alaska, a picturesque location named to pay homage to the captain. For deeper insights into this remarkable island, visit this [link]. His wife, Clara E. Graves, is buried in the same plot.
HERBERT CORNELIUS GRAVES
born Alex. Va.
Aug. 17, 1869
died Winsford, Eng.
July 26, 1919
CLARA E. WALTER GRAVES
born in Georgetown, D.C.
Dec. 14, 1873
died in Washington, D.C.
Jan. 17, 1966.
19:1
---
Lucy Mariah Graves (1871 – 1946) Aide to Clara Barton, Visionary Founder of the American Red Cross
In the same plot rests Captain Graves' sister, Lucy Mariah Graves (1871 – 1946), a direct descendant of Captain Myles Standish, a prominent figure in the Plymouth Colony's establishment in Massachusetts back in 1620. Miss Graves played an integral role as a private secretary to Clara Barton, the visionary behind the Red Cross, during and after the tumultuous Spanish-American War. Her dedication took her alongside Barton to both Cuba and Europe.
Lucy Mariah Graves had her beginnings and upbringing in the family abode at 623 S. Fairfax Street in Old Town Alexandria. It was within these walls that her life story unfolded. Eventually, she was laid to rest in the tranquil embrace of section 19:2, her final resting place.
GRAVES, Lucy Mariah
1871-1946
The righteous shall be
in everlasting remembrance.
19:2
---
Willard Purdy Graves (1838 – January 11, 1922) was a Civil War Veteran and Renowned Grocer in Alexandria's History
In the same hallowed ground lies Captain Graves and Lucy's father, Willard Purdy Graves (1838 – January 11, 1922), a man whose life was intertwined with the pages of history. As the Civil War ignited, he cast his lot with the 11th Wisconsin Volunteer Infantry Regiment, standing at the forefront of conflict in the Western campaigns. His journey led him to the post of Battery Rodgers, a federal bastion perched on the banks of the Potomac, nestled between today's Greene and Jefferson Streets in Alexandria.
Despite his valor, illness beckoned, leading him to retire from military service. With resilience, he transitioned into the role of Sutler, providing sustenance and spirits to Union soldiers. Amidst the chaos of war, he found love and companionship in the form of Lucy Libby (1838 – 1912), a nurse hailing from Maine. Their fates were sealed in matrimony on the wintry eve of December 19, 1864. A testament to their union, they bore six children, a lineage that includes the notable Lucy and Herbert previously mentioned.
The family tapestry also holds William Purdy, Jr. (1878 – June 20, 1913) and Mryritta Melvina Graves (March 4, 1868 – December 7, 1939), two of their cherished offspring. Their stories, woven into the fabric of time, find their resting place within this same plot, a space resonating with generations of history and familial bonds.
The Graves owned a grocery store at their home, 623 S. Fairfax Street.
---
William Gregory III (March 3, 1789 – July 13, 1875) – Prominent Merchant of Alexandria's Historical Landscape
Also, see William Bartleman, Mary Gregory Craufurd Powell
He was born in Kilmarnock, Scotland, and immigrated to the United States in 1807, where he was a merchant for several years. He was also the President of the Alexandria branch of Farmer's Merchant Bank from 1847 to 1866. He was the last surviving member of the Alexandria Blues who fought at the Battle of the White House.
Visit the blog Discover the Fascinating Life of William Gregory: from Scottish Roots to Alexandria Legacy to read more.
Gregory is buried in section 44, plot 141.
---
H
Captain William Harper (April 14, 1761 – April 18, 1829), Multifaceted Patriot: Revolutionary War Veteran, Rope Maker, City Council Member, and Commander of Artillery at Washington's Funeral
Hailing from Philadelphia, he tied the knot with Mary Scull Harper (1763 – 1842) on June 14, 1781. Their union bore fruit in the form of a son named Dr. William Harper (as mentioned in the details below).
A participant in the Battle of Trenton and a winter survivor of Valley Forge, Captain Harper marched alongside Washington, braving the icy Delaware River during the New Jersey campaigns of December 1776 and January 1777.
His enterprise specialized in crafting ropes, likely situated at Jones Point. In 1810, Alexandria hosted three establishments dedicated to rope production, churning over 400 tons of this essential commodity.
Harper's affiliations extended to the Masonic Lodge, where he held membership, and he stood as a prominent member of the Relief Fire Co. Notably, he commanded the Alexandria Artillery during the commemoration of Washington's Birthday in 1799, as well as during the somber procession for Washington's funeral at Mount Vernon on December 18, 1799.
Furthermore, he assumed the lead of the Artillery Company, orchestrating their role in the reception of President Thomas Jefferson upon his visit to Alexandria in 1801. The rendezvous occurred at Gadsby's Tavern on Saturday, March 14, 1801, and witnessed the presence of President Jefferson, the Vice President, the Secretary of War, the Attorney General, and Major General Wilkinson. (Source: Michael Miller, Pen Portraits Alexandria, Virginia, 1739-1900, Pg. 49.)
Harper's inclusion as one of President John Adams' selections for the Justice of the Peace role, known as the "midnight appointments," drew contention. This appointment was pivotal in the Marbury v. Madison case in the U.S. Supreme Court. Intriguingly, Harper, despite his nomination, never actually assumed the position. Chief Justice John Marshall's ruling on the case cemented the doctrine of judicial review. This doctrine, an integral component of the "checks and balances" system, prevents any branch of the Federal Government from amassing unchecked power.
Buried in Section 42, Row 43, Plot 8.
---
Dr. William Harper (April 23, 1787- October 7, 1852) Defender in War and Faith: War of 1812 Veteran and Esteemed Ruling Elder of the Second Presbyterian Church
The son of Captain William Harper (April 14, 1761 – April 18, 1829) and Mary Scull Harper (1763 – 1842) was laid to rest in location 42:43. Captain Harper actively participated in the Second Presbyterian Church of Alexandria, which is not present anymore.
William Harper was ordained and installed as a Ruling Elder of the Second Presbyterian Church on June 26, 1842.
Harper and Mary Thomas Newton married on October 17, 1810, near Leesburg, Virginia. They had ten children, including Wells Andrew Harper, who was born on September 2, 1818, and passed away on December 7, 1876. Wells served as a member of the city council from 1860 to 1861. Another son, John Newton Harper, was born on March 25, 1823, and died on August 3, 1907. He fought for the Confederacy as a Company G, 23rd Virginia member.
During the War of 1812, Harper served as a soldier in the Sixtieth Regiment of the Virginia Militia. He fought in the Battle of the White House.
Dr. Harper died on October 7, 1852, and is buried in section 43:111. A large obelisk with a shroud on top marks his grave, along with his wife and several of their children.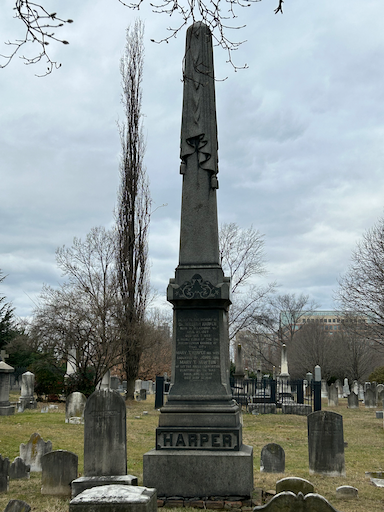 ---
The Reverend Elias Harrison (January 22, 1790 – February 13, 1863) – Dedicated Meeting House Pastor: Succumbed to a Broken Heart after Years of Service
Served as the Associate Pastor of the Meeting House from March 17, 1818, and then Pastor from 1820 until 1863. During his time, the first Meeting House burned down on July 26, 1835. After rebuilding it in 1837, he continued serving until his death on February 13, 1863. He died of extreme sadness. He couldn't perform weddings or funerals when the Federal Government occupied Alexandria during the Civil War because he didn't want to promise loyalty to the United States. Most Meeting House members who died during the war were buried in Ivy Hill Cemetery on King Street. There is a memorial dedicated to Reverend Harrison on the south wall of the Meeting House.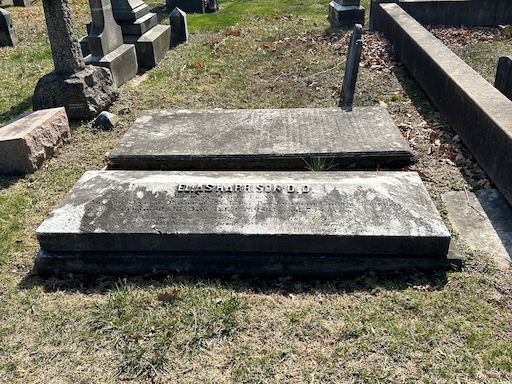 ELIAS HARRISON, D.D.
born in Orange Co., New York
and for 41 years Pastor of the First Presbyterian Church, Alexandria
departed this life Feb. 13th, 1863, aged 73 years.
He was a good man and full of the Holy Ghost
and of faith; and much people was added unto the Lord.
Acts 11th Chap. 24th Ver.
43:93
Sacred to the memory of
ELIZABETH the beloved wife of the
Revd. ELIAS HARRISON
who departed __ this life __ __,
of a good hope through ___. May the 6th
A.D. 1824, in the 26th year of her age.

Perfect she was not, else she had not been
mortal yet what she was and whence she
would hardly be disposed to memory.
A winning openness of manner
a sincerity without smile a disposition
amiable and affectionate a piety modest
and ___ her a
grateful measurable and th___
the ___ sweet.

The heart of her husband could solely
trust in her for looking well in the way
of her household and has long…
___ ___
the days of her life. ___
43:93 tablet
---
Alva Lee Harvey (May 22, 1900 – December 1, 1992) – Trailblazing Aviator: Honored with the Distinguished Service Medal
Harvey, a person from Texas, is famous for his actions as a U.S. Army Air Service member during the 1924 First Flight Around the World. He was awarded the Distinguished Service Medal for his participation. He led groups of bombers in the Pacific region in World War II.
Read the blog The First Around-the-World Air Flight for the rest of the story.
He was buried in Section 3, plot 21, with his wife, Lillian.
---
Sherman Curtis Hildreth (November 9, 1917 – February 11, 2012)
Mr. Hildreth was a member of the Cemetery Board of Directors. Buried in 2:2:5.
---
I
James Irwin (1757-1822): A Life of Service and Industry
James Irwin, also known as James Irvin or James Irvine, was a prominent figure in early American history, born in 1757 in Belfast, Northern Ireland. He immigrated to the United States and became deeply involved in civic and religious communities.
Irwin was an elder and active participant in the Presbyterian Church, serving multiple times as a commissioner from the Presbytery of Baltimore to the General Assembly between 1790 and 1822. His commitment to his church was further demonstrated through his involvement in various committees, including the Meeting House Church Committee and the Church Committee responsible for a lottery to fund a bell tower and steeple in 1790.
Aside from his religious endeavors, Irwin was a respected member of the Alexandria, Virginia community. He was a Justice of the Peace in 1796, a member of the City Council, and contributed significantly to the local economy and culture. As a charter member of the Alexandria Library Company in 1794 and a member of the St. Andrew's Society, he helped foster community and learning.
Irwin's business acumen was evident in his role as a ropemaker, an important trade in the maritime economy of Alexandria. He was also a commissioner of the Domestic Manufacturing Company, a director of Farmer's Bank, and involved in other ventures, including the Bank of Alexandria and the Bank of Virginia. His entrepreneurial spirit was further exemplified by establishing a ropewalk on his property, Mount Erin/Mount Airy, a testament to his ingenuity and industry.
His engagement with civic duties did not stop there. He was a member of the Relief Fire Co., and a signer of significant documents such as the deed for Presbyterian Cemetery property and the incorporation papers for the congregation in 1809. He also served as a vestryman and helped establish Bellevue plantation (now the location of Marina Towers, 501 Slater Lane).
His role marked Irwin's personal life as a family man and a slaveowner, a common practice among his contemporaries. He was a guardian to the orphaned Adam children and diligently managed their affairs.
A notable acknowledgment of Irwin's service is his inclusion on the cemetery plaque that lists veterans of the Revolutionary War, commemorating his contribution to the nation's fight for independence.
Sadly, Irwin's life came to an end on September 5, 1822, after a bout with fever. He was 65 years old. His death was mourned by many, and he was laid to rest in the Presbyterian Cemetery, an area he had helped secure years earlier. His legacy as a community leader, devout church member, and industrious businessman remains significant in early American history.
JAMES IRWIN
of Belfast, Ireland
the faithful
Guardian of JOHN ADAM
died Sept. 5, 1822
Section 41:13, obelisk
---
J
Andrew Jamieson (1749 – July 6, 1823) – Internationally Renowned Biscuit Artisan
During the Quasi-War with France, which unfolded between 1798 and 1800, primarily in the Caribbean and off the East Coast of the United States, Jamison, along with other bakers from Alexandria, played a vital role. Together, they supplied more than 40,000 pounds of bread to the United States Navy stationed in Philadelphia and Boston.
With his son, Robert Jamieson (April 29, 1796 – April 10, 1862), they founded the renowned Jamieson Steam Bakery at the intersection of Lee and Oronoco Streets in Alexandria. This bakery operated from 1836 to 1888 and gained such acclaim that even Queen Victoria, with a penchant for their biscuits, imported them to England.
Additionally, Andrew was interred in grave number 41:28, served as a trustee of the Meeting House, and was a signatory on the 1809 deed for the Presbyterian Cemetery.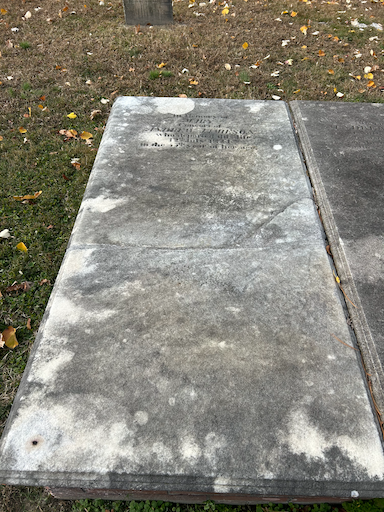 In memory of
ANDREW JAMIESON
a native of Scotland
who departed this life
on the 6th July, 1823
in the 74th year of his age
Marth the perfect man and behold the upright;
for the end of that man is peace
Psalm 37 Ch. 37 V.
41:28 tablet
---
Samuel Richard Johnston (March 16, 1833 – December 24, 1899) Subject of Contention: Linked by "Lost Cause" Adherents to Lee's Gettysburg Defeat
Samuel Richard Johnston was born on March 16, 1833, in West Grove, now the Belle Haven Golf Course and Country Club site in Fairfax County, Virginia. On June 21, 1859, he married Mary G. Ege, born on February 4, 1832, and passed away on January 28, 1879.
On July 2, 1863, during the second day of the Battle of Gettysburg, he was woken up at 4:00 a.m. and sent to Lee's headquarters near the Lutheran Seminary. Lee ordered him to "check out the enemy's left side and give a report as quickly as you can."
Read the blog of Samuel Richard Johnston, Lee's Reconnaissance Officer at Gettysburg, for the rest of the story.
He is buried in Section 44, Plot 161, with his first and second wives.
---
K
---
L
Gazaway Bugg Lamar (October 3, 1798 – October 5, 1874) Versatile Entrepreneur: Flourished as a Banker, Cotton Merchant, Shipbuilder, Steamship Pioneer, and Patron of Blockade Runners; United through Marriage with the Cazenove Family
Lamar was born in Georgia and became very rich during his lifetime. He started his businesses in Augusta, Georgia, his birthplace, and later moved to Savannah, Georgia. He was known for being a smart and successful businessman.
Please read the blog Gazaway Bugg Lamar: The Wealthy Banker, Cotton Merchant, and Steamship Pioneer Buried in the Presbyterian Cemetery for the rest of his story.
He was buried in 43:107 with his wife, Harriet.
Thomas Boyd Leadbeater (May 7, 1895 – September 14, 1913) was the grandson of William Gregory III.
A person from the Gregory and Leadbeater family unexpectedly passed away on September 14, 1913. The family used to call him "Boyd". He was laid to rest in Section 41, Plot 25.
The Leadbeater family were partners with the Stabler family in the Stabler-Leadbeater Apothecary shop on South Royal Street, now a museum.
---
M
Christina D. J. Copper Marsteller (1773 – January 5, 1815) Co-owner of the Spring Garden Farm
Buried either in Section 41:29 or Section 42, Christian and her husband, Philip Godhelp Marsteller (1770 – 1842), owned the Spring Garden Farm that eventually became the Wilkes Street Cemetery Complex. Philip was a member of the Relief Fire Company in 1795, attended Washington's funeral, and was a member of Christ Church who left to organize St. Paul's Church, which he gave land for their sanctuary. His father was Lieutenant Colonel Philip B. Marsteller (1741/2-1804), who was the Mayor of Alexandria, 1791 – 92, a charter member of the Alexandria Library Company in 1794, and was an honorary pallbearer at Washington's funeral on December 18, 1799. The elder Marseller is buried at Christ Church.
---
Lewis McKenzie (October 7, 1810 – June 28, 1895) – Distinguished Civic Figure: Mayor, Congressman, and Key Contributor to the Formation of West Virginia
Read more about his remarkable life at this blog [Lewis McKenzie (1810-1895): A Civic Figure of Remarkable Influence].
---
Captain Charles McKnight (April 7, 1774 – March 11, 1853) Innkeeper of McKnight's Tavern, Commanding Captain of the Independent Blues in the Battle of the White House
Also see Robert Allison, Jr., William Bartleman, and The Battle of the White House blog.
McKnight was a man who never got married. He led a group of soldiers called the Alexandria Blues during the Battle of the White House. After his father passed away, he owned the family tavern on the northwest corner of King and Royal Streets. He changed the tavern's name to The Eagle Tavern (also known as Spread Eagle Tavern). As a result, that part of the town started being referred to as McKnight's Corner.
He served as a judge from 1837 to 1853. He was also a member of Masonic Lodge 22 and wrote a book called "Captain Jack, or Old Fort Duquesne and Our Western Border One Hundred Years Ago".
Buried in Section 41:20.
---
John McKnight (July 2, 1769 – February 7, 1834) Sea Captain's Odyssey: Captured Repeatedly by the French, Later Served as Alexandria's Harbor Master
Born to William and Martha Bryan McKnight and a sibling to Captain Charles McKnight, he embarked on his journey as a ship captain at 19.
They were blessed with a dozen children in a union with Catherine Piercy from Philadelphia on October 29, 1799. Tragedy struck Catherine's family during the harrowing Yellow Fever outbreak of 1793, which claimed the lives of 5,000 individuals in Philadelphia, including her father and one of her brothers. This epidemic shadowed the newly established United States government, as Philadelphia temporarily served as the capital. Following her familial losses, Catherine sought refuge with her Uncle on Prince Street in Alexandria, where she resided until her marriage to McKnight.
Encounters with French privateers punctuated McKnight's maritime career during the Quasi-War with France, a conflict from 1792 to 1801. This turbulent period witnessed the French capture of over 1500 American ships.
In 1792, he was overhauled in the English Channel by the French privateer "L'Insurgente," during the chase, McKnight was wounded in the leg by the privateer's fire. He and his crew endured two years of captivity in Nantes, France. The ordeal exposed him to the grim realities of imprisonment, including arbitrary executions of fellow prisoners. He and his companions ingeniously fashioned makeshift ropes from blankets to scale the prison walls, facilitating their escape. (Source: Alexandria Historical Society, Fall 2009 Newsletter, Page 4)
Subsequently, he faced capture twice more while commanding the ship "Polly & Nancy." The first incident occurred near the Capes of Virginia in 1797, and the second occurred near Cadiz in 1798. Following his release from captivity, a hurricane ravaged the "Polly & Nancy's" masts as they journeyed back to Alexandria. Forced to part with the vessel, McKnight sold it in St. John's, Antigua, the nearest port. This event marked the conclusion of his career as a ship captain. He also held partial ownership of another vessel named the "Adventure."
On February 8th, 1834, the Alexandria Gazette featured the following entry:
McKnight is buried in Section 41:20. His wife died in 1867 and was buried next to McKnight in the cemetery.
---
William McKnight (1732 – July 25, 1812) Fort Duquesne Conqueror: Instrumental in Capture During French and Indian Wars, Founder of McKnight's Tavern
William, a captain in the First Battalion of the Pennsylvania Regiment, played a pivotal role in capturing Fort Duquesne, later renamed Fort Pitt. In 1775, he relocated to Alexandria to take charge of McKnight's Tavern.
The tavern, a wooden structure at the intersection of King and Royal Streets, boasted a distinctive feature: the "Long Room" on the second floor, often employed by Washington for discreet gatherings. Additionally, the establishment served as a favored venue for Alexandria's St. Andrews Society meetings. Interestingly, the contemporary successor of this society now orchestrates the annual Scottish Christmas Walk parade in Alexandria, held on the first Saturday of December.
William was initially wedded to Martha Bryan (1745 – June 3, 1775), with whom he had two sons, John and William Henry. Martha found her resting place in Section 41, Plot 20, with her tablet gravestone, which is one of the oldest in the Presbyterian Cemetery.
Following Martha's passing, William entered into matrimony with Susannah Evans (September 19, 1746 – November 10, 1836). All are buried in the Presbyterian Cemetery.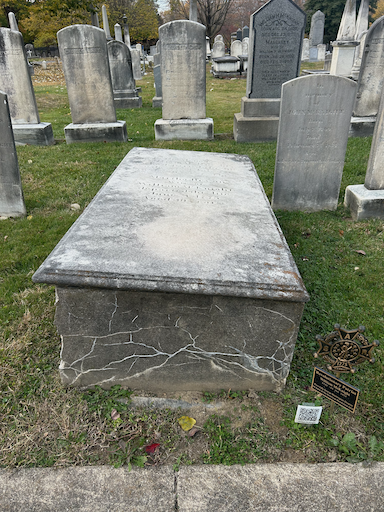 to the memory of
WILLIAM McKNIGHT
who departed this life
on the 25th of July 1812
in the 80th year of his life
MARTHA BRYAN
Wife of
WILLIAM McKNIGHT
departed this life
JUNE 3, 1775
aged 30 years

41:20, box tomb
---
William Henry McKnight (August 24, 1800 – December 29, 1887) Master Builder and Carpenter: Oversaw Lumber Measurement, Endured Civil War Arrest and Imprisonment in Old Capitol Prison in Washington, D.C.
William McKnight's son was a skilled carpenter who established workshops in several locations over the years. In 1834, he set up a shop on Union Street near Gibbon Street. However, in 1852, he relocated the shop to Union Street near Prince Street. Tragically, this shop was destroyed by fire in 1854. He also managed workshops on St. Asaph Street and Prince Street. His business partner was David Price, and together, they repurposed bricks from the original St. Mary's Chapel to build the Lyceum. Additionally, they constructed houses at 523-529 and 531 South Lee Street between 1831 and 1865. 1859 they constructed the Depot Building for the New York and Virginia Steamship Co. Following the fire that consumed the Market House in 1871, they erected a warehouse near the market house for William Gregory, Beach, and Brill. Finally, in 1870, McKnight built his residence at 208 South St. Asaph Street.
During the Civil War, the U.S. Army arrested him and other Alexandrians in February 1862 for allegedly supporting the rebels by aiding the families of those absent in the Confederate army. He spent a month in the Old Capitol Prison, previously the Old Brick Capitol, serving as the temporary U.S. Capitol from 1815 to 1819 and later as a prison for Southern loyalists during the Civil War. The building was demolished in 1929, and the U.S. Supreme Court now stands on its site.
William McKnight married Margaret Jacobs on January 28, 1802. Margaret Jacobs passed away on February 7, 1888. Together, they had five children, three buried in the Presbyterian Cemetery. The names of their children were Elizabeth Chew McKnight (born April 2, 1833, died November 16, 1911), William Presley McKnight (born June 12, 1838, died October 24, 1927), and Charles Henry McKnight (born April 21, 1840, died August 15, 1916).
During the American Civil War, William Presley and Charles Henry fought for the Confederate side. Charles was wounded and captured in Williamsburg, and his arm was amputated on May 5, 1862. Following the war, he embarked on a journey to Europe and Asia.
After the war, William worked as an advertising manager for the Alexandria Gazette, a newspaper, for over four decades. He lived at 208 South St. Asaph Street until his death.
Neither of the brothers ever married. Regrettably, the McKnight family, which had roots in 1774 in Alexandria, ended with William's passing. The family's final resting place is Section 41, Plot 20.
---
N
Joseph Hazel Newell (April 5, 1890 – March 10, 1973)
An active participant at the Second Presbyterian Church and dedicated cemetery trustee. Buried in 44:133.
---
John Thomas Newton (May 20, 1794 – July 28, 1857) – Honored Pioneer of the U.S. Navy: Congressional Silver Medal Recipient and Celebrated Commander
John Thomas Newton, born on May 20, 1794, and died on July 28, 1858, is laid to rest in Alexandria's Presbyterian Cemetery. In the early years of the United States Navy, he was a highly regarded officer. Starting in 1809, Newton served in the US Navy for an impressive 48 years. During the War of 1812, he held the rank of Lieutenant on the USS Hornet, a ship that sank the HMS Peacock near the coast of South America. For his bravery, the US Congress honored him with a Silver Medal (Captain James Lawrence, the ship's commander, received a Gold Medal). Furthermore, the people of Alexandria presented him with a sword to recognize his heroism during the War of 1812.
Read more about Newton at this blog: Thomas Newton: a Respected Navy Officer and Hero of the War of 1812
---
William Newton (1763 – 1814) was a Revolutionary War Veteran.
Born on either February 25, 1763, or February 26, 1765, in "Little Falls Plantation" in Stafford County, Virginia. He moved to Alexandria by at least 1786, where he embarked on a successful career as a merchant. He co-founded "William Newton and Co." and advertised their business in the local newspaper in 1786. Later, he became a partner in the firm of Ricketts and Newton.
William Newton was a businessman and a patriot, as he served in the Revolutionary War, a fact acknowledged by the Sons of the American Revolution, who included his name on a plaque at the entrance to the Presbyterian Cemetery. He was a charter member of the Alexandria Library Company in 1794 and an active member of the Relief Fire Company in the same year. Additionally, he was a Mason in Lodge 22.
William Newton played a role in establishing the Bank of Alexandria, as evidenced by his signature on the petition dated October 9, 1792. He was also a slaveowner in 1789 and 1800, owning a single slave. In the 1810 census, he was recorded as owning five slaves.
Buried by Rev. Muir, 28 December 1814, 50 years of age. Died during an epidemic.
Our Parents
Died
on the 26th
Decbr. 1814
WILLIAM NEWTON
in the 52nd
year of his age
The world passeth away
but he that doeth the will of
God abideth forever.
Died on the 25th Feb. 1815
JANE B NEWTON
in the 39th
year of her age
For the Lord shall be thine
everlasting light and the
days of thy mourning shall
be ended.
We are more than conquerors
through him that loved us.
For if we believe that Jesus died and rose again, even so,
them also which sleep in Jesus will God bring with him.
42:45
---
Jane Barr Stuart Newton (c.1776-1815)
Jane was the daughter of William and Jane Barr Stuart, who resided at "Cameron," located west of Alexandria. She married William Newton on February 7, 1792, in a ceremony officiated by Rev. Muir. Tragically, Jane passed away on February 25, 1815, at 39, succumbing to a decline in her health. She was buried in the Presbyterian Cemetery, with her burial also conducted by Rev. Muir.
William Newton and Jane Barr Stuart Newton were a prominent couple in Alexandria, with William's business ventures and civic involvement contributing to the community, while Jane played her role as a daughter and wife within the social context of the time.
Our
Parents
Died
on the 26th
Decbr. 1814
WILLIAM NEWTON
in the 52nd
year of his age
The world passeth away
but he that doeth the will of
God abideth forever.
Died on the 25th Feby. 1815
JANE B[arr Stuart]. NEWTON
in the 39th
year of her age
For the Lord shall be thine
everlasting light and the
days of thy mourning shall
be ended.
We are more than conquerors
through him that loved us.
For if we believe that Jesus died and rose again, even so
them also which sleep in Jesus will God bring with him.
Plot 42:445
---
O
---
P
Frederick John Paff (January 1837 – April 7, 1903) An Immigrant's Journey: From Shoemaking Innovation to Lasting Legacy
Frederick Paff's life journey, rooted in Elm, Hesse Cassel, Germany, began in 1837. At the tender age of fourteen, he embarked on a transformative immigration to the United States, finding his initial haven in the bustling city of Baltimore. As destiny wove its threads, Paff's narrative intertwined with the tumultuous chapters of American history.
In 1861, Paff assumed the mantle of a private in Company E of the 17th Virginia, a role that placed him at the heart of the Civil War's unfolding drama. His enlistment on April 17th marked a commitment to a cause larger than himself. Yet, fate had other plans, and in 1863, the young soldier's journey took an unexpected twist as he chose to desert his post on September 13th.
Paff's decision led him to Alexandria, where he faced capture and imprisonment in the storied confines of the old Capitol Prison in Washington, DC. Despite the challenges of captivity, he emerged from this experience, a testament to his resilience and determination.
1890 following his battlefield experiences and subsequent return to civilian life, Paff, a German immigrant, ventured into the business world. He opened the Potomac Shoe Factory within the venerable walls of the old Green Steam Furniture building at the intersection of Prince and South Fairfax streets. This enterprise quickly flourished, employing a dedicated workforce of fifty and impressively producing over a thousand pairs of shoes weekly within just a year of its establishment.
As the shoe business thrived, Paff's legacy extended to his sons, Frederick and Charles, who actively joined the familial endeavor. With the senior Paff's eventual retirement, the company underwent expansion. By 1902, the Paffs, now operating under the banner of the Paff Shoe Company, sought new horizons for their growing business. The decision was made to construct a fresh factory on the northeast corner of South Washington and Gibbon streets, reflecting their commitment to growth and innovation.
The shoe factory at 520 South Washington played its chapter in Paff's legacy. However, as the clouds of World War I loomed, the factory's operations ceased. Over the ensuing quarter-century, the property underwent a series of transformations. In the 1920s, the former factory building found new life as an annex to the Roberts Memorial Chapel, serving as a church extension. The 1940s witnessed the space housing a furniture store, further diversifying its usage.
Yet, since the late 1940s, the building has taken on a solemn and dignified purpose as the hallowed grounds of the Demaine Funeral Home. It has transformed from a hub of the industry to a space of reflection, where lives are celebrated and memories are honored, marking a continuation of Frederick Paff's enduring legacy in an evolving world.
FREDERICK PAFF
1837-1903
his wife
LOUISA PAFF
1837-1903
Let not your heart be
troubled
FREDERICK J. PAFF
1867-1933
GRACE C.
wife of
FREDERICK J. PAFF
1869-1930
CHARLES B. PAFF
1871-1926
LUCY THOMAS
wife of
CHARLES B. PAFF
1870-1901
14:5 Obelisk
---
Charles Pascoe (June 1786 – October 23, 1806), William Pascoe (April 1801 – February 10, 1805), and William Pascoe (February 1806 – August 12, 1807). Eternally United: Siblings Commemorated with a Distinctive Gravestone
"In memory of/ Three Children of CHAs. and /HONORE PASCOE/ WILLIAM died 10th of Feby. 1805/ aged 3 years and 9 months/ Charles, died the 23rd of Oct. 1806/ aged 2 years and 7 months/ William, died the 12th of Augt. 1807 / aged 11 months/ Here lies three children sweet asleep, Which brings fresh to our mind That die we must, and come to dust and leave this world behind. Weep not for us our parents dear, We are not dead but sleeping here God took us home as he thought best And now in heaven our souls doth rest"
The origin of the children's burial in the cemetery remains a mystery. Their identities are absent from the Register of Baptisms, Marriage, and Funerals, which encompasses the period of Reverend Dr. James Muir's ministry at the Presbyterian Church of Alexandria, D.C. Muir, who presided over the Meeting House, officiated from May 1789 until his passing in 1820.
Although historical documents do not specify the circumstances, we can speculate that the children's demise might have resulted from either yellow or typhoid fever. They were likely interred during the interim period when burials were temporarily suspended at the Meeting House's 18th-century burial grounds. Subsequently, the Presbyterian Cemetery formally opened its gates in 1809.
---
Robert F. Prettyman (June 12, 1821 – January 26, 1892) – Architect of History: Constructor of the Friendship Fire House's Historic Hose-Reel Carriage
He was a well-known coachmaker in Alexandria who, in 1858 constructed a hose-reel carriage for the Friendship Fire Company, of which he was also a proud member.
Read more about Robert Prettyman and his hose-reel carriage at this blog [Discover the Remarkable Craftsmanship of Robert F. Prettyman's Hose-Reel Carriage at Friendship Firehouse Museum}
In Memory of
ROBERT F. PRETTYMAN
born
June 21, 1821
died
January 26, 1892
44:143, Footstone has "R. F. P."
---
Mary Gregory Craufurd Powell (January 12, 1847 – December 18, 1928) Chronicler of the Past: Local Historian and Accomplished Author
Also, see William Gregory.
A local historian and member of the Mount Vernon Chapter of the Daughters of the Revolutionary War. She was crucial in ensuring that a gravestone was placed at the Tomb of the Unknown Soldier from the American Revolutionary War. The soldier's grave is in the 18th-century burial ground of the Old Presbyterian Meeting House. You can read more about her family at this [link].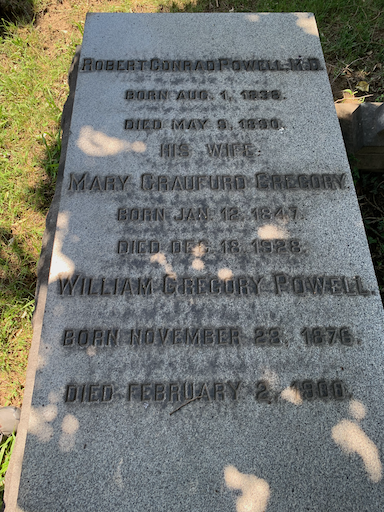 ---
Q
Julia Quander (1847? – September 6, 1862) – Ancestral Legacy: Member of America's Oldest Recorded African American Family
The Quander family is one of the earliest documented African-American lineages to have journeyed from Africa to America. Their origins trace back to Ghana, with the progenitor Nancy Carter Quander enduring enslavement at Mount Vernon. In the service of George Washington, she diligently spun cloth. Nancy's father, Charles Quander, also experienced enslavement, toiling at Hayfield Plantation.
After the Civil War, their bonds of enslavement were shattered, affording freedom to their descendants. Many of these kin settled on land that now intersects with Quander Road, adjacent to Route 1, situated south of Alexandria. The interment of Julia in the Presbyterian Cemetery remains shrouded in mystery, lacking definitive knowledge of her arrival there.
One historical certainty emerges from the annals: Lewis McKenzie assumed proprietorship and facilitated the emancipation of Clara Quander on January 1, 1863.
---
R
Colonel Dennis Ramsay (1756 – September 1, 1810) – Mayor and Confidant of George Washington: Honored Pallbearer at His Funeral
Born as the son of William Ramsay, one of the illustrious founders of Alexandria and its inaugural Mayor, this individual grew up within the walls of the Ramsay House, now the official visitors' center at King and N. Fairfax. Their life journey unfolded against the backdrop of significant historical events. They exhibited an unwavering commitment to their community, leaving a notable mark in various capacities.
During the American Revolutionary War, this remarkable figure took up the mantle of service as a Colonel in the Virginia Line, demonstrating their dedication to the cause of independence. Following their father's footsteps, they ascended to the position of Mayor of Alexandria, contributing actively to local governance as a council member and alderman and fulfilling various responsibilities at the Meeting House. In addition to their public service, they pursued trade as a merchant and owned a thriving tavern.
An event of considerable historical significance transpired during their tenure as Mayor – they delivered a farewell address to none other than George Washington himself at Wise's Tavern. This occasion marked Washington's departure from Alexandria before assuming the presidency of the newly formed United States.
In a poignant display of honor, this individual had the privilege of serving as an Honorary Pall Bearer at George Washington's funeral in 1799, a testament to the respect and admiration they commanded within their community.
Their legacy extended into the realm of law and governance. Appointed as one of the "Midnight Justices" by President John Adams, their judicial service was notable. However, their legacy also intersected with the political dynamics of the time, as President Thomas Jefferson chose not to seat them, reflecting the complexities of the era's political landscape.
On a more personal note, this influential figure forged a lifelong partnership with Jane Allen Tayler, a woman from Ireland who, alongside her father Jesse Talor, arrived in Alexandria in 1779. Their union on November 17, 1785, was the cornerstone of a family including nine children. Noteworthy were Eliza Johnston Ramsay Blacklock and Ann MarCarty Ramson Blacklock, both of whom married into the Blacklock family, with Eliza marrying Nicholas Frederick Blacklock and Ann joining in matrimony with Robert S. Blacklock.
Further tracing this intricate lineage, the story encompasses George Washington Dennis Ramsay, who united in marriage with Wilhelmina Bartleman. Wilhelmina, the daughter of William Bartleman and Margaret Douglas, found eternal rest in the Presbyterian Cemetery, as did her husband's distinguished forebears.
The legacy of this prominent Ramsay family culminates in the final chapter, where Colonel Ramsay and his wife Jane now rest side by side, their last resting place in plot 42:72 of the Presbyterian Cemetery – a lasting tribute to a family whose impact resonates through the annals of Alexandria's history.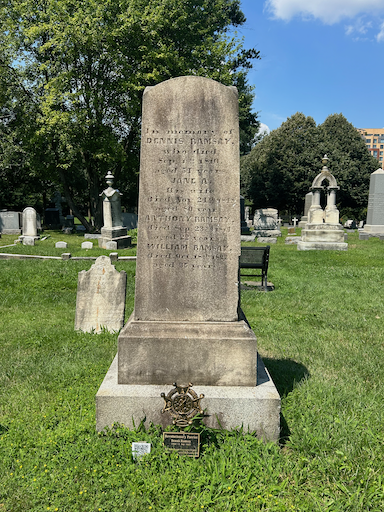 In memory of
DENNIS RAMSAY
who died / Sep. 1st, 1810
aged 54 years.
JANE A[llen Taylor].
his wife
died Nov. 24th 1848
aged 80 years
ANTHONY RAMSAY
died Sep. 23rd 1814
aged 22 years
WILLIAM RAMSAY
died Oct. 18th, 1822
aged 35 years.
42:72
---
Catherine Cooper Reardon (March 16, 1906 – March 1, 1944) Tragic Demise: Librarian Fatally Attacked within the National Cathedral
In 1944, a tragic incident occurred involving Catherine Cooper Reardon, an assistant librarian, who lost her life within the confines of the Cathedral's library building. The perpetrator of this heinous act was identified as Julius Fisher, who held the roles of both a handyman and a janitor. His actions were marked by brutality as he strangled Catherine, striking her with a log from the fireplace. The victim's body was then concealed beneath the basement's steam pipes.
Initial newspaper reports detailed Fisher's confession, in which he disclosed that the violence was sparked by a confrontation initiated by Catherine's critique of his cleaning efforts beneath her desk. In light of the severity of the crime, Fisher was sentenced to the death penalty, to be carried out via electrocution in the electric chair.
As the case progressed to the highest court, Fisher's defense revolved around a claim that Catherine had used derogatory language towards him, resulting in an intense surge of anger on his part. According to Fisher, this emotional outburst prompted his actions, which he argued were not premeditated, and therefore, he contended that the death penalty was an unjust punishment for a crime stemming from a spontaneous emotional reaction. However, Fisher's appeal was ultimately unsuccessful, leading to his execution by electrocution at the historic DC Jail.
Julius Fisher's final resting place can be located in Section 16:3. If you're interested in delving deeper into the details of this case, you can find more information at this [link].
---
Francis Avery Reed (July 2, 1834 – August 23, 1895) Former Grand Commander of Knights Templar in Virginia: Met Tragic End by Suicide
On August 23, in Alexandria, VA, Frank A. Reed, a prominent local citizen and a well-respected figure in various Masonic organizations, committed suicide at his home. Mr. Reed's affiliations included Past Grand Commander Knights Templar Virginia, Past Master Andrew Jackson Lodge No. 120 A.F. & A.M., Grand Senior Warden Grand Lodge of Virginia, and Past High Priest Mount Vernon Royal Arch Chapter No. 14.
The nearby post office employees were startled by a gunshot around 9 a.m. Dr. Klipstein, a neighbor, was summoned and found Mr. Reed with a fatal wound to his head.
Earlier that morning, Mr. Reed was seen around town and did not appear distressed. He returned home without alerting his family of his intentions. The first sign of trouble was the sound of the gunshot. Despite immediate medical attention, Mr. Reed's life could not be saved, and he passed away around 11:30. His family discovered him in a pool of blood, marking a shocking and sudden end to his life. The loss of such a well-known and respected individual has undoubtedly significantly impacted the community.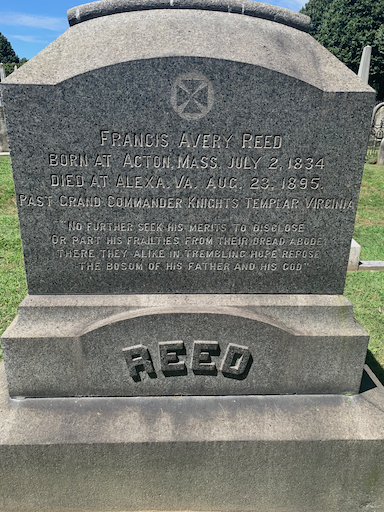 FRANCIS AVERY REED
born at Acton, Mass. July 2, 1834
died at Alexa., Va., Aug. 23, 1895
Past Grand Commander Knights Templar Virginia

No further seen his merits to disclose
or part his frailties from their dread abode
There they alike in trembling, hope repose
The bosom of his father and his God
Past Master Andrew Jackson Lodge No. 120 A.F. & A.M
Grand Senior Warden Grand Lodge of Virginia
Past High Priest Mount Vernon Royal Arch Chapter No. 14
B:172
---
Rebecca Ramsay Reese (April 22, 1870, July 19, 1955) Legacy of Leadership: Descendant of Alexandria's Founder, Chair of the 1927 Meeting House Restoration Committee, and Member of the Original 1946 Board of Architectural Review
Born to George William Ramsay and Harriett Fawcett, she was the descendant of town founder William Ramsay, who was laid to rest in the 18th-century Christ Church burial ground.
In 1927, she assumed leadership of the Committee on Descendants for the Meeting House Restoration Committee. In 1949, she orchestrated the celebrations for Alexandria's 200th anniversary. A founding member of the original Board of Architectural Review (BAR) for the Old and Historic Alexandria District in 1946, she played an instrumental role in crafting guidelines for preserving Alexandria's historic structures.
Beyond her involvement with the Meeting House, she spearheaded significant restoration projects. She oversaw the meticulous repair of Gadsby's Tavern, The Ramsay House – now the Alexandria's Visitor Center – and the Stabler-Leadbeater Apothecary Museum.
Consider watching a brief film produced by The American Film History Project that delves into the life of Rebecca Ramsey Reese at this [link]. Notably, she rests in eternal peace alongside her husband, Robert Miller Reese (February 11, 1862 – July 28, 1949), in section 41, West: 212. This final resting place also houses her parents, connecting generations in a single resting place.
---
James Herrell Rollins Jr. (September 23, 1910 – June 20, 1921) & John Lee Rollins July 20, 1912 – June 20, 1921) Tragic Waters: Siblings Who Met Their Demise in Four Mile Run
A sad story as told in the Alexandria Gazette on June 21, 1921.
The two siblings find their final resting place in Section 16, Plot 11, where they rest beside their parents, James Herrell Rollins Sr. (born July 4, 1877, died March 31, 1956) and Marie Adam Rollins (born November 19, 1886, died January 19, 1978).
The article references the Town of Potomac, founded in 1908, encompassing the Del Ray, St. Elmo, Mt. Ida, and Hume neighborhoods. Initially situated in Arlington County, it became part of Alexandria in 1930.
The moniker "Four Mile Run" originates four miles upstream from the mouth of the Great Hunting Creek along the Potomac River.
---
S
William Randolph Sengel (April 27, 1923 – October 18, 2011) – Spiritual Leader and Civil Rights Advocate: Guided Old Presbyterian Meeting House Congregation, Stood with Dr. Martin Luther King Jr. in Selma to Montgomery March, and Delivered Eulogy at Alexandria's Memorial Service
Between 1960 and 1986, Sengel held the position of Pastor at the Meeting House. Over this period, he delivered over 1000 sermons and presided over 700 weddings, 400 baptisms, and 200 funerals. Notably, Sengel attended the memorial service for Reverend James J. Reeb, a former ordained Presbyterian pastor who tragically lost his life due to injuries sustained during the "Bloody Sunday" events on March 7, 1968. This event involved a march from Selma to Montgomery, Alabama, to protest white individuals' obstruction of black voter registration.
Sengel also actively participated in a second protest march that occurred from March 16 to March 25, 1968, where he was joined by the prominent figure Reverend Doctor Martin Luther King Jr. Additionally, Sengel delivered a speech at the official memorial service hosted by the City of Alexandria on April 9, 1968, in honor of Dr. Martin Luther King Jr., who had been tragically assassinated in Memphis, TN, just five days prior.
Noteworthy among Sengel's achievements was his successful leadership in a year-long campaign to remove Confederate battle flags from lampposts along King Street and Washington Streets. These flags had been associated with celebrations of Confederate Memorial Day, Robert E. Lee's birthday, and other "Southern Holidays."
A pivotal role in church history was Sengel's participation as one of twelve Presbyterian ministers in merging the Northern and Southern branches, leading to the formation of the Presbyterian Church (USA) in 1971.
Sengel's dedication was evident in his 27-year effort to regain control of the Presbyterian Cemetery, initially established by the congregation in 1809. In 1999, the Presbyterian Cemetery was once again incorporated into the ministry of the Meeting House, reaffirming the enduring bond between the Church and the Cemetery. Throughout the 1970s, the cemetery had been managed by a court-appointed Board of Trustees. Sengel became a board member in 1972 and continued until 1999. His gravestone is near the pedestrian entrance gate, to the right (44:176).
---
Andrew Fletcher Skidmore (1826 – May 2, 1862) was Killed at Yorktown during the Civil War.
Andrew F. Skidmore's journey through the tumultuous times of the Civil War is a testament to his dedication to duty and service. In 1859, he held the rank of Private in the Mt. Vernon Guards, a component of the Virginia State Militia. However, his commitment to his nation did not waver when the Civil War erupted.
On April 17, 1861, Andrew Skidmore enlisted in Alexandria, Virginia, and was mustered into Captain Samuel J. DeVaughan's Company, a unit later known as Company E of the 17th Virginia Infantry. This regiment formed part of Kemper's Brigade within Longstreet's Division, Army of Northern Virginia.
Tragically, Private Andrew Skidmore's life was cut short in the line of duty. On May 2, 1862, he met his fate during the Siege of Yorktown, Virginia. Although his initial resting place was closer to the battlefield, his memory lives on through a cenotaph on the family monument in the Presbyterian Cemetery.
The enemy with long range rifles were quick to fire on anyone who raised their head above the parapet. On May 1, two of the Mount Vernon Guards were shot, Henry R. Biggs who was wounded slightly, and Andrew Skidmore, whose wound was fatal.

Wallace, L. Jr. (1990). 17th Virginia. The Virginia Regimental Histories Series (p. 29). Lynchburg, Virginia.
Andrew Skidmore's story serves as a poignant reminder of the sacrifices made during the Civil War, as he gave his life in the service of his country. His dedication and bravery continue to be honored and remembered.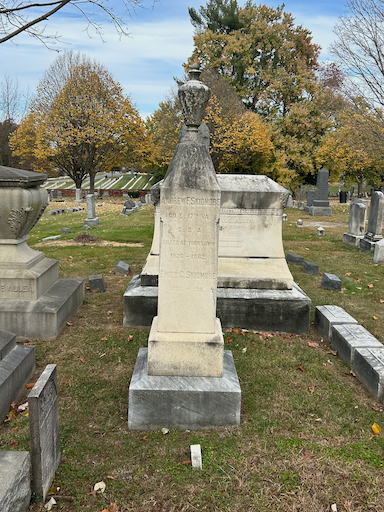 JOHN W. SKIDMORE
1818 – 1865
MARIA L. SKIDMORE
1820 – 1893
JESSE SKIDMORE 1790 – 1854
his wife
SARAH BOYD
1789 – 1865
ANDREW F. SKIDMORE
Co. E. 17th Va.
C.S.A.
Killed at Yorktown
1826 – 1862
EMILY G. SKIDMORE
1826 – 1911
13:3, obelisk
---
Francis Lee Smith (September 24, 1876 – July 7, 1877) – Integral Landowner: Owned the Parcel Now Housing the Contraband Cemetery; Legal Representatives for the Lee Family
Smith, Sr. (born on November 25, 1808, and passed away on May 10, 1877), was the attorney for the Lee family. He resided in the biggest house in Alexandria, located at 510 Wolfe Street, still standing today.
Francis Lee Smith, Sr. and his wife Sara left Alexandria and went to Richmond when Union soldiers took over the town on May 24, 1861. Union General John Slough, the military governor of Alexandria, used Smith's house as a place to live or work and later as a hospital. After the war ended in 1865, the Smith family returned home. Maggie Smith, Francis Smith's youngest child, was the last one to live in the house. She died in 1926.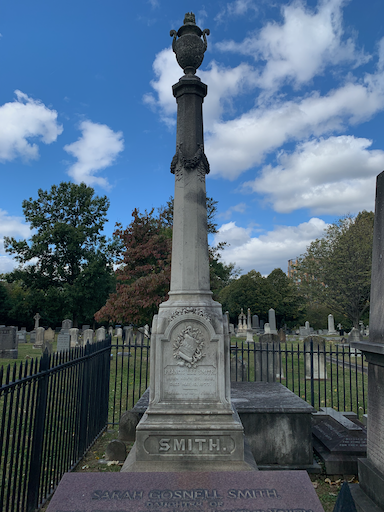 Because he didn't personally pay taxes on land he owned on Broomallaw Point, located south of town along Great Hunting Creek (now 1001 S. Washington Street), the land was taken away in 1864 and transformed into a burial ground for African Americans.
After the Civil War, Smith, who was related to the Lees, advised them not to try to reclaim Arlington. This is because he had also failed to regain his land where the Contraband Cemetery was situated.
Read the blog [The Contrabands and Freemans Cemetery: a Historic Burial Ground for Freedmen and Fugitive Slaves in Alexandria, Va] for the rest of the story.
---
Francis Lee Smith, Jr. (October 1845 – August 25, 1916)– Battle-Hardened Veteran: Engaged in New Market Clash on May 15, 1864; Triumphed in Court Battle Over Arlington Estate Confiscation
Smith was a member of the VMI Corps of Cadets. He fought in the Battle of New Market on May 15, 1864. During the battle, he got injured in his jaw and shoulder.
After the war, he joined and eventually took over his father's law firm. He believes his father is wrong about not suing the federal government for the illegal confiscation of the Lee land and files a lawsuit in April 1877 in the federal court of the Eastern District of Virginia, in Alexandria, on behalf of George Washington Custis Lee – who, as the oldest son of Mary Anna Custis Lee and Rober E. Lee, inherited his mother's property after she died in 1873.
Read more at this blog: [Discover the Fascinating Life of Francis Lee Smith Jr: from Civil War Soldier to Prominent Lawyer]
---
Peter Haddon Smith, Ph.D. (September 2, 1945 – May 8/9, 2008) Distinguished Historian: Notable Contributor to the City of Alexandria
He actively participated as a member of an architectural design review group and demonstrated expertise in historic buildings throughout Alexandria. Collaborating closely with fellow group member Peter Smeallie, he co-authored the book "New Construction for Older Buildings" in 1988. His engagement also extended to the Meeting House, a place of significance to him. Over more than 16 years, he served diligently within the City of Alexandria. Tragically, he passed away during the night spanning May 8th and 9th in 2008, at 62. His final resting place is within the Columbarium, commemorating his legacy.
---
Captain James Montgomery Stuart (1825/1826 – October 7, 1880) Confederate Veteran and Congressional Postmaster: Dedicated Service to the United States House of Representatives
Born in Alexandria, he embarked on a transformative journey at 18, relocating to St. Louis. A turning point came when he enthusiastically enlisted as a volunteer from Missouri in the Mexican War. Following this chapter, his path led him to California, where he achieved notable success as a mining and real estate business magnate. Unfortunately, as the Civil War dawned, his enterprises were confiscated.
Subsequently, his travels took him to Texas, where he cast his lot with the Confederacy as a valiant member of the 17th Virginia regiment. Post-war, he retraced his steps to Alexandria, assuming the role of Sheriff in 1867. This tenure lasted a mere two years, terminated by the intervention of Federal authorities during a complex reconstruction period.
With the waning of the reconstruction era, he shifted gears to become a respected Sergeant within the city's framework. The year 1876 marked a pivotal moment as he ascended to the position of Postmaster for the United States House of Representatives. This distinguished role defined his trajectory until his eventual passing in 1880.
His place of abode was established at 505 Cameron Street, and upon his demise, he found his eternal resting place in Section 42, plot 60.
---
Judge Charles Edward Stuart (May 18, 1850 – April 16, 1889) – Legislative Luminary and Steward of Stratford Hall: Former Virginia House of Delegates Speaker from an Illustrious Family
Charles Stuart was born at "Panorama" in King George County, Virginia. He made notable contributions to Virginian politics and the legal system during his lifetime. Serving as a member of the Virginia House of Delegates from 1881 to 1887, he achieved the esteemed position of Speaker from 1883 to 1887. Simultaneously, he fulfilled the role of a Judge in Alexandria, beginning on January 18, 1881, and continued in this capacity until his untimely demise on April 16, 1889, at just 38.
In 1879, Charles Stuart and his brother, Dr. Richard Henry Stuart, were bequeathed the historic Lee Family residence, Stratford Hall, in Westmoreland County, Virginia. This significant property was left to them through the will of their great-aunt, Elizabeth Storke. Notably, Elizabeth Storke was connected to Mary Custis, the wife of Robert E. Lee, through her cousin Julia Calvert.
Judge Stuart entered matrimony with Ruth Yeaton on October 11, 1876, in Alexandria, after which the couple relocated to Stratford Hall. Ruth was the granddaughter of Judge Gabriel Duvall, an influential figure who served as the Comptroller of the Treasury of the United States and held the esteemed position of Associate Justice of the Supreme Court of the United States from November 11, 1811, until January 14, 1835.
Following Judge Stuart's passing, he found his final resting place in section B:194 at the Presbyterian Cemetery. Tragically, three of his five children were interred in the exact location. Conversely, his wife, Ruth, died in Bermuda in 1937, where she was also laid to rest.
In 1929, the Honorable Charles Edward Stuart, the nephew of his uncle (his father's brother), played a significant role in selling Stratford Hall to the Robert E. Lee Foundation. This pivotal transaction involved not only Charles' wife, Clara, but also Lydia Ann Marmaduke Stuart, the widow of his uncle mentioned above.
Judge Stuart's father, Colonel Edward Stuart, is interred in Christ Church Cemetery. He held a significant role as the commander of the 175th Virginia Militia during John Brown's execution on December 2, 1859, in what is now known as Charlestown, West Virginia.
---
T
Thomas Tretcher (1760 – October 15, 1815) – Mariner on Captain Cook's Third Voyage: Commander of Merchant Ships and Voyaging Adventurer
A teenager who was an able-bodied seaman and part of the crew on the HMS Discovery went on Cook's third voyage from 1776 to 1780. During this voyage, Europeans discovered the Sandwich Islands, now known as Hawaii. You can learn more about his interesting story by clicking this [link].
---
U, V, W
John C. Vowell: A Legacy of Faith, Commerce, and Civic Duty (1766-1852)
John C. Vowell (1766-1852) was a prominent figure in early American history, known for his diverse contributions to society as a religious leader, businessman, and civic participant. Born in London, he emigrated to the USA with his brothers Thomas Vowell Jr. and Dr. John D. Vowell. Settling in Philadelphia for a time, Vowell was baptized in 1798 by Rev. Muir, a significant event marking his deep commitment to his faith.
Vowell's religious involvement was extensive. He served as an elder and member of the session for over five decades from 1801, actively participating in numerous synods and general assemblies. However, there was a notable period from 1817-1833 when he joined the Second Presbyterian Church, leading a group that eventually returned to the original congregation in March 1833.
John C. Vowell's life was also significantly influenced by his wife, Margaret "Peggy" Harper Vowell (1773-1806), who played a pivotal role in his personal life. Peggy was the daughter of Captain John Harper, linking Vowell to another notable family in the community.
The couple was married by Rev. Muir on October 28, 1795, as documented in the Muir Register and various early church records. This marriage was more than a union of two individuals; it represented joining two influential families within the community, further cementing Vowell's status and connections.
Tragically, Peggy's life was cut short by tuberculosis, a common and often deadly disease at the time. She passed away at the age of 33½ on July 26, 1806. Her burial in the Meeting House churchyard was recorded in the Muir Register, marking the end of her life but not the impact she had made during her years. (To view Peggy's biography and gravestone in the 18th-century burial ground at the Old Presbyterian Meeting House, please visit the following [link]).
Peggy's death would have been a significant event in Vowell's life, affecting him personally and his social and business dealings. Her legacy continued through the properties and connections she brought into their marriage, notably the 213 Prince Street property, which was later given to their daughter, Eliza Douglas. Peggy's influence and heritage remained a part of Vowell's life and the broader community even after her untimely death.
Mary Jaqueline Smith Taylor Vowell played a significant role as John Cripps Vowell's second wife. Born into the family of Augustine Smith and Margaret Boyd Smith, Mary brought her distinguished lineage into the marriage. She was the widow of Jesse Taylor, indicating a previous chapter in her life that likely influenced her perspectives and experiences.
Mary and John C. Vowell were united in matrimony on December 6, 1810, in a ceremony officiated by Rev. Muir. This marriage marked a new beginning for both, occurring four years after the death of John's first wife, Peggy. The union was a personal alliance and a social one, connecting two families with deep roots in the community.
Mary's marriage to John Vowell signified her integration into his life and enterprises, potentially influencing his business decisions, social standing, and contributions to the community. Her background and experiences as a widow would have brought a unique dynamic to their relationship. Mary's role, perhaps less documented than that of her husband, was undoubtedly supportive and significant, contributing to the fabric of their shared life and the community they were a part of.
His business acumen was equally noteworthy. Vowell co-owned the Cameron Mills and was an Alexandria Library Company charter member in 1794. He opened a store in 1822 at the corner of King and Payne Streets, dealing in various goods. His entrepreneurship extended to co-purchasing a ship named Diana in 1806 and being an incorporator of the Mount Vernon Cotton Manufacturing Company.
Vowell's military service included participation in the War of 1812 as a private in the First Regiment, DC Militia. His civic duties were exemplified by his role as a City Councilman in 1813-14, and he even chaired Alexandria's reception for Lafayette in 1824.
A wealthy merchant, Vowell resided in Alexandria, where he made significant contributions to the local community. He was involved in the post-1835 building committee for his church, generously leaving funds in his will for its upkeep and support of the minister.
In addition to his various roles in religious, business, and civic arenas, John C. Vowell was a substantial real estate owner in the town. His property portfolio was impressive and included several notable addresses at different times. These properties reflected not only his business acumen but also his deep integration into the community's fabric.
Among his holdings were:
429 S. Lee Street, acquired in 1806, showcasing his early establishment in the town.
111 Prince Street, purchased in 1812, added to his growing real estate investments.
106 Prince Street, acquired in 1838, further expanding his presence in the town.
108 Prince Street, obtained in 1851, demonstrating his continuous investment in local real estate.
213 Prince Street is a significant property acquired from his first wife, Peggy's, estate. This property was notably given to their daughter, Eliza Douglas, in 1844.
611 Queen Street, purchased in 1815, adding to his diverse property portfolio.
213 Wilkes Street, acquired in 1805, is one of his earliest real estate investments.
Vowell's extensive property holdings were a testament to his successful business endeavors and commitment to the town's growth and development. His real estate investments not only contributed to his personal wealth but also impacted the community's landscape.
His legacy is marked by substantial donations to various religious and missionary organizations, reflecting his faith and commitment to philanthropy. This includes $9,500 bequeathed to different religious and mission boards, a significant sum for that era.
John Vowell passed away in 1852, leaving a rich legacy of religious devotion, business entrepreneurship, and civic engagement. He was buried in the Presbyterian Cemetery, remembered for his influential role in early American society—site: 42 Plot 44 – two gravestones.
JOHN CRIPPS VOWELL
Born in Loudon, England
Aug. 12, 1767
Died in Alexandria,
Dec. 9, 1852.
Sacred
to the memory of 
MARY JAQUELINE
beloved wife of
JOHN. C. VOWELL
of Alexandria; and daughter
of AUSTINE J. SMITH of
Shott'er Hill, Middlesex County,
VA., born Febry, 12, 1773, died 
Oct. 31, 1846, ripe in years.
and in the full assurance of 
a blessed immortality
OUR MOTHER
Her record is on high
Job. 16 Chap. 19 Ver.
Calm on the bosom of thy GOD
Fair spirit rest thee now;
Even while with us, thy footsteps tread.
His soul was on thy brow.
Sacred
to the memory of
JOHN CRIPPS VOWELL
born in London, England
Augt. 12th 1767
died in Alexandria, VA
Dec'r 9th, 1852
Those that be planted in the house of the
Lord shall flourish in the courts of our God.
Life's duty don as well is the day.
Light from its land the spirit flies;
while heaven and earth combine to say
How blest the righteous when he dies.


The first gravestone is an obelisk, and the second is a box tomb. Both are located in 42:44.
---
William Wolf Weisband (August 28, 1908 – May 14, 1967) Covert Operative in the Cold War: Infamous Soviet Union Spy
In the Presbyterian Cemetery of Alexandria, Virginia, lies 1LT Lieutenant William Wolf Weisband (August 28, 1908 – May 14, 1967). He served as an Armed Forces Security Agency (AFSA) civilian during the Cold War. In this era, he stumbled upon the revelation that American cryptologists had successfully cracked the cryptographic systems of the Soviet Union, granting access to their diplomatic and intelligence communications.
Operating under the alias Zhora, Weisband functioned as a spy for the Soviet Union from as early as 1934. His pivotal moment came when he issued an alert to his handlers, prompting the Soviets to swiftly alter their encryption techniques. This had a profound impact, significantly impeding the effectiveness of American intelligence endeavors. The consequence of this sudden lack of insight into Soviet intentions was evident when North Korea's invasion of South Korea caught the United States unprepared in June 1950.
Read the blog The Spy Buried in Alexandria: Unraveling the Tale of Lieutenant William Weisband and the Impact on American Intelligence for the rest of the story.
---
John Westcott (c.1734-1813) was a Revolutionary War Veteran and Merchant.
John Westcott (c.1734-1813) was a prominent figure during the Revolutionary War era, serving as a Captain in a New Jersey unit. His dedication to the cause earned him recognition as a SAR Revolutionary War Patriot, and he is interred at the Presbyterian Cemetery. While there is mention of his membership in the Society of the Cincinnati, it is important to note that no direct source confirms this.
Outside of his military service, Westcott was a successful merchant dealing in wholesale goods, a fact proudly inscribed as "Merchant" on his tombstone at the Presbyterian Cemetery. This tombstone also marks the year of his passing as 1813, at the age of 79.
In addition to his mercantile pursuits, Westcott had a keen interest in the print world. He was a printer and publisher of books, contributing significantly to the local economy. Notably, between 1797 and 1802, J. D. Westcott published the "Alexandria Times and District of Columbia Daily Advertiser." This daily newspaper, available from Monday to Saturday, was printed by John D. Westcott himself. His printing establishment was conveniently located on Royal Street, just five doors down from King Street.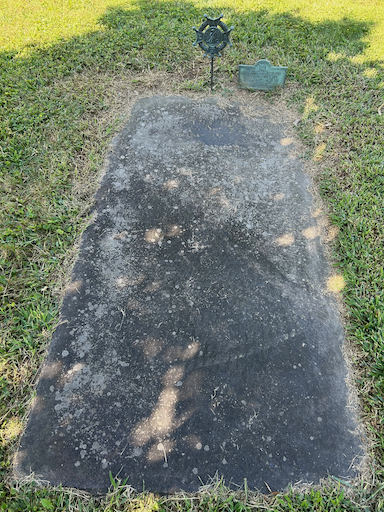 In memory of
JOHN WESTCOTT
merchant of this place
who departed this life November
25th 1813 in the 72nd year
of his age.
He was a native of Cumberland County,
New Jersey, was an officer in the New
Jersey line during the revolutionary
war, was an upright citizen, and
honest man
also in memory of
JAMES D. WESTCOTT who died August 5th
1799, aged 19 months and SARAH
WESTCOTT who died April 25th 1800, aged
2 days both interred in this place, chil
dren of JAMES D. WESTCOTT and ANNIE
his wife, of Cumberland County, New
Jersey.
42:58, tablet; D.A.R. marker
---
George Wise (November 3, 1778, or 1780 – April 3, 1856) – Final Washington Bier Bearer and Esteemed Mayor of Alexandria
The final remaining individual who participated in carrying the Bier, a platform on which George Washington's coffin was placed in 1799, was a Lieutenant in the 106th Virginia Regiment. He joined the Meeting House and subsequently became a member of the Second Presbyterian Church in 1817. Later, he held the esteemed position of Mayor of Alexandria, serving from 1836 to 1837.
His son, Charles James Wise, born on July 24, 1830, and who passed away on May 9, 1898, endured an unfortunate incident. He sustained injuries while bravely combating a fire at the Dowell China Shop on November 17, 1855.
The father and the son found their final resting place in section 44:132, along with their respective families.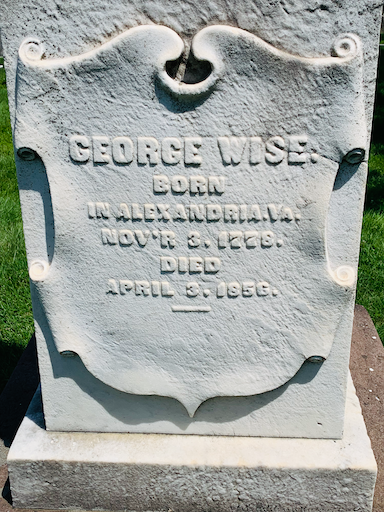 ---
X, Y, Z
Robert Young (December 27, 1768 – October 27, 1824) Cavalry Leader at Washington's Funeral; Constructor of 1315 Duke Street, Alexandria's Notorious Slave Pen
Also, see Phillip Richard Fendall II.
A prominent figure in his community, this individual was involved in various roles. He was a Meeting House member and President at a local bank. As a merchant, he was well-connected in trade circles. His expertise was sought as a consultant for the Port of Havana during Thomas Jefferson's time. His diverse experiences also included serving as a General in the War of 1812.
To read more about General Young, please click on this blog [A Life of Prominence and Varied Roles: the Multifaceted Legacy of General Robert Young].
---
Sources of Information
Books:
Brockett, F. L., & Rock, G. W. (1883). A Concise History of the City of Alexandria, VA, from 1669 to 1883 with a Directory of Reliable Business Houses in the City. Gazette Book and Job Office.
Blanton, W. B. (1931). Medicine in Virginia in the Nineteenth Century. Garrett & Massie, Inc.
McGroarty, W. B. (1940). The Old Presbyterian Meeting House at Alexandria, VA 1774 – 1874. The William Byrd Press, Inc.
Moore, G. M. (1949). Seaport in Virginia George Washington's Alexandria. Garrett and Massie, Incorporated.
The Alexandria Association. (1956). Our Town 1749-1865 at Gadsby's Tavern Alexandria, Virginia. The Dietz Printing Company.
Lee, C. G., Jr. (1957). Lee Chronicle Studies of the Early Generations of the Lees of Virginia. Thomson-Shore.
Cox, E. (1976). Historic Alexandria, Virginia Street by Street; A Survey of Existing Early Buildings. EPM Publications.
Miller, T. M. (1987). Pen Portraits of Alexandria, Virginia, 1739-1900. Heritage Books.
Fleming, L. B., Rhodes, E. F., & Fleming, J. E. (1981). Centennial Thomas Fleming 1881-1941. AdArt.
Pippenger, W. E. (1992). Tombstone Inscriptions of Alexandria, Virginia: Volume 1. Family Line Publications.
Miller, T. M., & Smith, W. F. (2001). A Seaport Saga Portrait of Old Alexandria, Virginia. The Downing Company Publishing.
Madison, R. L. (2005). Walking with Washington. Gateway Press, Inc.
Van Horn, H. M. (2009). The Presbyterian Cemetery Alexandria, Virginia 1809 – 2009. The Arlington Press.
Gaughan, A. J. (2011). The Last Battle of the Civil War. United States Versus Lee, 1861 – 1883. Louisiana State University Press.
Hakenson, D. C. (2011). This Forgotten Land Volume II, Biographical Sketches of Confederate Veterans Buried in Alexandria, Virginia. Donald Hakenson.
Wenzel, E. T. (2015). Chronology of The Civil War in Fairfax County. Part I. Bull Run Civil War Round Table.
Rainey, B. (2022). The Last Slave Ship. The True Story of How the Clotilda Was Found, Her Descendants, and an Extraordinary Reckoning. Simon and Schuster.
Quander, R. (2021). The Quanders, Since 1684, an Enduring African American Legacy. Christian Faith Publishing, Inc.
Hamilton, E. J. (2021). A Scottish Migration to Alexandria. Ellen J. Hamilton.
Unpublished Works:
Dahmann, D. C. (2002). The Roster of Historic Congregational Members of the Old Presbyterian Meeting House.
Pamphlets:
Old Presbyterian Meeting House's Visitor's Guide to Alexandria's Historic Old Presbyterian Meeting House. Trifold pamphlet.
Websites:
Official website of the Old Presbyterian Meeting House. (n.d.). Church history. URL: https://www.opmh.org/history
Official website of the Captain Cook Society. (n.d.). Cook's Third Voyage. URL: https://www.captaincooksociety.com/home/detail/cooks-third-voyage-1776-1780
Official archives website of The Washington Post. (n.d.). Dowell China Shop Fire. URL: https://www.washingtonpost.com/archive/local/1982/11/30/fire-destroys-old-alexandria-shop/fe4300a2-ebdd-4f64-96fc-943a3a913227/
Official website of the City of Alexandria, Office of Historic Alexandria. (n.d.). Alexandria Times Out of the Attic. URL: https://www.alexandriava.gov/historic/info/default.aspx?id=94188
George Washington's Mount Vernon official website. (n.d.). Ramsay's farewell speech at Wise's Tavern. URL: https://www.mountvernon.org/george-washington/slavery/ten-facts-about-washington-slavery/
Official website of Cincinnati Whig newspaper. (2019). Article about the Moselle. URL: https://cincinnatiwhig.com/2019/01/28/thursday-january-29-1852/
Official website of Steamboats.org. (2019). Article about the Moselle. URL: https://www.steamboats.org/history/potomac-river-and-the-steamboat-moselle.html
Official website of the Friendship Firehouse Museum. (n.d.). Firehouse information. URL: https://www.friendshipfirehouse.net/
Official website of Military Images Digital. (2022). Article on Samuel Johnston. URL: https://militaryimages.atavist.com/a-northern-yankee-in-lee-s-army
Official Blog of Gettysburg National Military Park. (2022). Blog on Capt. Samuel R. Johnston. URL: https://npsgnmp.wordpress.com/2022/05/30/capt-samuel-r-johnston/
Official website of Washingtonian Magazine. (n.d.). Article about the Mysteries of the Washington Cathedral. URL: https://www.washingtonian.com/2012/07/02/the-mysteries-of-washington-national-cathedral/
Alexandria Archaeology Office of Historic Alexandria. (2010). Alexandria, a living history: Alexandria waterfront history plan. City of Alexandria, Virginia. https://dockets.alexandriava.gov/icons/PZ/BAR/ohad/cy11/020211/waterfront.pdf
1

According to the Act for the Collection of Taxes in the Insurrectionary Districts (12 Stat. at L. 422), all the land in areas affected by the rebellion had to pay property tax. The act allowed appointing officials to collect the taxes and take ownership of the property if the taxes were unpaid. On February 6, 1863, the act was modified to require individuals to pay their taxes in person. In this particular case, the tax amount was $92.07. Mary Custis Lee arranged for her cousin Phillip Richard Fendall to make the payment, but the government rejected it.