Early Life and Business Success
Lewis McKenzie, born on October 7, 1810, left an indelible mark on the history of Alexandria, Virginia, through his multifaceted contributions as a businessman, politician, and key player in forming West Virginia. This blog delves into the life and legacy of this distinguished civic figure who helped shape the course of his time.
A Prosperous Merchant in Alexandria
Lewis McKenzie began his journey to prominence as a successful trader in Alexandria. His business acumen and financial success laid the foundation for his future endeavors. His influence extended beyond commerce, as he would soon become a pivotal figure in Alexandria's political landscape.
Railway Entrepreneurship: Alexandria, Loudoun, and Hampshire Railroad
In 1853, Lewis McKenzie took on a monumental role as the President of the Alexandria, Loudoun, and Hampshire Railroad, known today as the W&OD biking/hiking trail. This venture began his significant impact on transportation and regional development.
Competing with the Baltimore & Ohio Line
The Alexandria, Loudoun, and Hampshire Railroad was conceived as a direct competitor to the Baltimore & Ohio line. It played a crucial role in collecting Northern Virginia products and transporting them to the port of Alexandria. Construction commenced in 1855, and by May 1860, the line reached Leesburg. Unfortunately, the Civil War disrupted further progress.
Union Occupation and Post-War Resurgence
As the Civil War began, Union forces captured the railroad, including the station at Fairfax and Princess Street, when they seized Alexandria on May 24, 1861. In the wake of this takeover, McKenzie was elected as the Unionist mayor, serving from 1861 to 1863. Once the war ended, McKenzie managed to regain control of the railroad, showcasing his resilience and determination.
Political Legacy: Mayor, Congressman, and More
Lewis McKenzie's involvement in politics extended well beyond his mayoral tenure. He was elected to the Virginia House of Delegates four times, showcasing the trust placed in his leadership. Additionally, he was elected as the 7th Congressional representative to the US Congress three times, though he only served twice.
The Formation of West Virginia
One of his most remarkable achievements was establishing the Reformed Government of Virginia, a pivotal step that eventually led to the creation of West Virginia. McKenzie's contributions were crucial in shaping the region's political landscape during a tumultuous period in American history.
Congressman and Orphans Court Judge
McKenzie's political career included three elections to the U.S. Congress, although he served only twice. Additionally, he took on the role of a judge in the Orphan's Court, leaving a lasting impact on the legal system in the region.
Enduring Influence and Final Years
Lewis McKenzie's residence at 207 Prince Street, a historic house built between 1749 and 1753, held the distinction of having the first bathtub in Alexandria. His involvement in the Meeting House further solidified his place in the community, with a silver plaque bearing his name on one of the pews.
Post-War Public Service
In the post-war years, McKenzie's Unionist stance, which was not without controversy, did not deter him from serving in local and state governments. He was appointed postmaster in 1878 and returned to City Council in 1887, where he served until 1891.
A Legacy Remembered
Lewis McKenzie passed away in 1895 and is resting at the Presbyterian Cemetery. His enduring legacy as a civic figure of remarkable influence continues to be remembered and celebrated in the annals of Alexandria's history. His contributions to business, transportation, and politics left an indelible mark on the region and helped shape events during a pivotal period in American history.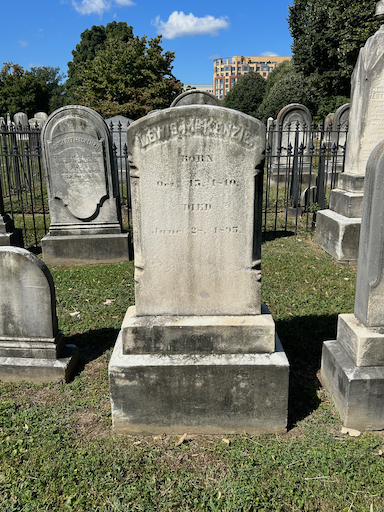 LEWIS McKENZIE
born
Oct. 15, 1810
died
June 28, 1895.
Plot 44:153
Sources of Information
Brockett, F. L., & Rock, G. W. (1883). A Concise History of the City of Alexandria, VA, from 1669 to 1883 with a Directory of Reliable Business Houses in the City. Gazette Book and Job Office.
McGroarty, W. B. (1940). The Old Presbyterian Meeting House at Alexandria, VA 1774 – 1874. The William Byrd Press, Inc.
Pippenger, W. E. (1992). Tombstone Inscriptions of Alexandria, Virginia: Volume 1. Family Line Publications.
Powell, M. G. (2000). The History of Old Alexandria, VA, from July 13, 1749 – May 24, 1861. Index by Pippenger, W. E. Westminster, MD: Willow Bend Books.
Quander, R. (2021). The Quanders, Since 1684, an Enduring African American Legacy. Christian Faith Publishing, Inc.
Dahmann, D. C. (2002). The Roster of Historic Congregational Members of the Old Presbyterian Meeting House.
Old Presbyterian Meeting House's Visitor's Guide to Alexandria's Historic Old Presbyterian Meeting House. Trifold pamphlet.