The list is not complete. New names will be added regularly. If you know of an exciting story or name that should be added, please contact Gravestone Stories!
Historical Context
St. Mary's Catholic Church Cemetery, located at 1000 S. Royal Street, Alexandria, VA 22314, has a rich history dating back to 1795. Recognized as the oldest Catholic Cemetery in Virginia, it is the final resting place for over 5100 individuals.
In the cemetery, five Revolutionary War veterans are interred. Among them are Corporal Lawrence Hurdle (1758 – December 1, 1848), who served in the 7th Regiment of the Historic Maryland Line; Corporal Francis Ignatius Hagan (1754 – December 15, 1830), who was part of the Third Virginia Regiment; and Pierre LaCroix (1743 – September 22, 1830). LaCroix served as a drummer boy during the French and Indian Wars before fighting in the Revolutionary Army with Montgomery at Quebec.
From 1801 to 1847, Alexandria was incorporated into the District of Columbia. Interestingly, St. Mary's Catholic Church Cemetery is situated beyond the borders of the District of Columbia. Therefore, it remained unaffected by the interruptions in 1804 and 1809. As a result, this cemetery has seen consistent burials since its inception in 1795.
---
B
Cavan Boa (1756 – August 20, 1789), Washington's Tailor
The Basilica of St. Mary records indicate that the inaugural burial at St. Mary's Cemetery was Cavan Boa (1756 – August 20, 1789). Discover more about Cavan Boa, George Washington's tailor and a Revolutionary War veteran, in this blog [Unveiling the Stories of Cavan Boa: George Washington's Tailor and Revolutionary War Veteran].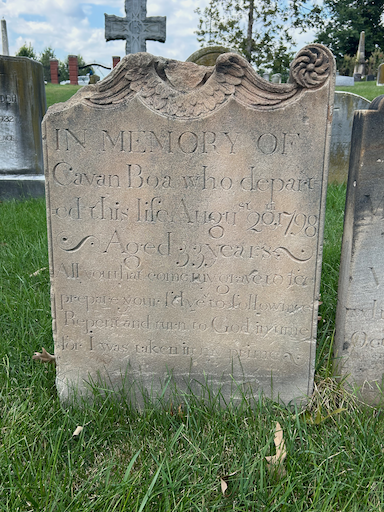 ---
C
William Francis Carne (August 17, 1832 – December 20, 1909) Well-known Alexandrian "Newspaper Man!"
---
H
Lawrence Hurdle (1758 – December 1, 1848): A Revolutionary War Hero Injured at the Battle of Camden.
Lawrence Hurdle was a valiant soldier who served during the Revolutionary War as part of the 7th Regiment of the Maryland Line. He bravely faced the enemy at the Battle of Camden in South Carolina on August 16, 1780, where he sustained injuries. Despite the challenges of war, Lawrence demonstrated remarkable resilience and longevity, living past the age of 90. Notably, he was among the few remaining Revolutionary War veterans to receive a pension at the time of his passing.
LAWRENCE HURDLE
died
Dec. 1, 1848
in the 98 year
Section H, with S. A. R. Bronze Marker, too.
---
F
Colonel John Fitzgerald (1744-1799): Alexandria's Distinguished Catholic. Does St. Mary's Cemetery hold his final resting place?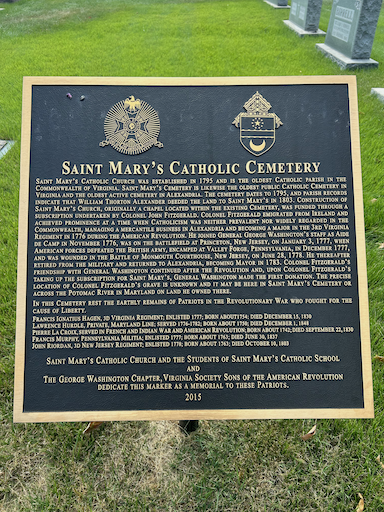 Delve deeper into his story and uncover the captivating beginnings of St. Mary's Catholic Church, which stands today as the magnificent Basilica of St. Mary. Discover astonishing revelations about two of his grandsons [Explore more here!]
---
N
Charles Lloyd Neale (September 26, 1800 – June 8, 1886) Artisan Extraordinaire Behind Countless Alexandria Grave Monuments
Charles Lloyd Neale's exceptional craftsmanship has left an indelible mark across various sections of the Wilkes Street Cemetery Complex, gracing prominent sites such as Bethel, Trinity Methodist, St. Paul's, The Presbyterian Cemetery, and St. Mary's Catholic Cemetery.
Originating from the historical tapestry of St. Mary's County, MD, Neale's lineage carried a distinctive legacy. He bore the proud distinction of being the grandson of James Neale, a figure of prominence who held the esteemed position of Commissary General in Washington's Revolutionary Army. As a novice stonemason, Charles embarked on a transformative journey to the heart of Washington, D.C., where he contributed his skills to erecting the Capitol building. With the 1840s came a pivotal chapter as he transplanted his life and kin across the sinuous waters of the Potomac River, settling within the vibrant embrace of Alexandria, a bustling port city. Here, he established his residence at 94 S. Water Street (later Lee Street) and orchestrated the setup of his marble yard at 47 S. Royal Street, providing a sanctuary for the art of stone carving. This endeavor's enduring legacy was such that, even beyond Charles' earthly sojourn, its flame persisted into the dawning era of the 20th century, carried forth by a lineage that included his sons.
January 5, 1829, etches a pivotal chapter in Neale's life as he embarked on matrimonial vows with Ann Johnson within the bustling embrace of Washington, D.C. Their shared journey bore the bittersweet fruit of twelve children, a familial tapestry marred by the poignant loss of four tender souls during their childhood. In death, as in life, Ann stands beside her cherished partner, finding her final repose beneath an awe-inspiring monument sculpted from the very essence of Neale's creativity and skill. A testament to his legacy as a masterful stone carver, this monument stands as an eloquent tribute, preserving his artistic prowess and the enduring bond of their union.
CHAS. L. NEALE
1800 – 1886
also his wife
ANN
1813 -1874
May they rest in peace

JAMES H. NEALE
1847 – 1881
LAURA E. NEALE
1841 – 1897
May they rest in peace

JOHN F. GRIFFIN
1860 -1891

FRANCIS C. NEALE
1844 – 1894
At Rest
JOHN A. GRIFFIN
1834 – 1911
Section H
---
S
Jim Aloysius Shaw (August 19, 1893 – January 27, 1962) Played baseball in the Major Leagues.
Shaw played as a pitcher for the Washington Senators from 1913 to 1921. He earned the nickname "Grunting" Jim Shaw due to the unique grunting noise he would make every time he threw a pitch from the mound. His signature sound became a defining characteristic of his time on the field.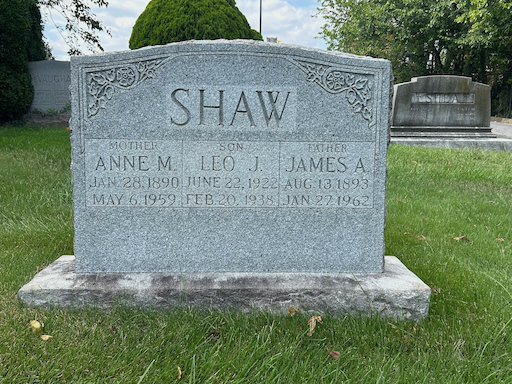 MOTHER
ANNE M.
Jan. 28, 1890
May 6, 1959

SON
LEO J.
June 22, 1922
Feb 20, 1938
FATHER
JAMES A.
Aug. 13, 1893
Jan. 27, 1962
Section X-9
Sources of Information
Hurt, H. W. (1991). Alexandria on the Potomac: The Portrait of an Antebellum Community. University Press of America. Lanham, Maryland.
Greely, M. (1996). Those Upon Whom the Curtain Has Fallen: Past and Present Cemeteries of Old Town Alexandria, Virginia With Walking Tours of Old Town (Alexandria Archaeology Publications No. 88). Alexandria Archaeology Office of Historic Alexandria City of Alexandria, Virginia.
Powell, M. G. (2000). The History of Old Alexandria, VA, from July 13, 1749 – May 24, 1861. Willow Bend Books. (Indexed by Pippenger, W. E.). Westminster, Maryland.
Pippenger, W. E. (2014). Tombstone Inscriptions of Alexandria, Virginia: Volume 5. Family Line Publications. Berwyn Heights, MD.
Basilica of St. Mary in Old Town. (n.d.). History. Retrieved from [official website URL].
George Washington's Mount Vernon. (n.d.). John Fitzgerald. Retrieved from [official website URL].
Major League Baseball. (n.d.). [Profile of Jim Shaw]. Official website of Major League Baseball. [URL]