Introduction
Colonel John Fitzgerald left an indelible mark on Alexandria, Virginia, through his military service, civic leadership, and close friendship with George Washington. Beyond his contributions, the legacy continued with his grandsons, who furthered the family's prominence in American history. Though the location of Fitzgerald's final resting place remains uncertain, his and his descendants' contributions resonate two centuries later. This blog explores his lasting impact on the community and the continued legacy of the Fitzgerald family.
Fitzgerald's Military Leadership During the Revolutionary War
Fitzgerald's Arrival in Alexandria and Early Merchant Years
Upon his arrival in Alexandria in 1769, Fitzgerald transitioned from a prewar merchant to a revered military figure, establishing a deep bond with George Washington. His bravery shone brightly during the Battle of Harlem Heights in 1776, a pivotal moment marking Washington's inaugural triumph over the British.
Bravery and Loyalty as Washington's Aide-De-Camp
As Washington's aide-de-camp, Fitzgerald played a key role in early victories against the British. His military leadership was crucial to the revolutionary cause.
Leadership in Key Battles and Defending Washington's Command
As an aide-de-camp, Fitzgerald's steadfast loyalty and dedication were evident in battle and political intrigue. He was at significant battles like Trenton and Princeton and played an instrumental role during the Conway Cabal. This was a covert attempt by certain military officers and Congress members to oust General George Washington from his command of the Continental Army, aiming to replace him with Major General Horatio Gates. Fitzgerald's unwavering support for Washington during this critical juncture showcased his deep commitment beyond the battlefield, solidifying his position as an invaluable asset and a beacon of resilience and honor.
Recovery from Monmouth and Return to Alexandria's Civic Life
Resumption of Merchant Activities and Marriage
After sustaining injuries at the Battle of Monmouth, Fitzgerald returned to Alexandria. On January 2, 1779, he married Jane Digges in Upper Marlborough, Prince George Co., Maryland. Jane's family owned Warburton Manor, and George and Thomas Digges, her brothers, were friends of Washington. Warburton Manor, their residence, was strategically located directly across from Mount Vernon on the Potomac, leading to frequent visits between the two families. Back in Alexandria, Fitzgerald resumed his commercial ventures. Despite the challenges from his wartime injuries, his dedication to the revolutionary cause remained steadfast, cementing his reputation as a pivotal figure in the revolution.
Fitzgerald's commitment to the cause was notably demonstrated in April 1781. When an enemy naval force approached Alexandria with plans to burn the town, Fitzgerald swiftly rallied a group of men. Despite being outnumbered five to one, his strategic display deterred the enemy, preventing them from landing and saving the town.
Role as Mayor, Town Councilman, and Education Trustee
Fitzgerald's deep and multifaceted dedication to Alexandria left an indelible mark on the city's history. His commitment to the community and governance was exemplified during his tenure as mayor from 1792 to 1794. In this esteemed role, he tirelessly served the city and its people, earning their respect and trust.
However, Fitzgerald's contributions extended far beyond his mayoral duties. He also played a pivotal role as a respected member of the town council and assumed the significant responsibility of a trustee for the Alexandria Academy. His fervor for education and literature radiated brightly in 1794 when he joined the board of the Library Company of Alexandria, which was among the nation's earliest libraries. His dedication to knowledge and learning was unwavering.
In addition to his commitment to education and governance, Fitzgerald was a man of vision and entrepreneurship. In 1793, he assumed the presidency of the Potowmack Company, succeeding its first President, George Washington. Established in 1785, the Potowmack Company was at the forefront of pioneering efforts in America's transportation industry. Its primary mission was to lead the construction of the Patowmack Canal, a complex five-part canal system designed to navigate around the formidable falls on the Potomac River. These falls included House Falls, Shenandoah Falls, Seneca Falls, Great Falls, and Little Falls.
By 1802, Fitzgerald's leadership had seen the successful completion and operation of this intricate canal system, particularly with the finalization of the locks at Great Falls in 1801. The Patowmack Canal represented a groundbreaking initiative to connect Virginia to the Ohio River Valley, opening up vital trade routes and opportunities for the region's development.
In 1793, recognizing Fitzgerald's exceptional capabilities and unwavering dedication, George Washington appointed him as the Collector of the Port of Alexandria. Fitzgerald assumed this position after Charles Lee, who initially served as the Collector of Ports for Virginia until the Tariff Law of 1789 abolished the role. Subsequently, he continued to serve under the United States Treasury as the Collector of the Port of Alexandria.
Fitzgerald's profound commitment to Alexandria encompassed public service, education, literature, entrepreneurship, and the advancement of transportation infrastructure. His legacy continues to be celebrated as an integral part of Alexandria's history and development.
Enduring Bond with George Washington
Washington's Generous Donation to St. Mary's Church
The deep bond between Fitzgerald and George Washington was evident long before Fitzgerald's passing. During a St. Patrick's Day dinner 1788, Washington donated $1200 to St. Mary's Catholic Church, underscoring their enduring friendship.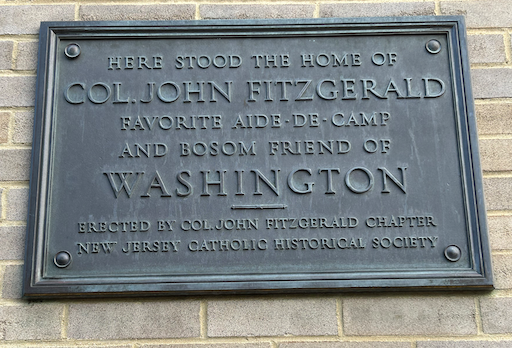 Full Military Honors at Fitzgerald's Funeral
On December 2, 1799, Fitzgerald met his demise and was honored with a full military burial at his wife's estate in Fort Washington, Prince George's County, Maryland. Just a few weeks later, on December 14, 1799, George Washington, who was not only Fitzgerald's former Commanding General but also a close friend, passed away. While most modern historians believe Fitzgerald is buried in Prince George's County, Maryland, the exact location of his burial remains uncertain, as no concrete evidence definitively confirms his final resting place.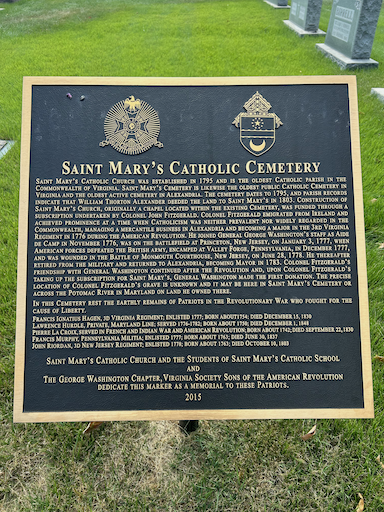 Establishment of the Basilica of St. Mary
Early Years and Construction of the Original Church
Colonel John Fitzgerald's impact on Alexandria is deeply felt through establishing St. Mary's Catholic Church, now the revered Basilica of St. Mary in Old Town. A decade after Virginia's Act Establishing Religious Freedom in 1795, the congregation began building a church near St. Mary's Cemetery. Though the initial construction wasn't completed, its bricks were repurposed for the Alexandria Lyceum.
Architectural Evolution to Current Grandeur
In 1810, the congregation acquired the Chapel Alley Meeting House from a Methodist group on South Royal Street. This acquisition set the stage for the 1826 cornerstone laying of a 40 x 60-foot sanctuary dedicated the following year. With a significant reconstruction in 1894, the church's architecture evolved and introduced more seating and a 135-foot belfry, defining its present-day grandeur.
St. Mary's Cemetery: A Historic Burial Ground
Unique Position Outside District of Columbia Bounds
In an era when Alexandria was a part of the District of Columbia, St. Mary's Catholic Church Cemetery occupied a distinctive position. Situated outside the District's confines, it was shielded from the "stoppages" of the early 1800s, ensuring an unbroken tradition of burials since 1795.
Unbroken Burial Tradition Since 1795
St. Mary's Cemetery in Alexandria has maintained a continuous burial tradition since 1795. Within its grounds, several veterans of the Revolutionary War are laid to rest. Among them are Corporal Lawrence Hurdle (1758 – December 1, 1848) from the 7th Regiment of the Historic Maryland Line; Corporal Francis Ignatius Hagan (1754 – December 15, 1830) of the Third Virginia Regiment; Pierre LaCroix (1743 – September 22, 1830), who, before joining the Revolutionary Army and fighting alongside Montgomery at Quebec, served as a drummer boy during the French and Indian Wars; and Cavan Boa (1756 – August 20, 1789). Boa served in the Corps of Artillery and later became Washington's tailor. All told the cemetery is the final resting place for over 4,500 individuals.
Fitzgerald's Warehouse: An Echo of History
Crossroads Plaque Honoring Fitzgerald's Legacy
Today, a testament to Fitzgerald's enduring influence stands at the crossroads of King and Union Streets. A warehouse constructed in 1781 now hosts contemporary businesses but still carries the weight of history. A plaque unveiled in 1976 commemorates Fitzgerald's invaluable contributions to Alexandria.
Warehouse Constructed During Fitzgerald's Time
The Fitzgerald Family Legacy
Jane Digges passed away on September 27, 1826, aged 71 or 72. While her final resting place remains uncertain, some sources, such as Find-A-Grave, suggest she is interred at St. Mary's Catholic Church Cemetery.
The couple's daughters, Elizabeth Fitzgerald, and Jane Fitzgerald, married Francis Lightfoot Lee, who shared a namesake with a signer of the Declaration of Independence. Elizabeth's union with Francis in 1807 was tragically brief, ending with her death in 1808. Having married Francis in 1810, Jane also faced an untimely demise in 1816. In 1811, John Fitzgerald acquired the Sully estate in Fairfax County, Virginia, from his second cousin, Richard Bland Lee.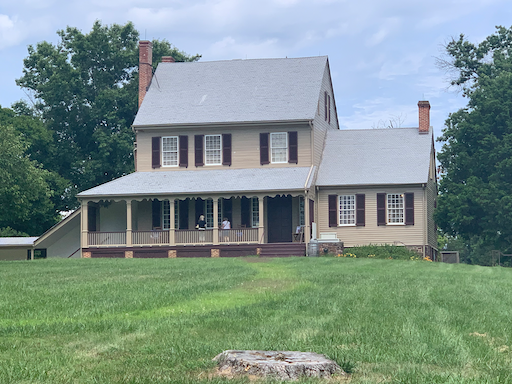 From Jane and Francis's union came Samuel Phillips Lee, who later married Elizabeth Blair. Elizabeth was the daughter of Francis P. Blair, a prominent figure in the Jacksonian movement. She resided in the Blair House, across the street from the White House, now recognized as the President's guest house. Samuel Phillips Lee carved a distinguished career for himself as a naval officer. Notably, during the American Civil War, he remained loyal to the North, contrasting the decisions of his third cousins, Robert E. Lee and Sydney Smith Lee, who left their US Army and Navy positions to side with the Confederacy. Samuel and Elizabeth are interred in Arlington.
Another son of Jane and Francis, John Fitzgerald Lee, served as the Judge Advocate General of the United States Army from 1849 to 1862. He played a significant role in Maryland's political landscape, being a member of the constitutional convention of Maryland in 1867 and later serving in the State Senate of Maryland.
The consecutive losses of his wives deeply affected Francis Lightfoot Lee. By 1819, he experienced a decline in his mental health, leading to what was described as gentle yet irreversible insanity. Before his mental deterioration, Francis had made arrangements for other Lee family members to care for his five children and the family estate, Sully. However, these arrangements fell through. The trustees, likely with good intentions, inadvertently mismanaged the resources, leading to the eventual loss of the Sully estate. Francis spent the subsequent years in shelters for the mentally ill, primarily in Pennsylvania. In 1849, at 67, he was brought back to Virginia. Despite his condition, he was described as a calm, child-like individual who took pleasure in dressing well. A year later, in 1850, he passed away at an asylum near Alexandria. Both sisters, Elizabeth Fitzgerald and Jane Fitzgerald, and their husband, Francis, now rest in Alexandria's Christ Church Episcopal Cemetery in the Wilkes Street Cemetery Complex. Unfortunately, the precise burial sites of Elizabeth and Jane Fitzgerald remain a mystery. However, the resting place of Francis Lightfoot Lee is in lot 4:5.
Conclusion
While Fitzgerald's final resting place remains a mystery, his contributions to Alexandria continue to resonate. His military leadership, civic service, and close ties with Washington have left an indelible mark on the city's history. Yet, it's crucial to recognize the darker facets of his legacy. In 1799, Fitzgerald's probate inventory recorded 46 enslaved individuals under his ownership. This grim testament to his involvement in the institution of slavery adds depth and complexity to his legacy. As we commend his civic achievements, we must also confront the societal realities of his era. Truly understanding history demands a full embrace of its intricacies. Furthermore, the legacy of the Fitzgerald family didn't end with John. His grandsons continued to make significant contributions to the nation, further solidifying the family's place in American history. Their endeavors and those of their forebearers showcase a lineage deeply intertwined with the fabric of the United States.
Sources of Information
Morgan, J. D. (1904). Historic Fort Washington on the Potomac. Records of the Columbia Historical Society, Washington, D.C., 7, 1–19. http://www.jstor.org/stable/40066837
Powell, M. G. (2000). The History of Old Alexandria, VA, from July 13, 1749 – May 24, 1861. Willow Bend Books. (Indexed by Pippenger, W. E.). Westminster, Maryland.
Pippenger, W. E. (2014). Tombstone Inscriptions of Alexandria, Virginia: Volume 5. Family Line Publications. Berwyn Heights, MD.
Riker, D. (2007). The Fitzgerald Warehouse: The Early History of an Alexandria Landmark. The Alexandria Historical Society, Summer.
Seidule, T. (2020). Robert E. Lee and Me: A Southerner's Reckoning with the Myth of the Lost Cause. St. Martin's Press.
Basilica of St. Mary in Old Town. (n.d.). History. Retrieved from [official website URL].
George Washington's Mount Vernon. (n.d.). John Fitzgerald. Retrieved from [official website URL].
City of Alexandria. (2023). African American Heritage Trails. [https://www.alexandriava.gov/historic-sites/african-american-heritage-trails].
Roberts, J. (2022, August 27). Jaybird's Jottings: The Lighthouse at Fort Washington. Jay Roberts. Retrieved from [https://jay.typepad.com/william_jay/2022/08/so-close-2000-feet-yet-so-far-16-miles-seems-to-be-the-case-with-fort-washington-park-at-least-as-you-see-it-from-the.html]
WikiTree. (n.d.). Samuel Phillips Lee (1812-1897). Retrieved from [https://www.wikitree.com/wiki/Lee-1424]