Introduction
Unveiling the stories behind the notable figures of history can provide a fascinating insight into the past. One such significant individual is Cavan Boa, who played a crucial role in the American Revolutionary War and held the prestigious title of George Washington's tailor.
Cavan Boa: An Overview
Cavan Boa (1756 – August 20, 1798) – also known as Caven Bowe – holds a distinguished place in the annals of American history. His interment at St. Mary's Cemetery was the very first recorded burial according to the records of The Basilica of St. Mary.
Not Just a Tailor: Cavan's Legacy
Beyond his work with threads and fabrics, Cavan's life was deeply intertwined with the nascent United States:
–The Revolutionary Veteran: Boa demonstrated notable bravery as a distinguished Corps of Artillery member during the American Revolutionary War. While most of the regiment service was in the Hudson Highlands, some companies were integral to Washington's main army from 1777 to 1779 and played pivotal roles in landmark battles like Trenton and Princeton.
– Washington's Tailor: Cavan's skills as a tailor were sought after by none other than George Washington. Their relationship was multi-faceted; Cavan was once an indentured servant of Washington for three years.
– Slave Owner: Boa once owned Samuel Reeder, an enslaved individual, whom he purchased from the estate of Samuel Harrison in January 1797 for £9,,6 (approximately $5,294.96 in 2023 dollars when adjusted for inflation). Upon Boa's death, Samuel Reeder became the property of Boa's wife, Margaret Boa.
– Entrepreneurial Spirit: He managed a thriving tailor shop on Union Street alongside his wife, Margaret.
Life After Cavan: Margaret's Journey
Cavan's passing marked the end of one chapter but the beginning of another for Margaret:
– New Beginnings: Margaret found love again and became the first recorded bride at St. Mary by marrying Matthew Robinson.
– From Tailoring to Groceries: Matthew's profession differed notably from Cavan's, as he ventured into the grocery and ice sectors.
– Family Life: Together, the couple had three children. Initially, they settled at 515 Duke Street but eventually made their way to Washington, D.C.
– Tragedy Strikes: Margaret's life was cut short at 27 in 1806.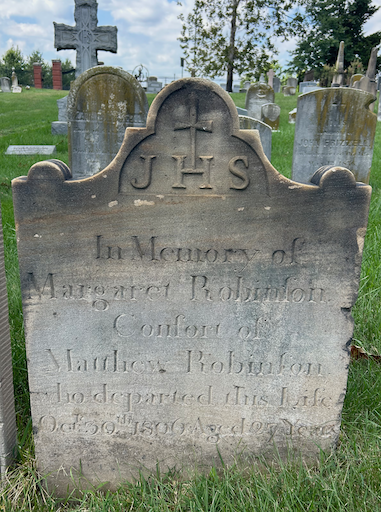 J.H.S.
In Memory of
MARGARET ROBINSON
Consort of Matthew Robinson
who departed this life
Oct. 30th 1806, Aged 27 Years.
Section F
Conclusion
The tale of Cavan Boa serves as a testament to the diverse tapestry of individuals who contributed to the early history of the United States. From his service in the Revolutionary War to his association with George Washington and his family's subsequent legacy, the Boa narrative is a captivating piece of Americana.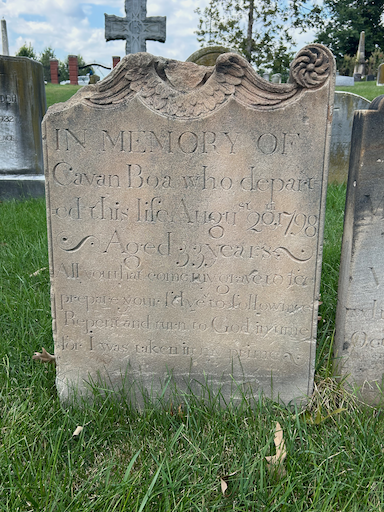 In memory of
CAVAN BOA, who depart
ed this life, August 20th, 1798
Aged 33 years
All you that come my grave and see
prepare yourself to follow me
Repent and turn to God in time,
for I was taken in my prime.
Section F
Sources of Information
Healy, R. (1987). Genealogical Abstracts from 18th-century Virginia Newspapers. Genealogical Publishing Com.
Greely, M. (1996). Those Upon Whom the Curtain Has Fallen: Past and Present Cemeteries of Old Town Alexandria, Virginia With Walking Tours of Old Town (Alexandria Archaeology Publications No. 88). Alexandria Archaeology Office of Historic Alexandria City of Alexandria, Virginia.
Pippenger, W. E. (2014). Husbands and Wives Associated with Early Alexandria, Virginia (and the Surrounding area). Heritage Books.
Pippenger, W. E. (2014). Tombstone Inscriptions of Alexandria (Vol. 5). Heritage Books.
Guy, K. (Parish Historian). (2022, December 18). From the Archives. The Basilica of St. Mary's Worship Bulletin. Also, see the URL [https://stmaryoldtown.org/from-the-archives-first-burial-at-saint-mary-cemetery].
George Washington's Mount Vernon. (n.d.). Cavan Boa (Caven Bowe). From URL [https://www.mountvernon.org/library/digitalhistory/digital-encyclopedia/article/caven-bowe/].
O Say Can You See: Early Washington, D.C., Law & Family. (n.d.). Samuel Reeler vs. Matthew Robinson. Retrieved September 20, 2023, from [https://earlywashingtondc.org/doc/oscys.case.0391.002]