Introduction
The story of Robert W. Bell intertwines the threads of community involvement and entrepreneurial spirit in the 19th century. Born in 1809, Bell's journey took him from the Isle of Ely, England, to the bustling town of Alexandria in 1832. Throughout his life, he left an indelible mark as a member of the Meeting House, an active participant in various church affairs, and a key figure in Alexandria's book trade scene. Let's delve deeper into the life and achievements of Robert W. Bell.
Emigration and Early Years in Alexandria
In 1832, Robert Bell boldly decided to leave his homeland in the Isle of Ely, England and set his sights on Alexandria. This pivotal move began a remarkable journey that would see him become an integral part of the local community. Shortly after his arrival, he joined the Meeting House as a member by examination, demonstrating his commitment to his faith and the community he now called home.
Church and Community Engagement
Bell's presence in church affairs was felt strongly, and he wasn't merely a passive participant. He became a Sunday School teacher in 1861, contributing to the spiritual and educational growth of the congregation's younger members. His dedication extended beyond the church walls, as he was elected as an Elder of the Meeting House in 1844, a position he held until his passing in 1885. This long service period reflected his deep commitment to the church's mission and values.
A Man of Many Roles
Bell's impact extended beyond his church duties. He was a devoted member of the Meeting House and a man of action within the broader Alexandria community. Serving on the Board of Guardians of the Free School from 1865, he shaped educational opportunities for local youth. His dedication to education was further evident in his involvement with the Alexandria Widow's Home and Orphan Asylum for Boys in 1854, reflecting his concern for the welfare of those less fortunate.
Entrepreneurial Ventures
Bell's entrepreneurial spirit shone through in various aspects of his life. In 1837, he established the Bell bookselling, stationery, and printing business, which would continue to thrive for over a century, cementing his place as a local businessman. Initially located on King Street, his shop played a pivotal role in Alexandria's literary scene, offering books, stationery, and printed materials.
Print and Publication
Bell's contributions extended beyond retail. He played a crucial role in the dissemination of knowledge and culture. As a bookseller, printer, and stationer, his shop on King Street was known for its assortment of books and printed materials. Bell also ventured into publishing, directly or as a distributor, for works such as T. T. Castleman's "Plain Sermons for Servants" and Randolph H. McKim's "Washington's Church." His involvement in the literary world showcased his commitment to promoting knowledge and ideas within the community.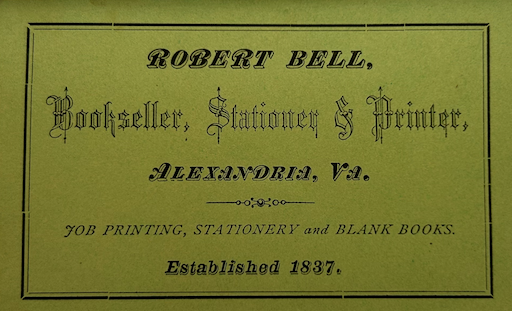 Challenges and Civic Service
Bell's life wasn't without its challenges. The Civil War brought a turbulent period to Alexandria, and Bell found himself arrested for receiving contraband goods intended for Confederate use. Despite these challenges, his dedication to civic service remained unwavering. He served as a City of Alexandria Alderman, demonstrating his commitment to the betterment of the city and its residents.
Legacy and Resting Place
Robert W. Bell's legacy lives on through his contributions to the Meeting House, impact on the local educational landscape, and entrepreneurial pursuits. He was a close friend of Lewis McKenzie, a relationship that underscored his importance within the community. Bell's final resting place is in the Presbyterian Cemetery, a fitting location for a man who dedicated his life to faith, community, and progress.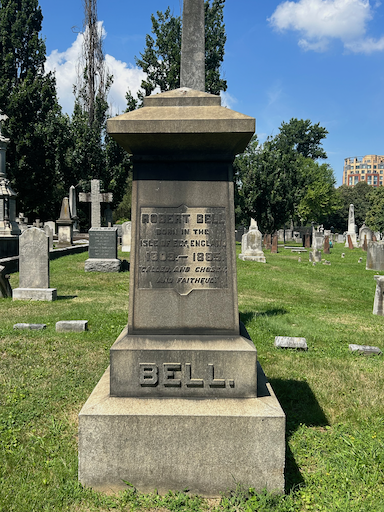 ROBERT BELL
born in the
Isle of Ely, England
1809 – 1885
Called and chosen
and faithful
MARY GREENHALGH
wife of ROBERT BELL
born in Lancashire
1816 – 1891
ELIZABETH BLINKHORN
BELL
aged 90 years
43:122, obelisk
Conclusion
Robert W. Bell's journey from the Isle of Ely to Alexandria tells a tale of resilience, community engagement, and entrepreneurship. His involvement in the Meeting House, dedication to education, and contributions to the literary world all demonstrate the multifaceted nature of his impact. As we look back on his life, we remember Robert W. Bell as a man whose legacy inspires us to invest in our communities, pursue our passions, and leave a positive mark on the world.
Sources of Information
Pippenger, W. E. (1992). Tombstone Inscriptions of Alexandria, Virginia: Volume 1. Family Line Publications, Westminster, MD, and Heritage Books, Inc., Bowie, MD.
Powell, M. G. (2000). Index by Pippenger, W. E. The History of Old Alexandria, VA, from July 13, 1749 – May 24, 1861. Willow Bend Books.
Dahmann, D. C. (2002). The Roster of Historic Congregational Members of the Old Presbyterian Meeting House (Unpublished manuscript).