Early Life and Formation
Born on July 12, 1901, in Yonkers, New York, Jean Pirnie Robertson's life would be defined by her adventurous spirit and unwavering passion for poetry. Her early years were marked by tragedy, losing her mother to typhoid fever when she was nine. The Robertson family moved to Bronxville, New York, where Jean's love for learning and creativity began to flourish.
Seeking Inspiration in the South
After attending schools in Bronxville, Jean sought a change of scenery for her final years of secondary education. She found herself at the Fassifern School in Hendersonville, North Carolina, where her free-spirited nature continued to thrive. Graduating as the class valedictorian, she excelled academically and discovered a love for tennis.
In 1929, Jean married Robert Sherrard "Sherrie" Elliot Jr., and together, they embarked on a journey that would lead them to Alexandria, Virginia. Despite the financial turmoil that gripped the nation during their honeymoon in Europe, their bond remained strong. A banking and financial services professional, Sherrie would eventually become executive vice president of International Bank and Financial General Bankshares, Inc. in Washington, D.C.
Embracing Alexandria: A Love Affair with History and Poetry
Writing Poetic Legacies
In the 1930s, Jean's writing took a poetic turn, and her passion for supporting fellow poets grew. She dedicated herself to mentoring, reviewing, and organizing poetry-related events. Her impact on the poetic community was evident as several poets dedicated their works to her.
Local History and Community Engagement
Moving to Alexandria in 1960, Jean and Sherrie embraced the city and became integral community members. Jean's enthusiasm for local history led her to lead seminars on the topic and to contribute articles for newspapers and historical societies. Her profound impact on the city's cultural fabric earned her the title of "Poet Laureate" of Virginia and "Poet in Residence" of Alexandria.
Legacy and Commemoration
BRIO: A Symbol of Artistic Dedication
In addition to their generous contributions to the community, Sherrie and Jean Elliot also played a pivotal role in enhancing Alexandria's artistic landscape. Market Square, a central hub of Alexandria, saw a transformative addition in the form of the sculpture "BRIO." Created by artist Jimilu Mason, this captivating sculpture was presented to the City of Alexandria on April 2, 1983. It was a gift from the Northern Virginia Fine Arts Association, made possible through a grant from Mr. and Mrs. R. Sherrard Elliott, Jr. "BRIO" stands as a symbol of artistic dedication, enriching the visual and cultural experiences of the city's residents and visitors alike.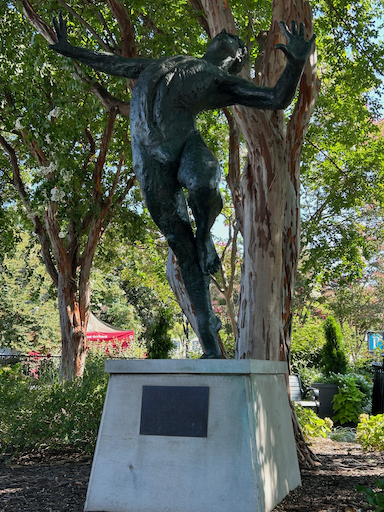 Elliot House: A Living Memorial
In a gesture of generosity, Sherrie and Jean donated their residence at 323 South Fairfax Street to the Meeting House congregation. Renamed "Elliot House," this space became a hub of community activities, meetings, and offices for the church, memorializing their legacy.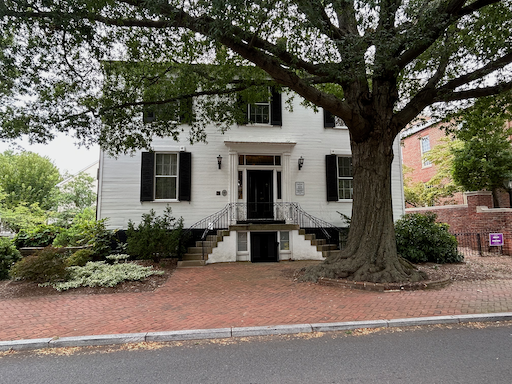 Enduring Impact
Jean Pirnie Robertson Elliot passed away in Alexandria on September 12, 1999. Her contributions to Alexandria's cultural and historical tapestry continue to be celebrated. Her poems, commitment to fostering creativity, and dedication to local history leave an indelible mark on the city she loved.
As we look back on the life of Jean Robertson Elliot, we're reminded of the power of a free spirit, the impact of unwavering passion, and the beauty of embracing a community with open arms. Alexandria, Virginia, holds a special place in this narrative, as it became the canvas upon which Jean painted her life's most meaningful chapters.
She is buried with her husband, Sherrie, at Kensico Cemetery in Valhalla, New York.
Source of Information
Dahmann, Donald C. "JEAN ROBERTSON ELLIOT (1901 – 1999)" Personal communication. August 2023.