Introduction: A Life Rooted in History and Community
Born as the son of William Ramsay, a founding figure of Alexandria and its first Mayor, Colonel Dennis Ramsay's upbringing at the Ramsay House laid the foundation for a life intertwined with significant historical events and unwavering community commitment. Dennis was born in Alexandria in 1756. He entered the Revolutionary War as a Captain of the Virginia Continental Line and served with distinction. By the war's end, he had achieved the rank of Colonel. Beyond his military service, Ramsay was a zealous Mason. He joined Alexandria Lodge 39 in 1783 as a charter member and dedicated 20 years as an officer of the Lodge. Following in his father's footsteps, Dennis also served as a Mayor of Alexandria. Notably, he was chosen as an honorary pallbearer at George Washington's funeral.
A Patriot's Call to Service: The Revolutionary War Years
Colonel Dennis Ramsay's dedication to the cause of independence led them to serve as a Colonel in the Virginia Line during the American Revolutionary War. Their valor on the battlefield underscored their unyielding commitment to shaping the nation's destiny.
Mayor of Alexandria: Continuing the Family Legacy
Following in their father's footsteps, Dennis Ramsay's ascent to Mayor of Alexandria marked a pivotal chapter in their life. As a council member and alderman, their contributions to local governance resonated within the community, leaving an indelible mark on the town's growth.
A Multifaceted Legacy: Public Service and Commerce
Beyond their civic responsibilities, Dennis Ramsay's impact extended to trade. Owning a thriving tavern and engaging in merchant pursuits showcased their entrepreneurial spirit and diverse contributions to Alexandria's economy.
Farewell to a Founding Father: George Washington's Departure
In a historic moment, Dennis Ramsay delivered a poignant farewell address to none other than George Washington himself at Wise's Tavern. This significant occasion marked Washington's departure from Alexandria before assuming the presidency, exemplifying their connection to a momentous era. The speech, written by "Light Horse" Harry Lee, eloquently encapsulated the sentiments of the time and underscored Washington's significance as he embarked on his presidential journey. If you would like more information on Ramsay's farewell speech, refer to the article on George Washington's Mount Vernon website: Ramsay's farewell speech at Wise's Tavern. Retrieved from https://www.mountvernon.org/george-washington/the-first-president/inauguration/alexandria/
AGAIN your country demands your care.—Obedient to its wishes, unmindful of your own case, we see you again relinquishing the bliss of retirement; and this too, at a period of life, when nature itself seems to authorize a preference of repose!

Not to extol your glory as a Soldier—Not to pour forth our gratitude for past Services—Not to acknowledge the justice of the unexampled honor which has been conferred upon you, by the spontaneous and unanimous suffrage of three millions of Freemen, in your election to the Supreme Magistracy—Not to admire the patriotism which directs your conduct, do your Neighbours [sic] and Friends now address you.—Themes less splendid, but more endearing, impress our minds.—The first and best of Citizens must leave us! Our Aged must lose their Ornament! Our Youth their Model! Our Agriculture its Improver! Our Commerce its Friend! Our infant Academy its Patron! Our Poor their Benefactor! And the interior Navigation of the Potomack [sic], an event replete with the most extensive utility, already, by your unremitted exertions, brought into partial use—Its Institutor and Promotor!

"Farewell!—Go; and make a grateful people happy; a People who will be doubly grateful, when they contemplate this recent sacrifice for their interest.

"To that Being, who maketh and unmaketh at his will, we commend you; and, after the accomplishment of the arduous business to which you are called, may He restore to us again the best of Men, and the most beloved Fellow-Citizen.
Honoring a Great Man: Pallbearer
Dennis Ramsay's esteemed position in the community was underscored when he was selected as an Honorary Pallbearer at George Washington's funeral in 1799—a testament to the deep respect he garnered among contemporaries.
Navigating the Political Currents: Legacy and Challenges
Dennis Ramsay, appointed as one of the "Midnight Justices" by President John Adams, experienced the intricate political dynamics of his time during his judicial service. These appointments, made on the cusp of Adams' departure from office, aimed to shape the judiciary in favor of the Federalists. However, Thomas Jefferson's choice not to seat some of these appointees underscored the era's complex and politically charged landscape.
Personal Bonds and Family Ties: Forging a Lasting Partnership
In matters of the heart, Dennis Ramsay's lifelong partnership with Jane Allen Tayler stood as a testament to their personal convictions. Their union laid the foundation for a family that would mark Alexandria's history.
Continuing the Lineage: Family and Posterity
Dennis Ramsay's legacy extended through multiple generations, with his descendants upholding the family's storied heritage. Among these notable descendants were Eliza Johnston Ramsay Blacklock and Ann McCarty Ramsay Blacklock, whose unions interwove the Ramsay lineage with that of the Blacklock family. In addition to his impactful legacy, Dennis Ramsay's personal life was enriched by the presence of nine children. Remarkably, one of his sons was named after the very figure who had played a significant role in American history—George Washington. This son, George Washington Dennis Ramsay (1809-1900), bore the name of the nation's founding father, thus further connecting the Ramsay family to the historical tapestry of the United States.
A Final Resting Place: Legacy Preserved
Colonel Dennis Ramsay and his beloved wife Jane found their eternal rest side by side in plot 42:72 of the Presbyterian Cemetery. Their resting place is a poignant tribute to a family whose influence reverberates through Alexandria's annals.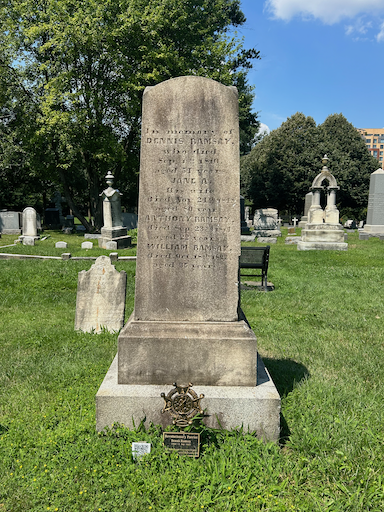 In memory of
DENNIS RAMSAY
who died / Sep. 1st, 1810
aged 54 years.
JANE A[llen Taylor].
his wife
died Nov. 24th 1848
aged 80 years
ANTHONY RAMSAY
died Sep. 23rd 1814
aged 22 years
WILLIAM RAMSAY
died Oct. 18th, 1822
aged 35 years.
42:72, obelisk
Conclusion: The Enduring Legacy of Colonel Dennis Ramsay
Colonel Dennis Ramsay's life journey mirrored a nation's evolution and a community's growth. As a devoted public servant, confidant of George Washington, and esteemed Mayor of Alexandria, their legacy remains etched in the heart of the city's history, a testament to the enduring impact of a remarkable individual and their family.
Sources of Information
McGroarty, W. B. (1940). The Old Presbyterian Meeting House at Alexandria, VA 1774 – 1874. Richmond, VA: The William Byrd Press, Inc.
Moore, G. M. (1949). Seaport in Virginia George Washington's Alexandria. Garrett and Massie, Incorporated.
The Alexandria Association. (1956). Our Town 1749-1865 at Gadsby's Tavern Alexandria, Virginia. The Dietz Printing Company.
Pippenger, W. E. (1992). Tombstone Inscriptions of Alexandria, Virginia: Volume 1. Westminster, MD: Family Line Publications, and Bowie, MD: Heritage Books, Inc.
Dahmann, D. C. (2002). The Roster of Historic Congregational Members of the Old Presbyterian Meeting House. Unpublished.
George Washington's Mount Vernon. (n.d.). Ramsay's farewell speech at Wise's Tavern. Retrieved from [URL]