Robert F. Prettyman, a revered carriage maker, rests peacefully within Alexandria's Presbyterian Cemetery. His legacy endures through the iconic hose-reel carriage crafted for the Friendship Fire Company, where he held a cherished place as a valued member.
In 1842, Robert joined his family's thriving carriage-making enterprise, renowned for its exquisite coaches and carriages, celebrated for their beauty and craftsmanship. Their workshop on N. Pitt Street became a beacon of innovation and mastery in the industry.
With skillful hands and keen expertise, Robert and his father crafted new carriages and breathed new life into existing ones, earning them a reputation that attracted clients from near and far.
Upon his father's passing on June 17, 1844, Robert continued the family's noble pursuit, carrying forth their distinguished tradition while ensuring David Prettyman's memory would forever be honored in history.
Prettyman's dedication extended beyond his carriage-making prowess. He actively participated in several organizations, including the esteemed Mount Vernon Guards and the Odd Fellows, fostering strong bonds within the community.
Moreover, his commitment to the Whig Party was unwavering, and in 1848, he proudly represented them at their convention in Philadelphia, showcasing his passion for political engagement and civic affairs.
The Friendship Fire House of Alexandria
The Friendship Firehouse in Alexandria has an enduring place in the town's firefighting history, being one of its oldest volunteer companies, established in 1774. Other distinguished volunteer firehouses in Alexandria include The Sun, established in 1775; the Relief Society, founded in 1788; Star, originating in 1799; and Hydraulion, formed in 1827.
During its foundational years, the Friendship Firehouse was operated by the devoted volunteer fire company that served the community, particularly during devastating fires in 1827, 1855, and 1871.
Robert Prettyman, emulating his father, became a part of the Friendship Fire Company and achieved the rank of engineer—a position his father held in 1840. By 1858, his commitment and skills led him to become the company's President, and he also served as a delegate to the city's fire convention.
Before 1852, fighting fires in Alexandria was a complicated process, relying on drawing water from sources such as the Potomac River, wells, or cisterns. The situation evolved when the Alexandria Water Company began piping water from Shuter's Hill into the town, allowing firefighters to use hoses to connect to this new water source, supplanting the old and inefficient bucket brigades. Hoses were 50 feet in length, necessitating the creation of unique vehicles to transport more hoses. Constructed from heavy leather, these hoses were cumbersome to handle, acquiring a hose-reel carriage a vital necessity for the company.
In 1857, Robert Prettyman constructed a hose-reel carriage for the Sun Fire Company, a piece of work that was met with such pride that the company celebrated by marching through the streets of Alexandria upon its delivery.
In 1858, Prettyman demonstrated his exceptional skill by designing and handcrafting a new hose-reel carriage for the Friendship Fire Company at his shop on N. Pitt Street. The remarkable craftsmanship earned him a fee of $500.00 for the completed carriage.
The craftsmanship of the carriage is truly remarkable, adorned with intricate details that capture attention. For example, to notify residents of Alexandria as it traversed the town's streets, it was equipped with two large bells.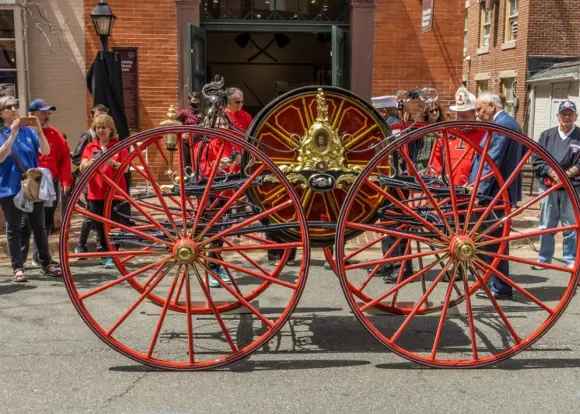 It also included two carefully crafted portraits of Friendship firefighters, one on each side. One of the images is of James Keen.
Keen, one of the fallen firefighters in the tragic Dowell China Shop Fire of November 17, 1855, rests among the seven brave souls whose final resting places were deeply affected by that fateful night. Although the location of Keen's grave remains a mystery, it is believed to be within the Methodist Protestant Cemetery, possibly in plot 60, the Friendship plot. The majority of those who lost their lives in the devastating incident find eternal peace in the solemn grounds of the Wilkes Street Complex.
Within the Methodist Protestant Cemetery lie three Star firefighters: William Evans, Robert Taylor, and George Plain, each resting in eternal slumber. G. David Appich found his final resting place in the serene Presbyterian Cemetery. As for J. Carson Green, another esteemed member of the Star Company, his grave's exact location has been lost to the passage of time within the Wilkes Street Complex, although some believe that he is also in the Friendship plot.
Lastly, John Roach, the final Star member who tragically perished, was laid to rest in a place of reverence, the St. Mary's Catholic Church Cemetery on South Washington Street. In honoring the memories of these brave firefighters, we solemnly remember their sacrifice and the legacy they left behind.
Exactly one year after the heart-wrenching tragedy, a solemn procession of Alexandria Fire Companies, including Friendship and the Star Company, solemnly marched from Alexandria's Lyceum to Ivy Hill Cemetery. Their purpose was to pay tribute and dedicate a dignified monument to honor the memory of the seven courageous souls who had tragically lost their lives on that dreadful night in 1856. The grief-stricken Star Company was accompanied by their Prettyman Hose-Reel Carriage, draped in mourning as a poignant symbol of their deep sorrow and respect for the fallen heroes.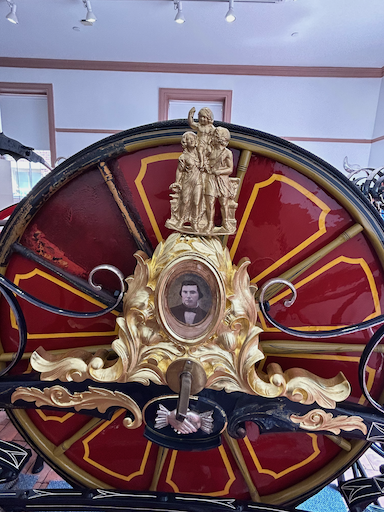 Colonel Benjamin Thomas, a former fire company president, was the subject of the other portrait. From Wales, after his tragic death, due to suicide in 1856, he was buried in St. Paul's Cemetery.
The carriage was adorned with numerous brass plaques, contributing to its detailed appearance. Moreover, it features a large lamp crafted from stained glass, upon which the year 1774 was prominently carved. (The stained glass was later replaced.) Perched atop this lamp is a miniature figure of a firefighter, meticulously dressed in full uniform, capturing a sense of pride and tradition within the design.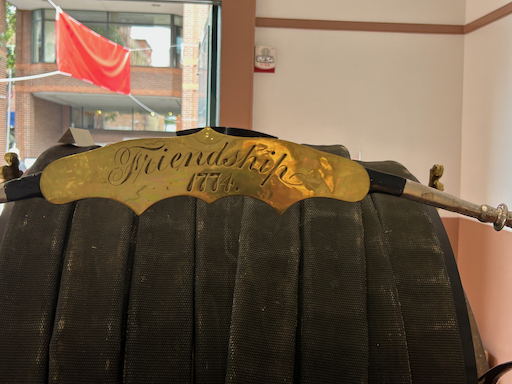 While fighting fires, the leather hose contained within the hose-reel carriage was connected to a suction machine built by John Rodgers in 1851 in Baltimore. According to Alexandria's official webpage on historic firefighting vehicles, this machine had an impressive capability, as it could propel water to a distance of 155 feet. Sections of the leather hose were carefully fastened to each other using a specialized spanner wrench tool.

Inauguration of a Professional Firefighting Department with Paid Personnel
In the era of the American Civil War, Union soldiers assumed the responsibility of firefighting in Alexandria. Regrettably, when the conflict drew to a close and the local inhabitants resumed command of their firehouses, they were confronted with a disheartening scene – a substantial portion of the firefighting equipment had suffered considerable deterioration, rendering it unusable. Significantly, the Friendship Firehouse's historical records shed light on their hose's unfortunate state:
The Friendship Suction and eleven sections of hose were conveyed to Fort Elsworth and there exposed for weeks to sunshine and rain, and when the Suction was returned at the urgent solicitation of the Company, it was so unsightly and unserviceable [sic] that the Company was disinclined to incur any expense [sic] for its repair while subject to such abuse. The eleven sections of hose have not been yet returned, at portion being in use at the Provost Office and the rest at adjacent forts."

Weinraub, C. Excerpts from the Minute Books of the Friendship Firehouse [Unpublished raw material].
In response to this situation, Alexandria established a professional fire department in the fall of 1866. This transition involved incorporating all the volunteer firehouses into the new system, except Friendship. Interestingly, Friendship chose to retain its status as a volunteer fire company, maintaining this role until the 1880s. As the 20th century began, the company underwent a remarkable transformation, gradually evolving into a ceremonial organization and relinquishing its firefighting responsibilities entirely.
Today, the Friendship Firehouse Museum serves as an educational center, hosting programs and events focused on fire safety and the rich history of firefighting. It also showcases an array of historical firefighting equipment. The Prettyman Hose-Reel Carriage is among its most prized possessions, meticulously restored to its original splendor in 2022. The museum is located at 107 South Alfred Street in Alexandria, Virginia. Their website is at this [link].
Prettyman's Personal Journey and Passing
Robert Prettyman was married to Margaret Virginia Morgan Prettyman, and they had at least six children together. Tragically, Margaret preceded her husband in death, passing away in 1870. Robert lived until 1892, dying at the age of 70. Both are interred in the Presbyterian Cemetery, where most of their children are buried.
In Memory of
ROBERT F. PRETTYMAN
born
June 21, 1821
died
January 26, 1892
44:143, footstone has "R. F. P"
Sources of Information
Pippenger, W. E. (1992). Tombstone Inscriptions of Alexandria, Virginia: Volume 1. Family Line Publications; Heritage Books, Inc.
Weinraub, C. (2017). The Firefight's Memorial in Ivy Hill Cemetery, Alexandria, Virginia. The Alexandria Chronicle, (Fall), Published by the Alexandria Historical Society.
Friendship Firehouse Museum. (n.d.). Visitor's Guide. A brochure published by the Friendship Fire Company. Alexandria, Virginia.
Historic Firefighting Equipment. City of Alexandria Official Website. URL [link]. It was accessed in 2023.
Title of the Article: Out of the Attic: Robert Prettyman and Friendship Firehouse's Hose Carriage. Source: The Alexandria Times Publication Date: October 6, 2022