Thomson Francis Mason was born into the prestigious Mason family of Virginia in 1785. He was educated at Princeton and became a successful lawyer. He served as a judge, planter, councilman, and mayor of Alexandria. His leadership was marked by efforts to enhance the city's infrastructure and legal framework.
Early Life and Education
Thomson Francis Mason was born in Gunston Hall, the estate of his grandfather, George Mason IV, a Founding Father of the United States. He was educated at Princeton University, where he graduated in 1804.
Career
After graduating from Princeton, Thomson Francis Mason began a career in law. He was admitted to the bar in 1806 and practiced law in Alexandria. He also served as a judge of the Alexandria Court of Common Pleas from 1817 to 1825.
In addition to his legal career, Thomson Francis Mason was also active in politics. He served as a councilman in Alexandria from 1819 to 1823 and as mayor of the city from 1827 to 1830. He was also a delegate to the Virginia Constitutional Convention of 1829.
Legacy
Thomson Francis Mason died in Alexandria in 1838. He was survived by his wife, Elizabeth Clapham Mason, and their eight children. His legacy includes his contributions to the legal system, the city of Alexandria, and the Mason family.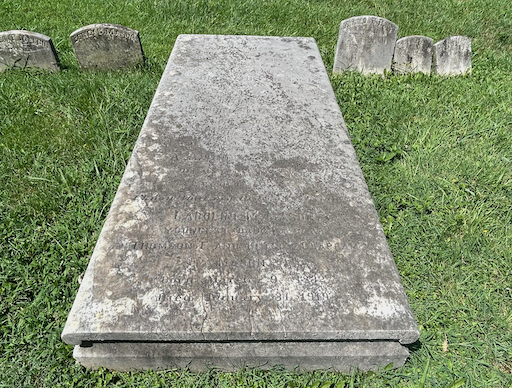 In memory of
THOMSON FRANCIS MASON
Died Dec. 21, 1838
Aged 53 years.
his wife
BETSEY CLAPHAM
Died May 7, 1873
Aged 71 years.
Their infant children
ARTHUR and CLAPMAN
their daughter MATILDA E RHETT
Died Feb 22, 1871
A. CAMPBELL MASON
Died April 18, 1888
Aged 18 years
I know that my Redeemer liveth.
CAROLINE M. MASON
youngest daughter of
THOMAS F. and BETSEY CLAPMAN
MASON
Born March 9, 1832
Died January 31, 1919.

Lot 89
Sources of Information
The Alexandria Association. (1956). Our Town 1749 – 1865. At Gadsby's Tavern Alexandria, Virginia. The Dietz Printing Company.
Pippenger, W. E. (1992). Tombstone Inscriptions of Alexandria, VA (Volume 3). Family Line Publications. Westminster, Maryland.
Powell, M. G., & Pippenger, W. E. (Indexer). (2000). The History of Old Alexandria, VA, from July 13, 1749 – May 24, 1861. Westminster, Maryland: Willow Bend Books.