In the rich tapestry of history, certain individuals stand out for their profound contributions and relationships. Dr. James Craik is one such individual whose life journey bridged oceans, wars, and epochs, ultimately leading him to become a close companion and trusted physician to George Washington.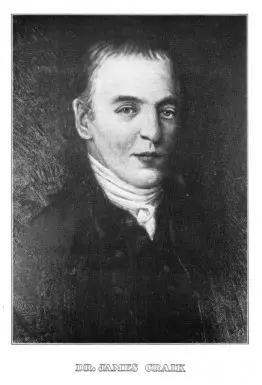 From Scotland to the Virginia Militia
Arriving from the distant shores of Dumfries, Scotland, in 1730, Craik's initial foray into the military was as a medical doctor with Colonel Fry's Virginia Militia in 1754. Fate intertwined his path with George Washington when leadership changed hands after Fry's death.
Early Wars and Unbreakable Bonds
The Pivotal Moment at Ft. Necessity
In 1754, Craik, serving as a medical doctor, found himself alongside Washington at Ft. Necessity. Their shared experiences during such significant challenges, including their surrender, laid the foundation for a lifelong bond.
Service During the Battle of the Monongahela
Craik's dedication to his duty was further highlighted during the Battle of the Monongahela, where he tirelessly attended to the wounded, including the injured General Edward Braddock.
The Revolutionary War and the Continental Army
As conflicts escalated and the Revolutionary War commenced, Craik's services were indispensable. He ascended to the prestigious position of Surgeon General of the Continental Army. Craik unwaveringly stood by Washington's side through the challenges of battles like Brandywine and Princeton. Their shared journey reached a triumphant climax with the decisive British surrender at Yorktown, a celebratory moment for both of them.
End of an Era: Washington's Final Moments
Their deep bond was profoundly evident when, on December 14, 1799, Dr. Craik was among the physicians attending to the ailing Washington. Such was the depth of their relationship that Craik was designated one of the "Chief Mourners" during Washington's funeral.
Craik's Lasting Legacy
Dr. Craik's influence persisted beyond his association with Washington. He set up a significant medical practice in Alexandria and journeyed through various locations, marking milestones in his life. His son, George, furthered the family legacy, serving as Washington's private secretary and later as the postmaster in Alexandria.
Craik's personal life was also rich and significant. He formed a profound bond with Mariamne Ewell of Belle Air, Prince William County, and together, they had nine children, a family deeply embedded in history.
Dr. Craik rented 209 Prince Street from 1789 until 1795, when he purchased a townhouse a block away at 210 Duke Street.
Dr. Craik's final resting place is the 18th-century burial ground of the Old Presbyterian Meeting House, a testament to his contributions to the nation's early days.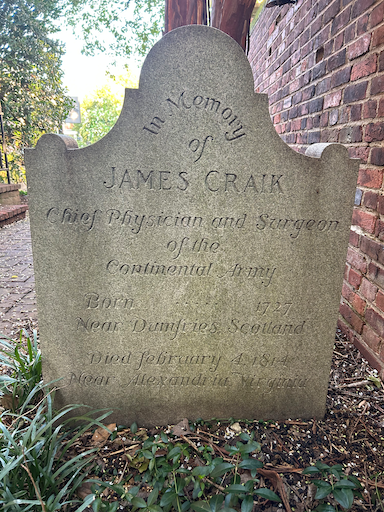 In Memory
of
JAMES CRAIK
Chief Physician and Surgeon
of the Continental Army
Born ….. 1727
Near Dumfries, Scotland
Died February 4, 1814
Near Alexandria, Virginia
T:11 New gravestone. The initial tombstone vanished amidst the turbulence of the Civil War. Pippinger highlights that the resting place of Craik abuts the wall of a "dwelling house adjacent to the" Meeting House cemetery.
Conclusion: Honoring Dr. James Craik
Dr. James Craik's life showcases the profound impact an individual can have on the course of history. Through his unwavering support for George Washington, his dedicated medical service, and his influential role during a transformative era, he remains a beacon of commitment and friendship.
Sources of Information
Dahmann, D. C. (2022). The Roster of Historic Congregational Members of the Old Presbyterian Meeting House. Unpublished manuscript.
Moore, G. M. (1949). Seaport in Virginia: George Washington's Alexandria. Richmond, Virginia: Garrett and Massie, Incorporated.
The Alexandria Association. (1956). Our Town 1749-1865 at Gadsby's Tavern Alexandria, Virginia. The Dietz Printing Company.
Pippenger, W. E. (1992). Tombstone Inscriptions of Alexandria, Virginia: Volume 1. Westminster, MD: Family Line Publications.
Powell, M. G. (2000). The History of Old Alexandria, VA, from July 13, 1749 – May 24, 1861. Index by Pippenger, W. E. Westminster, MD: Willow Bend Books.
Old Presbyterian Meeting House Churchyard Burial Ground Trifold pamphlet.
The Presbyterian Meeting House. (n.d.). Church history. Retrieved May 2022, from [URL]
George Washington's Mount Vernon. (n.d.). Battle of the Monongahela. Retrieved September 2022, from [URL]
The National Park Service. (n.d.). Fort Necessity National Battlefield Pennsylvania. Retrieved August 31, 2023, from [URL]